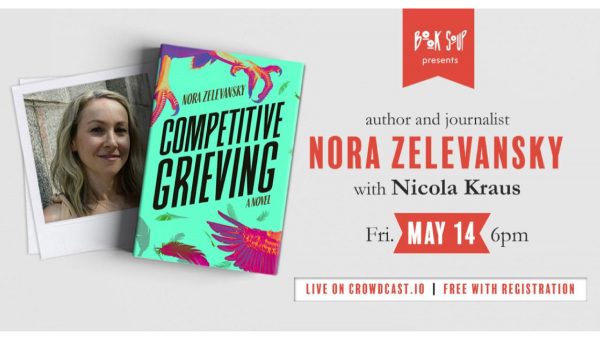 Novelist Nora Zelevansky will discuss her novel, "Competitive Grieving," which "shines a light on the universal struggle to grieve amidst the noise, to love with a broken heart and to truly know someone who is gone forever," today at 6 p.m. at Book Soup, 8818 Sunset Boulevard, in West Hollywood.
As a freelance writer, Zelevansky covers all things lifestyle: travel, fashion, wellness/beauty and emergent cultural trends. Her work has appeared in publications including The New York Times, ELLE, Vanity Fair, Town & Country, Travel + Leisure, The Wall Street Journal, the Los Angeles Times, Salon.com, The Daily Beast and The Washington Post. She is the editorial director for style-driven wellness hub, Live The Process.
Zelevansky's novels are delayed coming-of-age stories. Inspired by the universal struggle to let go of the past and reimagine oneself again and again, the books — infused with honesty, humor and a bit of romance — follow characters who resist change as they navigate periods of grudging transition: college graduation, the approach to 30, grief and acceptance.
Zelevansky will be joined by Nicola Kraus. Prospective participants may register at https://www.crowdcast.io/e/nora- zelevansky/register. Contact: rsvp@booksoup.com.
An overview of her Competitive Greeting is below:
Wren's closest friend, her anchor since childhood, is dead. Stewart Beasley. Gone. She can't quite believe it and she definitely can't bring herself to google what causes an aneurysm. Instead of weeping or facing reality, Wren has been dreaming up the perfect funeral plans, memorial buffets, and processional songs for everyone from the corner bodega owner to her parents (none of whom show signs of imminent demise).
Stewart was a rising TV star, who–for reasons Wren struggles to understand–often surrounded himself with sycophants, amusing in his life, but intolerable in his death. When his icy mother assigns Wren the task of disseminating his possessions alongside George (Stewart's maddening, but oddly charming lawyer), she finds herself at the epicenter of a world in which she wants no part, where everyone is competing to own a piece of Stewart's memory (sometimes literally).
Remembering the boy Stewart was and investigating the man he became, Wren finds herself wondering, did she even know this person who she once considered an extension of herself? Can you ever actually know anyone? How well does she really know herself?