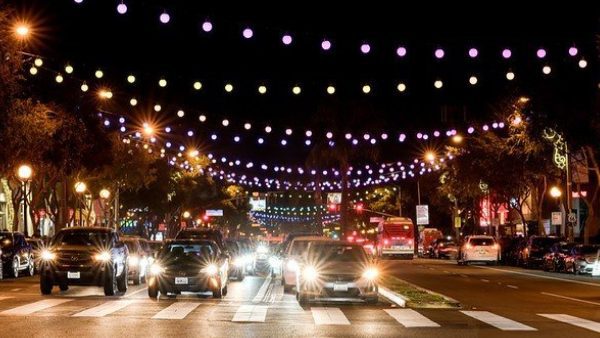 West Hollywood City Councilmembers and public commenters were enthusiastic about extending the popular Rainbow District lighting scheme — strings of multicolored lanterns criss-crossing above traffic — onto stretches of Santa Monica Blvd. on the city's Eastside.
Item 5e on the agenda passed unanimously at Monday night's meeting.
The item directs city staff members to begin requesting design proposals for the project, which they estimate will cost around $423,000 to cover stretches of the road from N. Vista Street to N. Poinsettia Place and from Formosa Avenue to La Brea Avenue.
"I want to thank Councilmember (John) Erickson for asking me to co-sponsor," said Councilmember Lauren Meister. "I think it'll be a great way to market the Eastside. It's a long time coming."
She suggested staff members reach out to the Gateway Project about a partnership, in hopes that it would allow more of east Santa Monica Blvd. to be illuminated with globes.
WeHo resident Stephanie Harker called in to express her excitement about the project.
"We're just thrilled," she said "Let there be light on the Eastside. Let there be beautiful colored lights on the Eastside. We're really looking forward to it. I think it'll improve the whole morale of this end of the city."