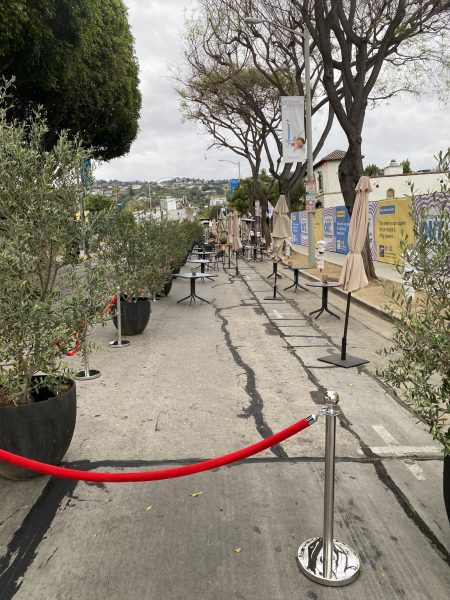 Out on Robertson, the much bally-hooed street closure pilot showed little momentum this past weekend. This weeks headliners were: The Abbey and Rachel London, a West Hollywood resident and home-based clothing designer. No other West Hollywood businesses participated. Non-profits who had taken part in previous weekends Project Angel Food and Black Women Lead did not participate again.
This week the street closure once again began earlier than announced. The barriers southbound on Robertson went up and 4:50 Saturday afternoon. One hour and ten minutes earlier than discussed at each meeting between residents and city officials.
The Abbey tables in the street were mostly empty at the 5:30 pm hour on Sunday. All the other businesses were closed on the street. Signs on Melrose eastbound directed cars to the Parking Lot entrance on La Peer at the old Factory construction site.
The Pilot Program was introduced by Council member John D'Amico and Council member John Erickson. It passed the entire City Council without any outreach to businesses or residents, without a budget attached or staff report.
Each weekend durning the pilot program period Santa Monica Blvd is suppose to close at 6pm on Saturday evenings until early morning Monday. Over a dozen cars have been towed over the period despite the empty streets south of the Abbey.