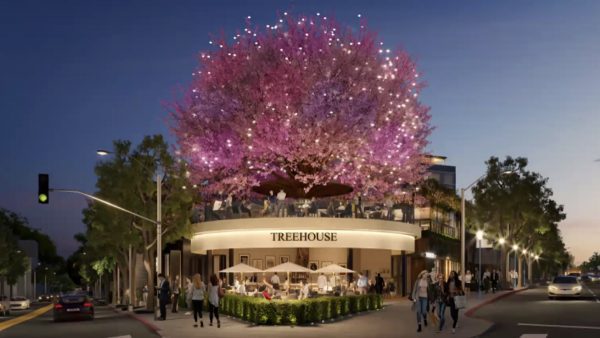 The TreeHouse twinkles in the twilight, its pink canopy towering high over West Hollywood, bringing a surge of new life to a downtrodden block of the city.
That's the dream Faring now has for the demolished corner of Robertson and Santa Monica, the latest in a line of changing designs that the West Hollywood-based developers have submitted to City Hall. If approved, the TreeHouse will be a striking addition to WeHo's skyline and a potential catalyst for change in the neighborhood.
Faring's Jake Stevens and WeHo city officials hosted a Zoom meeting Wednesday night to debut the new designs to the area's neighbors.
THE TREEHOUSE
What was once a Birdcage has now become The TreeHouse.
Faring's updated design is a two-story building with two below-ground level restaurant, mixed-use units on the two above-round levels and one level of nightclub. Open terraces will encircle the eponymous 65-foot-tall tree, a large-scale sculpture with integrated wiring.
The building will stand a maximum of 29.5 feet, contain 39,500 total square feet of space and nearly 7,000 square feet for outdoor dining.
Stevens said the project will be a "statement piece" that "will serve the pedestrian dining interaction and increase activity on this trophy corner and on the city's 'Festival Street.'"
THE ROBERTSON PROJECT
The TreeHouse will be next door to the nine-story tall Robertson Lane hotel-retail complex, which Faring is also constructing. The Robertson Lane project will incorporate the historic Factory building, which once housed the famous Studio One gay disco. The Factory building which currently sits on an east-west axis between Robertson and La Peer Drive, will be dismantled and most of it will be rebuilt on a north-south axis along Robertson.
The revised plan separates the proposed building massing above the second floor and introduces office uses in the tower facing Robinson Boulevard. It will still maintain the public restaurant on the roof of the Robertson tower.
The plan debuts a series of kiosks to act as stopping points and waypoints for pedestrians and providing a new outlet for small vendors.
Both the TreeHouse and the hotel/retail plans must first be approved by the Design Research Committee, the Preservation Commission and Planning Commission before reaching City Council for their review.