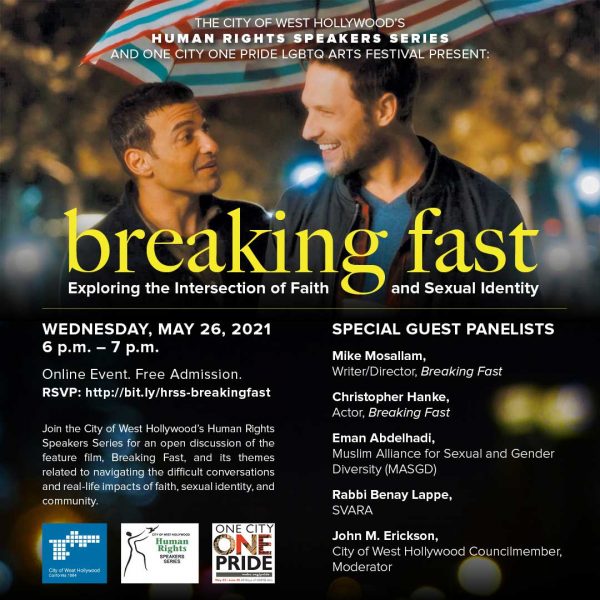 Join the City of West Hollywood's Human Rights Speakers Series from 6-7 p.m. today for an open discussion of the feature film, Breaking Fast, and its themes related to navigating the difficult conversations and real-life impacts of faith, sexual identity, and community.
The event is online and free. You can RSVP here: http://bit.ly/hrss-breakingfast
Special Guest Panelists:
Mike Mosallam, Writer/Director, Breaking Fast
Christopher Hanke, Actor, Breaking Fast
Eman Abdelhadi, Muslim Alliance for Sexual and Gender Diversity (MASGD)
Rabbi Benay Lappe, SVARA
John M. Erickson, City of West Hollywood Councilmember, Moderator
 
Breaking Fast, is a romantic comedy that follows Mo, a practicing Muslim living in West Hollywood and still reeling from heartbreak. When an All-American guy named Kal offers to join him in his nightly Iftars (the traditional meal eaten by Muslims during Ramadan), meal after meal, the two start to discover they have more in common than meets the eye.
Available on VOD/Digital now. For more information: https://www.breakingfastfilm.com/
The mission of the Human Rights Speakers Series is to bring together diverse communities to learn about and discuss global, national and local human rights issues in a supportive environment The mission of the Human Rights Speakers Series is to bring together diverse communities to learn about and discuss global, national and local human rights issues in a supportive environment
Questions? Please email jtribble@weho.org or call (323) 848-6360