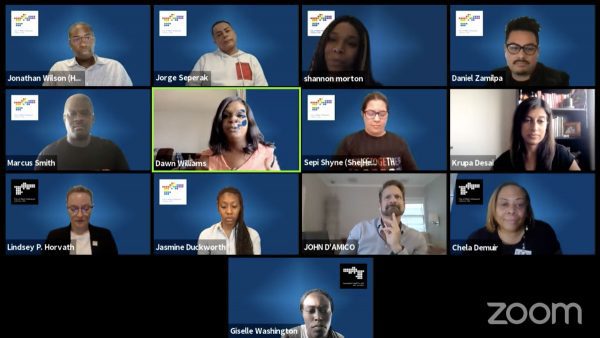 For Councilmember Sepi Shyne, it was fate that West Hollywood's new Social Justice Task Force convened for the first time on the one-year anniversary of George Floyd's murder, an event which sparked a wave of protests and calls for social justice worldwide.
"We didn't plan for the task force to land (on this date)," said Shyne, who spearheaded the group's creation. "I thought, 'This is the universe speaking out-loud to us on the fact that this task force is so needed.'"
At the Tuesday night meeting, Mayor Lindsey Horvath and the City Council swore in the task force's nine appointees, all of whom are Black, Indigenous, and People of Color (BIPOC) community members who live, work or own businesses in the city.
● Jorge S. Seperak (at-large appointee) — Seperak works at the SLS Beverly Hills and is a 20-year resident of West Hollywood. 
"I want to represent my workers. We need more people with heart to show that all together, we have the power. This is a perfect group to start something different, to move more people."
---
● Chela C. Demuir (appointed by John Erickson) — Demuir is the founder and president of Unique Women's Coalition, the only black trans-led organization in Los Angeles. 
"What leads me here? I'm just about making sure we have voices at the table, that we're included, that we're working with our allies, moving in unison."
---
● Jonathan K. Wilson (appointed by John D'Amico) — Wilson was born and raised in Los Angeles. He runs a business in the Pacific Design Center and lives about three blocks away from where he works.
"I consider myself a social justice warrior as well as a change agent. I identify as a gay black male. I want to make an impact. I want to make sure I'm able to help identify some key initiatives to help everyone realize the benefits of West Hollywood."
---
● Dawn C. Williams (appointed by Sepi Shyne)
"When I first met Councilmember Shyne, I was in a place of protest. That's why I'm grateful for this task force. It was a year of all of us going through so many heartbreaks and seeing that life's not fair for a lot of folks. How do we utilize the small, less-than-3 miles of space that we have to fit more of our unhoused community members inside. How do we prioritize the mostly black and brown members of that community?"
---
● Marcus Wilson-Smith (appointed by Lindsey Horvath) — Wilson-Smith has lived in West Hollywood for six years.
"I sit here today as a West Hollywood renter, a neighbor, a constituent, a friend, a customer, a shopper, a diner, and an ambassador. I'm part of the small percentage of African-American men who live in this city. I think this city is leading the way in creating a task force like this that is groundbreaking. "
---
● Shannon Morton (appointed by Lauren Meister) — Morton is the founder of the Black Women Lead organization. 
"I want to amplify the voices of black and brown women everywhere. I would love to start with the basics. We can't talk about social justice if we don't talk about homelessness, food insecurity, and the things that are directly impacting West Hollywood." 
---
● Krupa Desai (at-large appointee) — A 15-year resident of West Hollywood, Desai has worked in education and is now with an organization that help cities and states more proactively enforce the rights of residents. 
"I've seen the city speak to values of diversity and inclusion, and yet in practice, I haven't seen it live up to all of its potential. I just think we should do better, and we ought to do better. And if I think that, I ought to be a part of it."
---
● Daniel Zamilpa (at-large appointee) —  Zamilpa is an L.A.-native who has worked in the entertainment industry since the age of 16, on films such as Coco and Black Panther.
"I grew up in a very homophobic household. Being able to be a part of this reminds me how far I've come, but also how much more work we have to do. (Social justice issues are) very much the trendy thing right now. And that's very much what Hollywood is talking about, and the thing that I continue to feel like it's missing is action. And that's what I'm hoping to not only bring to this community but to take back to my industry." 
---
● Giselle Y. Washington (at-large appointee) — Washington is an L.A. native who is co-founder of a nonprofit that allows for underrepresented founders to get a leg-up in tech.
"This opportunity represents action for me. Last year was a great awakening of awareness for a lot of folks, and now we get to talk policy."
Also introduced were Diane Burbie and Crystal Torres-Covarrubias from The Aspire Group, which the city has contracted to serve as facilitator of the meetings. According to staff reports, The Aspire Group has more than 25 years of experience servicing a wide array of clients in areas such as diversity, equity, inclusion, strategic planning and conflict resolution.
The Social Justice Task Force is currently scheduled to meet for 12 months and then disband. However, the Task Force may be extended or adapted beyond that. Several of the city's standing advisory boards, including the Transgender Advisory Board, began as task forces or working groups.