When Irwin Rappaport was a lawyer working in Washington D.C. in the early 1990s, he would visit people suffering from HIV/AIDS and help them write their wills and power of attorney. It was the early 1990s — the height of the AIDS crisis — when recovery was elusive and the disease still carried a profound stigma.
For all the good he did, Rappaport never felt as if it were enough.
"This was a defining thing in my life and the lives of so many other people," he said. "And I just feel like my fellow board members…. we just had to do something to recognize the loss, as well as the progress that we made, and the community that we built."
That's how STORIES: The AIDS Monument began.
In just six days, Rappaport and his fellow boardmembers at the Foundation for the AIDS Monument will mark a milestone on the project they've spent more than a decade developing. Saturday's private event for donors and public officials also commemorates the 40th anniversary of the CDC's recognition of AIDS.
When complete, STORIES: The AIDS Monument will take visitors into a metaphysical space where words and images coalesce, and the story of the crisis emerges from the darkness. The 7,000-square-foot public art installation will stand next to West Hollywood Park and the West Hollywood Library on San Vicente Boulevard. The monument will feature hundreds of bronze pillars, or "traces" as they've been named, representative of those whose lives were lost to the virus. An innovative, interactive component of the tour will feature readings from The AIDS Memorial Instagram page, an anthology of personal essays about victims of HIV/AIDS . 
Click below to read WeHo Councilmember John D'Amico's contribution to the AIDS Memorial.
WEHOville had the chance to meet with Rappaport this week and learn about the genesis of the project, and what the future holds for it.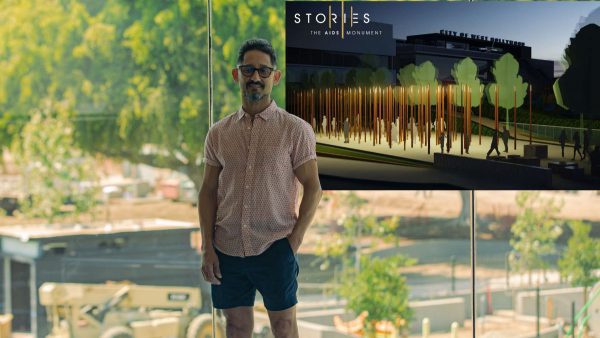 How does this monument differ from other AIDS memorials?
I think all of them are important. Ours will be the largest in WeHo. It's 7,000 sq. ft. When you walk through the monument, there will be about 200 or more of these 15-foot bronze pillars we call traces. Thirty of those will have words inscribed on them. Those words correspond to a word wall. You'll go through and see "isolation," you'll see "compassion" or "loss" or "pride" or "community" or "hope." So it's going to be a process of discovering the words as you walk through the monument and so that will encourage people to listen to the stories. We're telling stories of individuals, local leaders and activists, and stories of organizations born during the height of the crisis. We're trying to tell diverse stories. We're trying to select stories that represent the diversity of our community. We lost a lot of white gay men, and we also lost a lot of black men, and a lot of Latinos, a lot of women, a lot of children, a lot of Asian Americans, so we're telling diverse stories across the spectrum, across the country, especially in a time where we're dealing with deaths from COVID. As of today I think we've lost 592,000 people to COVID. We lost 725,000 Americans to AIDS. So when you put it in that perspective, I think about the news coverage COVID got and is getting compared to what little we heard about AIDS.
What happens when a visitor arrives at the monument?
You're going to get on your phone and go to our website. You have an option of choosing either the audio tour, which is a description of the monument giving you a basic history of HIV and AIDS. The alternative that you have is there will be a word wall that will show up on your phone. You click through the list and there will be all kinds of stories that you can listen to. So you might want to hear stories of compassion, or stories of community, or stories of pride, or stories of loss, so you click on those words. 
Tell us about the design of the monument.
The monument's design is a metaphor for what we went through during the the AIDS crisis in the beginning. You didn't know how you got it, we didn't know how to treat it, there was confusion. There was no federal government coming to our help. So that confusion and chaos is represented in the design in the first part that you walk through, and the light pattern is irregular as well. When you get to the grid at the end — that symbolizes when the community came together, and we understood how to treat this. The placement of the traces and how they're configured is designed to be a metaphor for the path that we followed.
How many stories do you have?
We have 36 so far and we'll have 100 by the time we open. We have stories from ordinary people, many who have posted their stories on the AIDS Monument's Instagram. We've got celebrities involved now. Whoopi Goldberg just did one. Billy Porter did a profile of Sylvester the singer. Richard Gere did a profile on Herb Ritts. Sterling K. Brown did a profile of major league baseball player Glenn Burke. Wilson Cruz did one on Pedro Zamora. It's taking off and we're excited about getting celebrities involved. 
Will the public be able to post their own stories?
Not at first. We'll have a redesigned website launch in July. On the second iteration of website you'll be able to post your own stories. What we're doing is we're basically pulling stories from the AIDS Memorial on Instagram and also writing profiles of certain prominent people, whether they be activists, or in the arts. I wrote one about Vito Russo, the author of The Celluloid Closet, and Robert Epstein, who made a movie about it, is going to read it.
When did the project begin?
We incorporated in 2013. But a couple of years before that, the board was coming into formation, people were working on the project, but it hadn't actually crystallized into an actual corporation. It's a nonprofit 501(c)3. The first chair was Jason Kennedy. I think the conception was when Jason Kennedy and Craig Dougherty spoke to John Duran and said they wanted to do this. They met with John Duran when he was on the council in the late 2000s. John suggested they meet with Ruth Tittle from Capital Drugs. And that was the nucleus of the board. It sort of grew from there.I became involved because I was on the Victory Fund Campaign Board. I was coaching the annual brunch fundraiser. I called Mark Lehman to get him to buy tickets. Like any good person who is a board member and an activist, he said Oh I'id love to go, but let me tell you what I'm doing. And that's how he recruited me.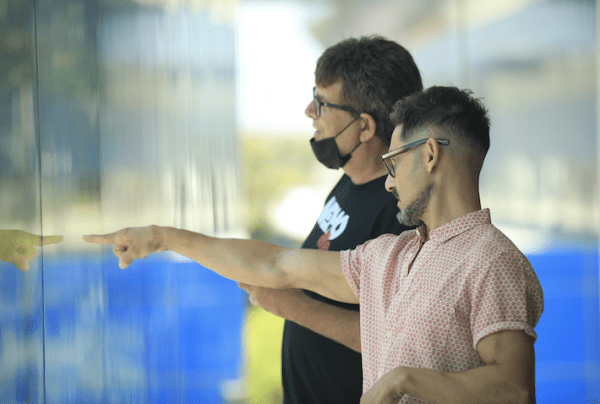 What's the event being held next week about?
It's a private event because of COVID-19 and because it's an active construction site. It's for donors of $25,000 or above. As you see we have a lot of exciting people coming both elected officials and celebrities and activists. We have Ryan White's mother Jeannie. We have Marianne Williamson. We have George Takei. And it's also to commemorate the 40th anniversary OF the CDC'S first report about AIDS on June 5, 1981, based on the work of Dr. Michael Gottlieb, who is also speaking at the event on June 5. He was the one who identified this pattern among his gay male clients who were patients who contracted pneumocystis pneumonia. And so the CDC issued its first report and that's what we're commemorating on Saturday the 5th.
How is the project being funded?
We have raised over $5 million but we are gifting $2.43 million of that to the city and the rest has paid for our operational and administrative expenses and leaves us a reserve for future operations.
How much has the city authorized to spend? 
It's a maximum total expenditure of $5 million inclusive of the gift.
And so the city donated the land, too? Is that considered part of the purchase price?
No, the city donated the land from the beginning. And we have always agreed that when the project was completed we we would gift it back to the city. Originally it was going to be not only designed but also built by UAP and the artist Dan Tobin. UAP decided to stop at the general design phase and the city will hire a general contractor to build it here at the park.
Who owns the license rights to the monument after it is complete?
We'll continue to own the digital content. The copyright will be maintained by the foundation. The intellectual property will be owned by the foundation but the physical monument and the land will be owned by the city. We'll continue to gather stories after the monument is completed and add to the collection. Because that's our ongoing mission is to tell stories and to educate the public because there's so many young people who have no idea what we went through.
Is the fundraising still open or is it closed?
We finished the capital campaign for the monument but we're continuing to raise money for what we call the digital monument, which is a collection of stories and interviews, and for the education programs we want to put on for the public.
Who were the leading sponsors?
Cedars-Sinai and the City of West Hollywood. We also received grants from the State of California and the County of Los Angeles.
Is this a volunteer project?
My position is not a paid position. We have one part-time staffer and a very hardworking board.
Anything you'd like to close with?
On a personal level, I did some things to help people back in the early 90s when I was a lawyer in Washington. I would go to people's homes and help them write their wills and powers of attorney. I never felt like I did enough, and you know, this was a defining thing in my life and the lives of so many other people. And I just feel like my fellow board members… we just had to do something to recognize the loss as well as the progress that we made, and the community that we built. I don't think we would have gay marriage today if we hadn't strengthened as a community. So we could pass that along to younger generations so that they know what we went through and so that people never forget.
—Additional writing by Brandon Garcia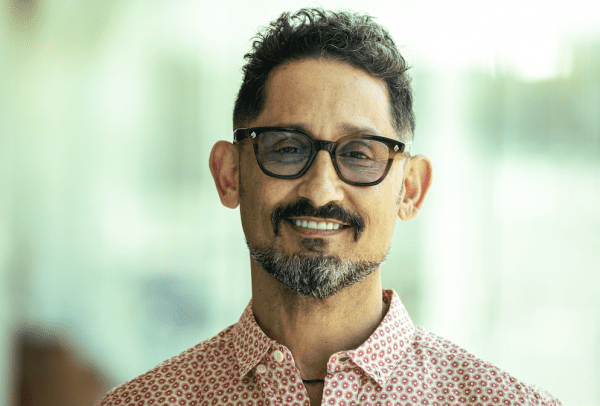 The project will hold a private ceremony on June 5. Speakers will include:
George Takei, LGBTQ activist and legendary actor
Marianne Williamson, Co-Founder of Project Angel Food
Jeanne White-Ginder, mother of teenaged HIV/AIDS activist Ryan White
Jake Glaser, son of AIDS activist and child advocate Elizabeth Glaser
Dr. Michael Gottlieb, co-author of the CDC's first report on HIV/AIDS
Robert Gonzalez Gant, producer, actor (Queer as Folk, Castle) and LGBTQ activist
Peter Paige, actor (Queer as Folk), director (Good Trouble) and screenwriter
Jewel Thais-Williams, co-founder of Minority AIDS Project and owner of the oldest Black-owned disco
Bamby Salcedo, President and CEO of the TransLatin@ Coalition
Gerald Garth, LGBTQ activist and AMAAD Institute Director of Operations
Sherri Lewis, AIDS activist and POZ Magazine columnist
Rabbi Denise Eger, Congregation Kol Ami
U.S. Congresswoman Maxine Waters (not yet confirmed)
CA Senator Ben Allen, California District 26
LA County Supervisor Sheila Kuehl, 3rd District
West Hollywood Mayor Lindsey P. Horvath