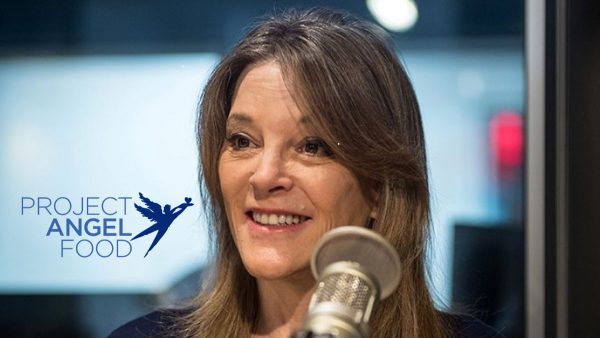 In 1989, author and public speaker Marianne Williamson set out on a mission to provide food for people afflicted with HIV/AIDS during the darkest days of the crisis. The public had only known of its existence for eight years, and a great stigma was still attached to the disease and those who suffered from it. For many, Project Angel Food was truly a gift from above.
More than two decades later, Project Angel Food is preparing to serve its 14 millionth meal to an HIV sufferer, while at the same time commemorating the 40th anniversary of the CDC's very first report on the virus. Williamson will speak at a special event at noon Thursday, which will include a performance by Rufus Wainwright.
In the years since its founding, Project Angel Food expanded its initial mission from serving people living with HIV/AIDS to include medically tailored meals, prepared by the staff and volunteers, for people of all ages and genders who are combatting cancer, kidney failure, diabetes and congestive heart disease. Project Angel Food prepares and delivers Medically Tailored meals to 2,306 critically ill people each day in Los Angeles County.
The pandemic made has it more difficult for Project Angel Food to find volunteers to help prepare and deliver those meals. Project Angel Food is always seeking volunteers. If interested, visit them at 922 Vine Street, Hollywood, CA 90038 or call
More than 32 million people have died from HIV worldwide since the start of the global epidemic, according to Project Angel Food, and there are 38 million people currently living with HIV.