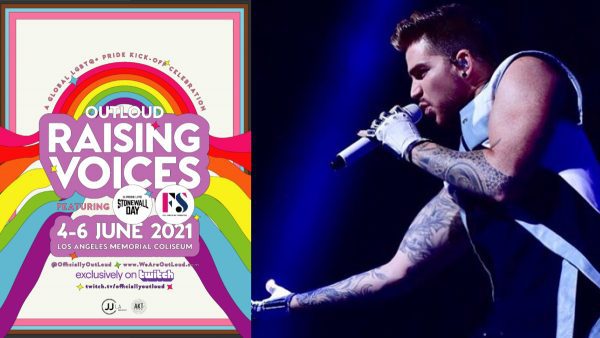 Courtesy of the Los Angeles Blade
By Brody Levesque
LOS ANGELES – "In a world dominated by zoom calls, masks, social distancing, and no human connection…" you can practically hear that movie trailer voice in your head as you read those words- yet, for the past fourteen months that has been a brutal reality.
For Angelenos, Californians, and Americans the coronavirus pandemic sucked the joy out of life. Even mundane daily chores and routines were impacted, disrupted by a frightening invisible aggressor that killed.
The impact on the minority communities has been especially harsh. For the LGBTQ+ community the absence of the one element that unifies the community writ large and has been the core of its essence, the ability to attend in person Pride month events, indeed Pride itself, has been devastating.
But now, as the vaccinations increase and health officials loosen pandemic restrictions as a sense of normalcy returns, an award-winning LGBTQ+ PRIDE artist series, kicks off Pride Month 2021 with a return to live events with a three-day concert June 4 – 6, 2021 in Los Angeles.
OUTLOUD: Raising Voices, created by the award winning team of Jeff Consoletti and Artie Kenney, was developed over the past two and a half years, and because of the pandemic last year in 2020, was launched as a successful ten-episode series on Facebook in lieu of PRIDE Celebrations happening in cities across the country.
The celebration this year will connect with a global audience through an exclusive streaming partnership with Twitch. The event not only marks one of the first major, global events to kick-off PRIDE month in June, but a triumphant return to an in-person PRIDE, hosting fans at a safe experience at the iconic Los Angeles Memorial Coliseum in downtown Los Angeles. The event is closely following all LA County health and safety protocols to ensure an enjoyable and responsible event.
Consoletti and his co-producer Artie Kenney told the Blade on Saturday that they're thrilled to have been able to partner with the Los Angeles Coliseum to provide a safe venue for this critical in-person return to a major Pride event. Consoletti noted that guests will purchase either 'vaccinated' or non-vaccinated' tickets via Ticketmaster, and additionally there will be a limit to 6 person groupings, and masks are 100% required he said.
Both Consoletti and Kenney expressed appreciation for all the artists pointing out that Sunday will be noteworthy with performances curated by Adam Lambert.
"I really wanted to curate an event for Stonewall Day that was about queer performers, and was centered around the community. I'm thrilled that Stonewall Day is part of OUTLOUD's weekend full of amazing performances and entertainment, and benefiting charities close to my heart," Lambert said in the OUTLOUD announcement furnished to the Blade.
On Sunday, Stonewall Day, Lambert, on behalf of the Feel Something Foundation, will curate the lineup. The "Whataya Want From Me" singer will headline alongside Angel Bonilla, Chely Wright, Kim Petras, Sam Sparro, Vincint featuring Parson James, Qveen Herby and Ty Sunderland, and Zhavia Ward. Angelica Ross, Conchita, Geena Rocero, Ryan Jamaal Swain, Valentina Sampaio, Yungblud, and Whoopi Goldberg will also make appearances.
The performances over the three days will include Angel Bonilla, Chely Wright, Kim Petras, Sam Sparro, VINCINT featuring Parson James, Qveen Herby and Ty Sunderland, and Zhavia Ward. The day will also feature appearances and remarks by Angelica Ross, Conchita, Geena Rocero, Ryan Jamaal Swain, Valentina Sampaio, Yungblud and Whoopi Goldberg.
Besides the main stage performances, Consoletti noted that on a second stage, after performing their live sets artists will engage with fans from around the globe in live interview segments hosted by on-air radio personality Ryan Mitchell aka TheSlayGawd, TV host, DJ and producer Hannah Rad, and entertainment reporter and journalist Shar Jossell.
In addition to Lambert's Sunday Stonewall Day line-up, Friday June 4 stars Sofi Tukker with Daya, Jake Wesley Rogers, LP Giobbi, Tygapaw, Madeline The Person, Ryan Cassata and Saro and Saturday June 5 is headlined by Hayley Kiyoko with Bronze Avery, Mykki Blanco, Crush Club, Kaleena Zanders, La Doña, Madame Gandhi, Brooke Eden, and Malia Civetz, with more to be announced for both days.
"This is a groundbreaking global celebration for the LGBTQIA+ and allied community, bringing people together in-person and virtually for an unmatched event," said Consoletti.
"Presenting PRIDE Live's Stonewall Day and streaming for free on Twitch will create one of the biggest PRIDE celebrations in the world featuring an amazing line-up of artists and performances," he added.
Consoletti and his co-producer Kenney noted that this event, in more than just a return to Pride events in a large scale way, "is amplifying not just the movement but the LGBTQ+ people."
The event is free to stream live June 4 – 6 at 4PM PT / 7PM ET – 10PM PT / 1AM ET on Twitch at twitch.tv/officiallyoutloud. Tickets for the in-person event are on sale at 2:00PM PT on Monday, May 10 at TICKETMASTER.