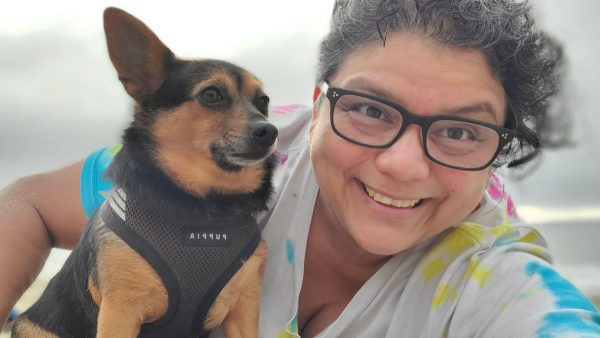 WEHOville is proud to introduce you to the voices of our community who serve on our Commissions and Boards.
Meet Anne-Marie. Transportation Commissioner. Communications and Marketing Manager at Project Angel Food. Chairwoman of Conaxion. Anne-Marie doesn't stop working and believing that she can make a difference.
Transportation Commissioner Anne-Marie Williams is the direct appointee of Councilmember Sepi Shyne. She is the only female on the seven-member Transportation Commission. Anne-Marie previously served from 2011 to 2015 on the Human Services Commission as the direct appointee of former Councilmember John Heilman.
Anne Marie and Etta James Williams have lived in West Hollywood for more than 20 years — "on the island," as she calls it, a small part of Rosewood, east of La Cienega, just north of Norm's.
Etta James is a Chicorgi Chihuahua who was adopted from Soula's Way Animal Rescue, one of the few lesbian-owned and operated shelters based in Los Angeles.
Anne-Marie was born in Lynwood and raised in L.A. County. Her mom is of Mexican descent, and her dad is the "Anglo" one in the family with Irish heritage. She graduated from Cal State L.A. with a Bachelor in Theater Arts and a certification from Cal Arts in graphic design.
"I was in theater for 10 years. My option in theater was a writer/director. I hated acting. I worked for the LA Opera right out of college. I wrote plays, had them produced and published. It's so funny… when I was younger I did not like musicals; now that I'm older, I'm like musicals are awesome!
Anne-Marie is proud lesbian. "I didn't realize what was going on with me until I was in my 20s. In college I didn't understand why I felt different than everybody else, and then it kind of hit me, and my best friend and I fell in love and I realized this is what was happening."
When she is not working full-time at Project Angel Food or serving on the Transportation Commission, she is busy volunteering and serving as Chair of Conaxion, a small business support center that helps micro-entrepreneurs get access to resources in LA County. An example of their work might be helping a person get the proper permits to sell as a street vendor or access to capital to become independent business owners, or helping stores and other businesses automate using technology.
Anne-Marie is passionate about cycling and often bikes to work at Project Angel Food. She is a 15-year volunteer for LA Bicycle Coalition. "Teaching safe riding"
"I love the adventure of it and the spirituality of it," she said. She calls it the "magic of cycling".
She joined Project Angel Food two years ago as the Communications and Marketing Director, a new full-time position.
"My job is to get the message out," she said, and it was especially challenging during COVID.
"We could not have volunteers for safety reasons," she said, and the need for meals increased because there were a number of other meal delivery services who were unable to meet the needs of their clients. "Our clients increased from about 1,600 to 2,300 per day. During the year of COVID  we prepared and delivered 1 million meals!  And since we had lost all the volunteers, we began a new program called Adopt-a-Chef and hired out-of-work chefs to meet the needs. Like Richard Ayoub, our Executive Director says, "we were born in a pandemic, we were born for this moment."
"My mom and dad are my best friends and when COVID hit I couldn't go visit, it was tough. And I couldn't go. (emotion sweeps into her voice and a tear to her eye). 'I had to protect them'. I'm a frontline worker. I'm an essential worker. When I went to work everyday at Project Angel Food I made a decision, if I am going to die being of service then I am going to die being of service. That was a conscious choice everyday and I had to because the marketing and communications we had to get the message out."
"With Conaxion its about getting the working man the tools to become more profitable and more productive and more self-sufficient, and with Project Angel food its about getting the individual medically tailored meals to take care of ones physical body and use food as medicine, and also its about taking care of their spirit and their heart."
Anne-Marie also served on the Human Services Commission as the direct appointee of John Heilman. After three years she was elected as Chair of Human Services. One of the things she initiated was site visits to the non-profits which helped the Commission understand each organization. When Heilman was defeated by Council member Meister in 2015 all the Heilman appointees were dismissed and Anne-Marie was let go. It hit her hard. But instead of serving on the Commission, she moved right along helping the homeless in downtown LA, and joining the board of Conaxion.
"West Hollywood means community to me. I love my neighbors. I live in an apartment building with all these funky little families. We watch out for each other. I'll do whatever I can to make WeHo safer and easier to get around.
"I've always believed in community. One of my favorite words is Ubuntu, is Swalhili — 'I am because you are' … 'I exist because you exist' — that is community at its finest."
She is also single and available. "I just got unhinged, did that hinged thing for a while. I'm a good person a good gal, Some people like choose dramatic paths; I am not one of them."
Favorite places to eat in West Hollywood: Has to be 'By the way Burger' ! During COVID, it was Kitchen 24 – the place I felt safe to have a meal and can bring Etta James, and see people and enjoy the community.
Thank you Anne-Marie for your friendship and service to West Hollywood.