West Hollywood City Council will decide Monday whether to permit bars and restaurants to hold more live outdoor entertainment on Robertson Blvd., testing the patience of some neighbors who've already grown tired of the Out on Robertson pilot program.
"PLEASE STOP THE ROBERTSON BOOZE STREET PARTY TAKEOVER OF OUR NEIGHBORHOOD," resident Kurt Knutsson wrote to City Council ahead of their meeting.
An amendment to the Outzone Permit Program would allow establishments next to residential and commercial zones to have live outdoor entertainment between 11 a.m. and 7 p.m. In the Robertson Outzone, the period is longer: 11 a.m. to 10 p.m.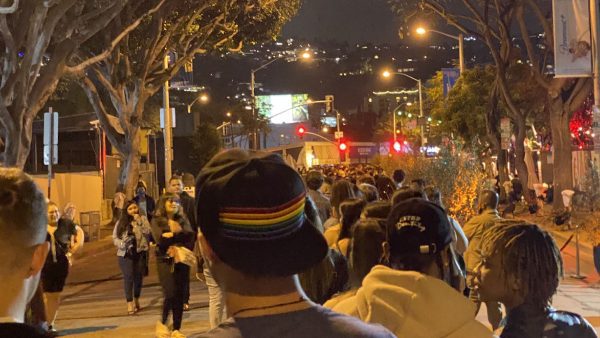 This comes as the city and county are preparing to lift many capacity limits and social distancing requirements on June 15.
There is no stipulation forbidding amplified music in the Robertson Outzone, an issue which is concerning residents of the area.
"I am all for encouraging (the) community by opening up Robertson to pedestrians to socialize, but I see no reason the Abbey needs to take its live entertainment out onto the street," wrote Bob Shepard. "I would hope the Robertson closure would not simply become an extension for the Abbey."
"The closure of Robertson does NOT serve our community in any meaningful way," Knutsson wrote. "In fact, it encourages unsafe behavior, creates traffic problems, disrupts the community by creating a recurring carnival-like atmosphere serving the interests of the retail liquor establishments and not your constituents."
Crowd size has fluctuated since the Out on Robertson program began. Late Saturday night during Memorial Day weekend, a line of partygoers waiting to enter The Abbey stretched half a block down Robertson Blvd.
---
TO PARTICIATE BY PROVIDING WRITTEN CORRESPONDENCE OR AN E-COMMENT:
To better facilitate the remote meeting, members of the public who wish to comment on matters before the city council are strongly encouraged to submit written correspondence to publiccomment@weho.org or submit an E-Comment using the form located at www.weho.org/councilagendas by no later than 4:00 p.m. Council meeting day. Note: Written Correspondence and E-Comments will not be read into the record during the City Council meeting; however, correspondence received by 4:00 p.m. will be forwarded to the City Council and posted on the City's website as part of the official meeting record.
TO PARTICIPATE BY PROVIDING PUBLIC COMMENT BY TELEPHONE: (Please note: This option is to provide public comment via phone ONLY. To view the meeting, please see information on how to view the meeting provided above.)
1. You are strongly encouraged to e-mail mcrowder@weho.org no later than 4:00 p.m. Council meeting day, to be added to the Public Speaker List for the meeting. Please include your name, the phone number from which you will be calling, and which item you would like to speak on. 2. Dial-in 10 minutes prior to the start of the meeting (the meeting begins at 6:00 p.m.)
You will be placed on HOLD in the Virtual Meeting Room until it is your turn to speak.
• Dial-in #: 669-900-6833
• Meeting I.D.: 949 0666 6205, then #
If special assistance to participate in this meeting is required, (e.g., an American Sign Language interpreter for people who are Deaf or hard of hearing), you must call or submit your request in writing to the Office of the City Clerk at (323) 848-6409 at least 48 hours prior to the meeting. The City TTY line is (323) 848-6496.