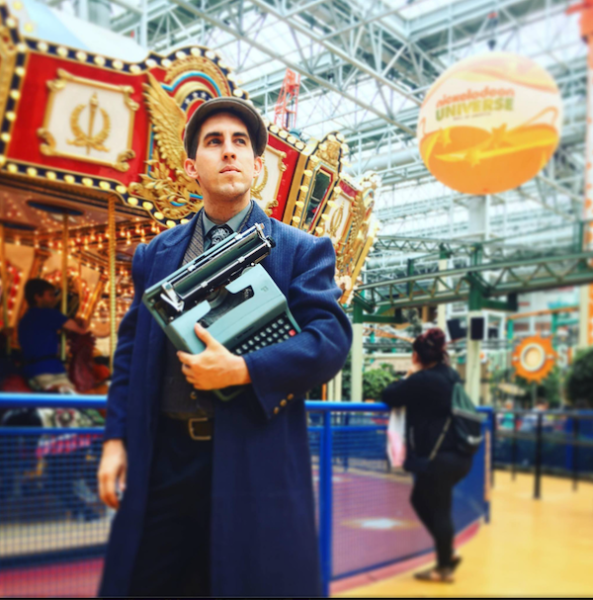 Need a dose of inspiration? Running low on rhyme?
There's a number you can call for that.
Brian Sonia-Wallace's "Poetry Hotline" is a novel concept — poetry written on demand, over the phone, customized to the request of the patron.
The idea began with a typewriter, when Sonia-Wallace would write impromptu verses for people on the street.
"We talked about doing it for One City, One Pride, and I thought, 'Wouldn't it be cool if it were a whole group of LGBTQ poets writing them?'"
Thus the Pride Poets were born.
For the last two years, Pride Poets has brought together LGBTQ+ literary community and members of the public. In 2019, they popped up with typewriters around West Hollywood throughout the month of Pride, crafting over 600 new poems for passersby commemorating their personal queer histories. In 2020 Pride Poets fielded 60 custom poem requests submitted online and ran Pride Mic, which featured 100+ LGBTQ+ writers and notable historian Lillian Faderman (co-author of Gay LA).
The Poetry Hotline is the project's latest incarnation.
To get a poem, you just pick up the phone, dial the number and answer a few questions from the poet.
My question was "What does West Hollywood mean to you?"
I said, "To me, West Hollywood is like a palette of paints with tons of different colors and shades … all this massive diversity coalescing into composition. A unison … or something."
Poem-seekers are free to be creative directors, guiding the poets on what they want. Or they can step back and let the poet take the reins.
"One time I asked a person how they would describe love," said Sonia-Wallace, "and they said 'Someone or something you're comfortable farting around."
The twenty Pride Poets bring twenty different perspectives and twenty styles of writing to the table. They'll crank out about 14 poems per hour today through Sunday, during the hotline's operating hours of 10 a.m. to 10 p.m.
Call the Pride Hotline 202-998-3510 to speak to a poet or visit www.weho.org/pride or www.pridepoets.com for more info.
Here's mine:
For Brandon, A WeHo Poem
by Brian Sonia-Wallace

Your city a muddle,
Composition of paints
Textured like modernists
Fish netted like surrealists
First vacation in years
That you never left.
Your Texas, a limited palate.
Your tribe, still ephemeral, still seeking
There is nothing that ends here
Only false starts and winding trails.
You keep stumbling on paths.
Your feet take you, dancing
When you do not know where next,
The answer is always joy,
Always richer colors
Brighter lights, louder sounds,
Bigger vistas.
West Hollywood, canvas & paint
Still wet. Eye-popping.
Drip. Drip.Drip.