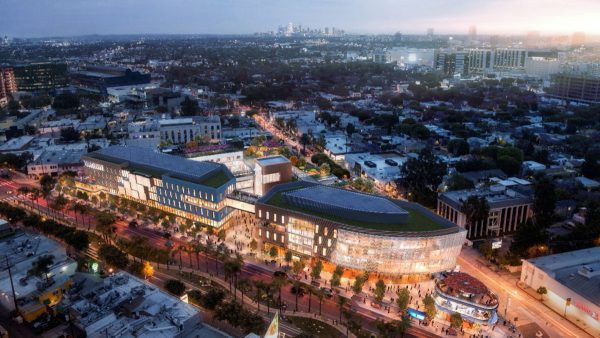 The long-delayed construction project on the triangular corner of Melrose Ave. and Santa Monica Blvd. has finally begun.
Excavation is in progress for what developers are calling the "Melrose Triangle," a four- to six-story complex which will boast 245,000 square feet of offices, 41 apartments, and more than 60,000 square feet of retail.
The current plans by developer Charles Company include more office space and less retail, parking and residential space than the proposal approved by the city. The Melrose Triangle project must still go before the Planning Commission and Design Review Subcommittee.
---
The developers published this notice on their web page:
We are excited to announce that a new phase of Melrose Triangle work is about to commence as we are ready to begin excavation at our property at 9060 Santa Monica Blvd.
Starting the week of May 24, excavation will get underway and is expected to take no more than six months to complete.
Per our permit with the City of West Hollywood, construction work hours will be Monday through Friday 8 a.m. to 5 p.m. No work will be conducted on weekends and holidays. There will be no equipment staging or start-up, material deliveries, or personnel arrivals before 8 a.m.
We are committed to adhering to all the precautionary protocols established by the Centers for Disease Control (CDC) and local authorities, including social distancing, cleaning and disinfecting, and instructing individuals with symptoms consistent with Covid-19 to stay at home.
If you have any questions, please do not hesitate to contact project manager Jack Kurchian at (424) 527-4758 or melrosetriangle@gmail.com.
We appreciate your patience and cooperation and look forward to being your neighbor.