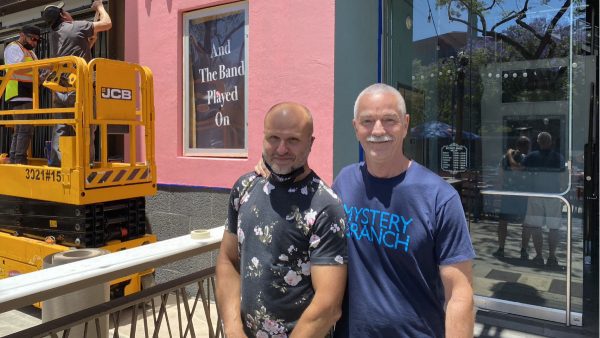 Micky's, the largest dance club in West Hollywood's Boystown District, and the iconic Revolver video bar are getting set for the lifting of all COVID-19 restrictions on Tuesday.
The front patio area of Revolver has been removed and is being replaced with a new exterior patio. Electricians were on-site earlier in the week to prepare for new ambient exterior lighting. Revolver is expected to re-open next weekend, having been closed since March 2020. This year will be 'Revolvers' 10th anniversary..
The painters were up on ladders at Micky's and a new shade of hot pink added to the outside. The doors were open with cleaning crews prepping for an expected July 1 opening. Micky's was forced to close due to the COVID-19 pandemic just as they were preparing for their 30th anniversary last year.
BlockParty — located in between Revolver and Micky's — also got a new coat of paint. The BlockParty store exterior is now the same color trim as the Revolver's wood frame. BlockParty and Revolver are located in a historic designated building and the color match is meant to enhance the look and feel of the property with consultation from Ric Abramson, the City of West Hollywood Urban Design manager.
Revolver and Micky's are the last two gay bars in the city to re-open. Flaming Saddles is closed permanently but will re-open with a new concept. Rage is also closed at the expiration of their lease. The Rage space will be converted to a mega-dance club owned by Lance Bass. Gym Bar is also set to re-open at the corner of Santa Monica Blvd. and Hilldale in the space formerly occupied by Halal Guys.