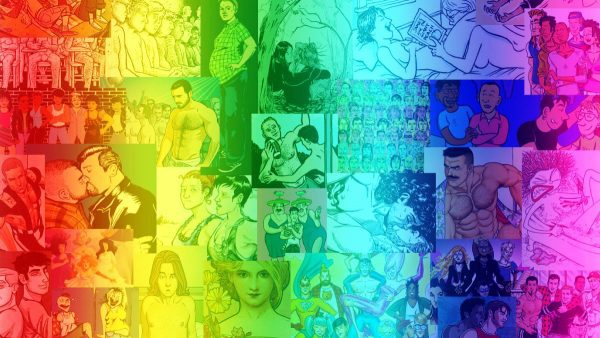 The final song lyrics of the musical Hamilton echo the question "Who Tells Your Story?" Now more than ever, many LGBTQ+ creators are choosing the comics medium to tell our queer history stories. What are the values of presenting queer history through comics and graphic novels? What are the challenges? How do creators find their LGBTQ+ history stories? How do they present LGBTQ+ characters and stories that are "true and accurate" to their times through the lens of today's queer identities and perceptions?
Join Prism Comics, moderator Justin Hall (No Straight Lines; Associate Professor of Comics, California College of The Arts) and a diverse, talented group of comics creators as they explore our queer past through comics. The panelists' books span recent and revolutionary American history, the Old West, Black history, the roots of the San Francisco gay movement and 1930s pre-war Europe.
● Justin Hall, moderator (he/him) – No Straight Lines: Four Decades of Queer Comics; San Francisco queer history comics poster project, Marching Towards Pride; Associate Professor of Comics, California College of The Arts
● A.C. Esguerra (they/them) – Eighty Days (A graphic novel about queer 1930s pilots to be released August 2021 by Archaia); Bespoke; Takeoff
● Melanie Gillman (they/them) – Stage Dreams; As the Crow Flies; Steven Universe comics
● Ajuan Mance (they/them) – Drawing Power: Women's Stories of Sexual Violence, Harassment, and Survival; COVID Chronicles: A Comics Anthology; Professor of English, Mills College
● Eric Orner (he/him) – SMAHTGUY The Life and Times of Barney Frank (Metropolitan-Henry Holt Books October, 2021); The Mostly Unfabulous Social Life of Ethan Green
● Josh Trujillo (he/him) – Washington's Gay General; It's Roy Cohn's World and You're Living in It; The United States of Captain America
Each creator will also do a special video reading of a section of their work as bonus virtual programming. The panel and readings will remain online for viewing after the premiere date.
Prism Comics is an all-volunteer nonprofit organization supporting LGBTQ+ and LGBTQ+ friendly comic book and graphic novel professionals, readers, educators and librarians. Founded in 2003 Prism champions diversity and inclusion in comics and popular media through Prism's website, exhibiting and presenting panels at conventions, and the annual Prism Awards for excellence in queer comics. prismcomics.org
This program is presented with the support of a grant from the City of West Hollywood's Arts Division as part of the City's One City One Pride LGBTQ Arts Festival (www.weho.org/pride).