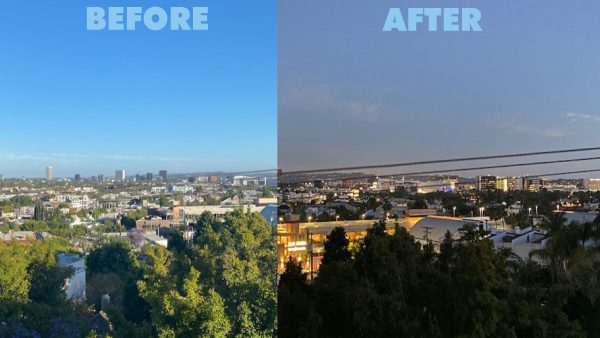 Neighbors on Holloway Drive are up in arms after Southern California Edison cut power to hundreds of businesses and residences for nearly a full day on June 8 in order to move a light pole from a single customer's window view.
Representatives from SoCal Edison confirmed that an individual customer residing at 8530 Holloway contracted and paid them to relocate the light pole, though they wouldn't confirm the amount.
While people in the area had been notified by SoCal Edison about routine upcoming work, Maria Pendergast only learned the real nature of the project by chance, when the company showed up unexpectedly on June 7 to trim trees in the way of the pole.
Pendergast, the president of the residents' association at the building next door, immediately went down to investigate.
"They said, 'This guy next door to you, Stephane Wong, is paying $25,000 to make the pole higher and move the equipment out of the line of sight.'"
WEHOville confirmed a resident by the name of Stephane Wong resides on the fourth floor of 8530 Holloway. Attempts to reach Wong for this article were unanswered.
The next day, Holloway Drive was closed to make way for a crane, snarling traffic for hours and depriving around 800 people of power, according to Pendergast. By the end of the day, the pole was lengthened in height by a mere 7.5 feet, and new power lines severed the southerly views of the neighboring condominiums.
Daryl Daniel was one of the residents affected. What bothers him isn't so much the gray wires that now interrupt his view of Cedars-Sinai — it's the way SoCal Edison went about things.
"The entire block was out of power," Daniel said. "Not only did they change the pole to accommodate one owner, they impacted the entire block. They affected people who work from home."
One neighbor was forced to rent a hotel room; another who requires a secure internet connection to perform her duties had to take a vacation day, he said.
The incident raises many questions. Should individuals with financial means be able to contract utilities for private work that negatively affects the public? Should utility companies be more transparent about operations like these?
Judy Tanka, who lives in Stephane Wong's building, isn't happy with the way it all happened either, particularly how SoCal Edison nearly destroyed the trees that prevented their crane from reaching the pole without bothering to notify anyone.
"For sure they wanted people not to know (what was going to happen), and apologize later."