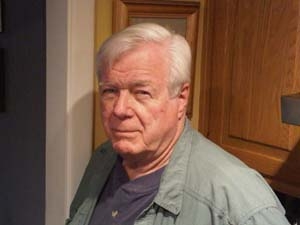 Quite a few years ago I was asked to join a small theatre company in Milwaukee where I had taken up residence some months prior. I'd had some vocal training in the hope of making a career onstage and I had developed a passable baritone with a good range.
The Skylight Theatre offered concert versions of light operas and Broadway musicals. Most of my colleagues were classically trained singers unable during the 1960s to find work in the USA, except for gigs like this. We were not paid, but Clare, the impresario, fed us after each performance. (Singing for our supper.)
For the production of Showboat, I was given the role of Joe, the Black man whose major song was Ol' Man River. As in most concert performances there was no costume nor makeup. I was as pink as the day I was born. During the little reception at the end of the show I was approached by a very young Black man who was quite upset that I sang the lyrics in dialect, not in modern English.
I replied that I sang it as it was written. Even the great Paul Robeson, in 1926, muddled over the presentation. I added that I believed that Black slaves did not learn the language of their oppressors at the Little Red Schoolhouse, rather they learned it from their semi-literate overseers. He chewed on that for a minute and the said he agreed and drifted away. A few moments later he returned to tell me his real reason for speaking to me was that he knew the song but had never heard a white man sing it.
He said he felt that the piece belonged to those of his race, but — and with a smile — he said he granted me permission to sing it. I asked him if he knew that the play, music and songs, were written by two Jews. He said he did not know that. Our conversation continued for another ten minutes. This little saga I present because all our lives are full of misconceptions, little prejudices, none of us immune. Yet, through communication and open discussion we can learn to shed them.
My sister's daughter, my niece, married Lewis some 35 years ago. They had six beautiful, delightful, wonderfully mannered children. They arrived in rapid succession and I knew them all when they were quite young. Long separated by distance and a general lassitude about family connections, I was unaware of their lives. However, last week I received a call notifying me that Lewis was about to die from a number of ailments, all terminal and, as the eldest member of the clan, would I give permission for Lewis to be buried in the family plot, where six generations of the family had been planted. Of course Lewis is family and his powdered remains would be slid under the huge granite marker to join others of the family now long gone.
Lewis joins a group of Yankees (WASPS), uppity Irish and intellectual Jews as the only Black man so interred. A little tale to note that there are many forms of racial integration, marriage being the most common. The Black arm of our family now numbers fifty-four, far more than the combined other arms. As a result of the recent contacts, one young woman, Melinda, will be moving to Long Beach so we will be once again connected. And, I have received three notes from others in the Eastern segment of the family, all calling me "great granpa". I feel very old – but certainly honored.
If I were to be asked what this group of intrepid West Hollywood citizens should keep in mind as they go about their work, I should certainly underline the word task. The very ideal of social justice has been a human goal akin to finding to the legendary Golden Fleece. Even before we could express our desires about the desire for equity in any form of writing the gnawing need for equity was required for the continuation of any kind of civilization. Think of how many millions have died in the search for social justice; and of how many were led down overgrown paths by false prophets who promised the impossible dream. But, we go forward, nevertheless, searching, knowing it is out there.
Each generation finds itself with much the same dilemma. For the current generation it is not easy to equate current desires with those of earlier generations – yet there have been progressive spirits always, seeking a better world. The past, holds many lessons for the seeker. One of my dearest pals is a 96 year old woman whom I often describe as "the very last Leftie", an undaunted progressive in every sense.
Her quest for social justice has taken her through many iterations of political promise, flailing social institutions, blathering religious zealots, brutal police reactions, municipal stupidity…well, almost all the ills to which our society is subject. Jailed, mishandled, lied to and always engaged in difficult activities with an unbridled love of humanity and the planet upon which we perch.
Her rewards have always been the fulfillment of her tasks, although just a few years ago the City of Los Angeles honored her with a "Day" and all the trappings it could find to show its thanks for her tireless work on behalf of children in foster care. Would that all in that work be so diligent and caring. She gave me her "pussy hat" after she decided that she was too frail to get out on the streets again to protest against any form of injustice. She was certainly not alone on the streets in past years in contrast to her early years when few could rise up in any degree of indignation over unjust conditions. She is almost content now to see the actions of so many others as they search – and demand – social justice.
Although the ideal of social justice is a long-sought golden fleece, each era has set a slightly different catalogue of goals. Sometimes it was easy to define, other times not, only the indefinite desire for change. Today, our intricate cultures are all looking for equity in many areas. I came across a pertinent listing from Yeshiva University, pretty much summing up the important issues. With a world view they list them in order as "the 9 biggest social justice issues of 2020":
Voting rights – our basic right, a pillar of our democracy
Climate Justice – everybody has a role in saving the planet
Healthcare – equal access and quality for all
Refugee (homeless) crisis – the world is in climate chaos, uprooting millions
Racial Injustice – most difficult to remedy – what is taught at home
Income gap – what is work worth?
Gun violence – our cowboy culture has ruined real conversation
Hunger and food insecurity – no citizen should go hungry in this land of plenty
Equality – the ultimate goal for humanity
Now to somehow connect West Hollywood to much of this list. Taskers, be very visible, make noise, collect like thinkers, convert those who doubt, open minds and in the end tell us what you have learned.