The creative mind behind the world's most popular gay app is helping to usher in a new era for one of West Hollywood's most iconic gay bars.
After a year in COVID hibernation, Micky's on Santa Monica Blvd. is revving back to life with the help of SKÜT, whose brand new mural electrifies the night sky like a glow-in-the-dark kaleidoscope.
The rainbow has always been his creative lifeblood.
Twelve years ago, SKÜT was known as Scott Lewallen, a USC wunderkind whose new app would completely revolutionize the way gay men met and interacted with one another worldwide. As Senior Vice President of Product and Design, Lewallen created Grindr's iconic logo and addictive user interface, along with its signature notification sounds. His work propelled Grindr to its peak as the world's most popular gay mobile app, with 6 million users in 192 countries, as well as a highly profitable and well-recognized technology business.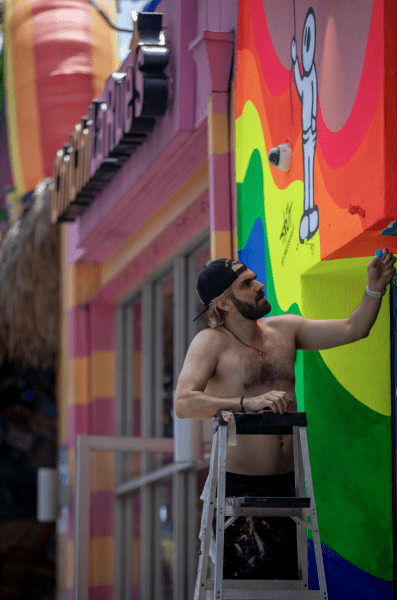 As an artist, SKÜT's power lies in his high-octane palette and his passion for the polychromatic. A self-professed "gay geek," he has been featured as a local artist at the WeHo In Paso Exhibition and has held solo exhibitions at The Other Art Fair in Downtown Los Angeles. He held a two month residency for World Pride 2019 at the V Wine Room gallery venue in West Hollywood and is a current member and contributing artist at TAG Gallery in the Miracle Mile district on Wilshire in Los Angeles.
Coming Friday on WEHOville.com:
From Grindr to Boystown: How Scott Lewallen Shaped The Rainbow