This week Fantom Flower, 'Where Eagles Fly LLC.' will be asking the business license commission to approve a new Cannabis consumption lounge inside the former space occupied by Flaming Saddles.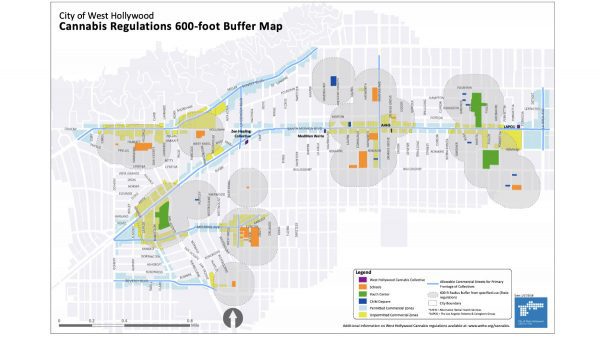 On Monday, June 28th, the Business License Commission will consider an application from Fantom Flower, "Where Eagles Fly, LLC, to open a Cannabis Consumption Lounge at 8811 Santa Monica Blvd, formerly occupied by Flaming Saddles.
The Cannabis Ordinance was adopted in November 2017 and preceded a highly contentious process where applicants spent hundreds of thousands of dollars each and millions of dollars in total to obtain one of eight coveted cannabis licenses in 5 categories. In total 313 licenses were applied for by 122 different applicants. The fees to apply included a $10,000 application fee for each application; Adult Use Retail, Medical Dispensary, Consumption (smoking, vaping, edibles) and Consumption lounge (edible only) and Delivery.
The Cannabis Ordinance as written was suppose to be 'transparent' and included a buffer-zone of 600 foot from a school or a youth center. The map is shown above. City Staff interpreted the ordinance to mean the entire West Hollywood Park was considered a 'youth center'.
After the winners of the cannabis licenses were selected a frenzy was set off for the best location. City Staff presented the public with a copy of the Cannabis eligible zones. The map is shown above. Landlords with green bud on their mind hoped to land a cannabis retailer who can pay increased rents, or even a percentage rent which makes the landlord a partner. For instance, the old Coffee Bean & Tea Leaf lease was not renewed with hopes of an approved Cannabis license for that location. Also, Michael Talla owner of the building that housed L.A.S.C included Don Zuidema as the social equity partner in his application for a Cannabis license. The owner of the the property that used to house the Andrew Christian store and Cafe DeToile was told that space was not eligible for Cannabis and signed a tenant with clear direction from city hall that cannabis was not eligible for that location. In the last year she was told again that the space located at the corner of Hancock and Santa Monica to be occupied by Kale Me Krazy was also not eligible for Cannabis. Yet, the Flaming Saddles space was working its way through City Hall very quietly.
Flaming Saddles went out of business during Covid. Owners Jackie and Chris made their deal to exit by the end of June. Although a rent moratorium was in effect they opted out of the lease and the landlord Monte Overstreet rented that space within a few weeks. There was never a 'for lease' sign on the Flaming Saddles space despite its $40,000+ a month rent price tag.
In order for a business to begin construction it would first need to get a zone clearance. An application was submitted to City Hall and without any public hearings the Cannabis map changed. After two years of all Cannabis licensees staking out their turf a new map was reimagined by city staff over the counter without any public hearings. Monte Overstreet is one the largest property owners in the City of West Hollywood and quite connected to City Hall. Somewhere along the line a new map was requested and then presented which would allow "When Eagles Fly LLC/ to get a zone clearance and prepare to move into the heart of the Boystown nightlife area with a Cannabis lounge. (see the new map that has never been shown to the public until this hearing).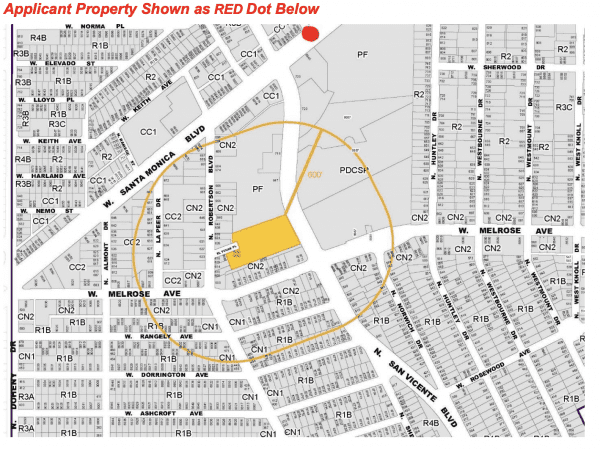 The City Staff Report states that Fantom Flower held two virtual community town halls on 5/26 and 5/31, and all neighbors and businesses within 500 feet were notified. But, most all the businesses within 500 feet of this establishment were closed due to Covid. Rage, Rounderbum, Poke, Micky's, Revolver, Trunks, George's Grill, Unity, were all closed during the notification process. BlockParty located at 8853 Santa Monica Blvd. also received no apparent or effective public notice. The potential impacts to the heart of our nightlife area are huge.
The public is encouraged to participate. Should this Cannabis lounge be allowed to go forward? Has there been special treatment of this applicant? Will City Staff admit they made a mistake on the first map provided? What will be impacts be on our historic LGBTQ district if Cannabis businesses may be allowed to move into any property along Santa Monica Blvd. from Robertson to Palm? These are important issues that need to be discussed.
You are strongly encouraged to email Falyn Kingi at fkingi@weho.org no later than 4:00 p.m. on Commission meeting day (Monday, June 28, 2021) to be added to the Public Speaker List for the meeting. Please include your name, the phone number from which you will be calling if applicable, and which item you would like to speak on.