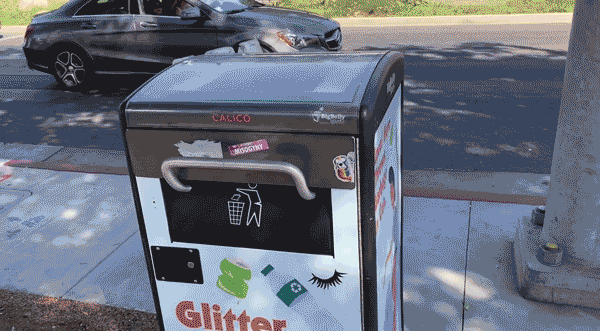 Yes, you heard that correctly! The City of West Hollywood's new, solar powered, super compactor receptacles have been disabled this weekend.
WEHOville reached out to Public Facilities and Field Services Director Helen Collins to confirm why Athens Services made the rounds yesterday to install new handles that prevent the receptacle door from opening. A wire mesh can was placed next to the closed "Bigbellys" to handle all the extra garbage that is expected on Sunday.
Helen Collins replied: "From a Public Safety perspective, this is standard operating procedures for large scale events or heavy crowds."
Please note that the City of West Hollywood has not allocated any funds to close the boulevard during Sunday's first-ever WeHo Pride. Outzones along the boulevard leave less room for walking traffic. Now the garbage will overflow from the wire can, which has less than half the capacity of the 'Bigbelly" receptacles.
In a press release dated March 7, 2015, on the City of West Hollywood website, it is noted: "The City of West Hollywood is rolling out a new system for garbage and recycling along Santa Monica Boulevard sidewalks. This week, the City is installing 18 Bigbelly solar-powered compacting containers along one of the most walk-friendly corridors of the City. The receptacles are strategically located along Santa Monica Boulevard in heavily-pedestrianized spots between Doheny Drive and Fairfax Avenue."
But now, these expensive receptacles are disabled for large functions. You can expect the garbage to overflow onto the sidewalk. And its makes us wonder: Will there be a trash pickup on Sunday morning before the Pride Walk, or will we wake up Sunday to trash overflowing from the wastebaskets after Saturday night?
Welcome to the City of West Hollywood! Don't trip over the trash.