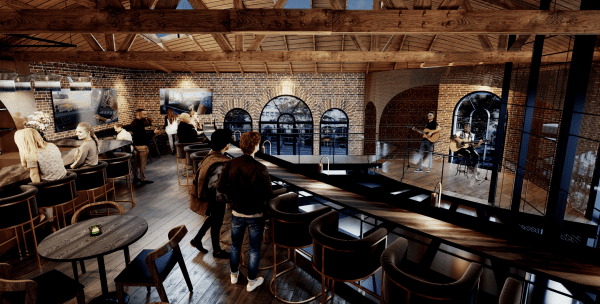 Faults last-minute changes to city's own cannabis zone map in decision not to greenlight Fantom Flower application
The Business License Commission poured cold water on plans for a new cannabis consumption lounge to set up shop in the former Flaming Saddles location on Santa Monica Blvd., blaming West Hollywood city staff for clandestinely altering rules at the last minute.
The developers of Fantom Flower had proposed an onsite consumption area on the second floor of the historic commercial building at 8811 Santa Monica, where patrons could smoke, vape and ingest edible cannabis products, while a restaurant would occupy the first floor. 
City zoning laws prohibit cannabis businesses from operating within 600 feet of so-called "sensitive-use areas" — daycare facilities, youth centers, or schools within a park property. Parks themselves are not considered sensitive-use. 
Controversy arose over whether 8811 Santa Monica falls within 600 feet of the youth center at West Hollywood Park. For years, city staff members have provided cannabis license applicants and the general public with a map showing the locations of sensitive-use areas and the buffer zones around them where cannabis businesses were prohibited from operating. Decisions on whether and where to open businesses were made based on this map, which remains on the city's website as of publication time.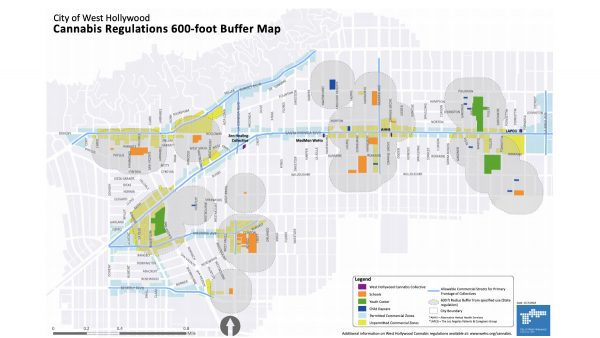 The map, published in 2018, clearly shows 8811 Santa Monica falling within the buffer zone of the park's youth center. 
But after receiving Fantom Flower's application in April, city staff members took it upon themselves to make some adjustments.
They determined that because the youth center in question, Tiny Tots, operates only in the Recreation Center and the library, only those buildings should be recognized as sensitive-use spaces — not the entire park. Without the knowledge of City Council or the Business License Commission, they drafted a new map which put 8811 Santa Monica outside the 600-foot buffer zone and cleared the way for Fantom Flower to move in, while attempting to scrub the old map from the city's website.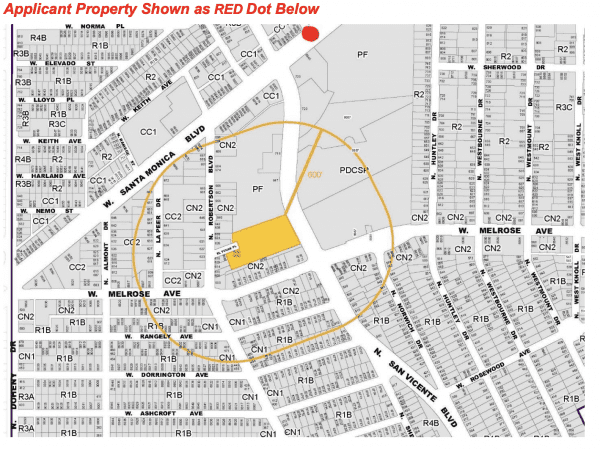 The Business License Commission wasn't having it.
"Why wouldn't the whole park be determined as the center of the sensitive-use area?" asked Commissioner Elyse Eisenberg. "Because there's always a potential that it'll be a youth sensitive area. It seems weird that you're choosing, like, a room in this huge park and then determining 600 feet from that."
The city defines a youth facility as any public or private facility primarily used to host recreation or social activities for minors including but not limited to private youth membership organizations, clubs, social services facilities for teenagers, video arcades or similar amusement park facilities.
While the Commission was enthusiastic about Fantom Flower's business model, and several public commenters called in on their behalf, the issue of the map cast a shadow over the proceedings.
"I can tell you firsthand that every single one of the successful applicants of the cannabis licenses absolutely relied on the city's buffer zone map," said  Jake Stevens, who represents another cannabis licensee and delivery business in West Hollywood. "Leasing opportunities were not pursued based on the map. Both applicants and landlords were denied the opportunity that is now given to (Fantom Flower)."
Commissioner Mark Yusupov touched on the unwanted loitering and noise complaints that have haunted other cannabis-related businesses such as Cookies, while other Commissioners felt that Fantom Flower's presentation left too many unanswered questions.
"A lot of the historical applicants have really understood what their vision was and how it all integrated, particularly when it comes to the patron experience," said Commissioner Robert Lo. "They really had a vision about how it's supposed to be handled, and I also feel like some of (Fantom Flower's) answers weren't really well-thought-out. I think it would behoove us to perhaps wait a while until this all gets vetted out first."
The commission agreed on a motion to continue the item until City Council can weigh in on the issue of the sensitive-use map.
"This is something that has happened many, many times over the past few years specifically dealing with planning issues, where the staff gives applicants the indication that things can go forward without the transparency needed to go before the public," Commissioner Eisenberg said. "Unfortunately sometimes staff thinks they have more power than they really do. The city map should have gone through a transparent process a couple of years ago and it should have been made public way up front, not at the last minute."
"I'm sorry you got caught in the middle of this," she told the applicant. "Unfortunately there are too many things that just aren't kosher here."