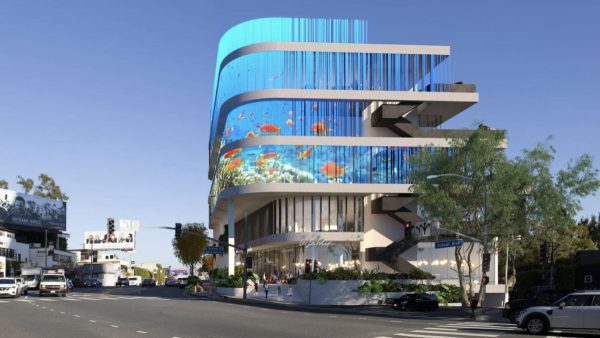 The five-story office building Faring is planning to build on Sunset Blvd. between Carol Ave. and Cory Ave. will be wrapped on three sides by 13,900 square feet of "digital canvas," similar to the Pendry Hotel & Residences.
The LED media system will be fully integrated into the building's facade on the north, east and west sides, and will operate during the day and at night. The animated signs will display the works of local artists or feature civic announcements about 25 percent of the time. In addition to providing 1,000 square feet of billboard signage, the media system will serve as a solar shading latticework for much of the building.
The building, designed by Gensler and dubbed the "9160-9176 Sunset Project," will contain 53,030 total square feet of space, 36,807 of which will be used for offices, with another 8,187 square feet set aside for drinking and dining. Three underground levels will have parking spaces for 105 vehicles and 14 bicycles.
If approved by the City of West Hollywood, construction will tentatively begin in December and wrap up in May 2024.
The property is currently home to Hornburg Los Angeles, a luxury car dealer.