City Manager Paul Arevalo hands off the reins to new City Manager David Wilson after 22 years leading West Hollywood's transformation into a World Class City. The following are excerpts of his final address at this year's 2021 State of City sponsored by the West Hollywood Chamber of Commerce.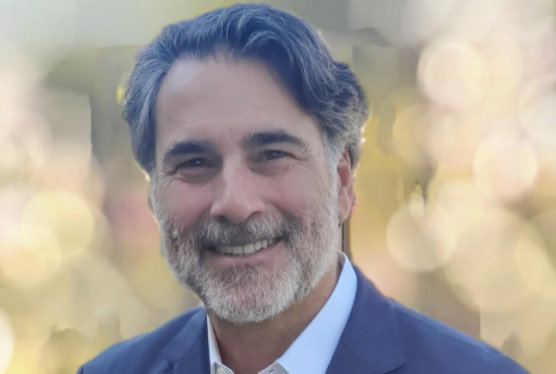 It has been an amazing ride. I can't tell you how fortunate I am to have been working for such an amazing community and will try to quickly go down memory lane. Three decades worth of information and if there are secrets to be told I'm not going to tell them today!
I started in West Hollywood back in 1990, I was an assistant finance director for the City of Bell Gardens and was looking for opportunities to grow. There was this kind of crazy high profile city, really quirky and had just incorporated a few years earlier and I interviewed for the finance manager position and they offered me the job.
Truly in my mind I was just passing through here for a few years. I was going to help shore up a bureaucracy, help them close their books, they never had a fully adopted budget. It was just going to be a fun time for me. At the time I had my eyes on becoming a finance director in the City of Pasadena and that was my goal.
The 1990's West Hollywood City Hall was completely different, extremely informal. The first person you would meet when you walked into the City Hall building was Rick Brooks, and Rick was this creative, flamboyant, lovable guy who was just there to serve and welcome the community.
This was back when we were located back at the Trader Joes next to the Ramada, and those were magical times, we had less than 50 employees and everybody knew everybody. It was wonderful and fun and exciting and it was also right at the height of the ravages of the AIDS pandemic and the community was reeling and City Hall reflected that as well. We had employees on a regular basis dealing with the struggle of AIDS.
That's when it became more of a family to interact with staff at a different level and learning from people that there is more to being at work than just working. And that has shaped my career, it's shaped who I am, and it's helped shape the culture of the organization. And it helped shape me.
1999 was a pivotal year for me. I had established myself in the finance profession and had a good statewide reputation, and was a board member for the California Municipal Finance organization. However one of those life changing calls, I think it was on August 17th, 1999. We had a pre-meeting prepping for the council meeting and I didn't have any items on the agenda so as I was driving home and got a call from closed session from then Councilmember John Heilman asking me to come back to the meeting which was over at Plummer Park in the old skyroom, which was a kind of funky little room next to the council chamber. I drove back and was informed the previous city manager was leaving and council asked me to sit in for the city manager that night. And Ive been doing that for nearly 22 years.
Going from finance director to city manager was like jumping from the frying pan into the fire. It was a controversial time, we had major community and business activity happening – especially on the Public Works side, we had some controversies at city hall that seem to come back every 5 years or so, and I decided this is what I want to do, if I was ever going to be a City Manager this is the City I what to do that in, it was something I could give my heart and soul too. And I've been doing that for nearly 22 years.
Some of the names I recall that were there for me 24/7, Ray Reynolds from the business community- vision, articulate, loving guy, Joan English who every time I stepped out of line would kick me in the ass. Lloyd Long who was a casual influence that provided me that quiet psychological support during the day when things got super stressful.
Of course there is also Mike Jenkins, the best city attorney in the United States, he became a friend and mentor and really appreciate everything he offered me. Some of the challenges we had early on —we were just diving into the Eastside Redevelopment and working with the businesses to acquire property so we ended up with the Gateway project which was an amazing investment for the city. We had controversial projects wrestling with the developer at the Millennium project and easier projects like the Pacific Design Center third phase.
I was able to make friends with many in the business community but in terms of land use advisement John Altschul was always there as a kind of father figure helping me stay on the rails as we debated some of the more controversial issues.
Earlier tonite we made tribute to Steve Afriat, who was this kind of Politico and a little bit pain in the ass but I learned to respect him and spent time with him. He was a big man with a big heart and we had this kind of Fearsome Four, with Jeff Seymour and Jim Arnone.. the four of us would sneak off campus for lunch to the old Tam O'Shanter. A quick toast to Steve Afriat, a great influence on West Hollywood 'to all the people who worked with you and loved you.'
Most significantly from flying pan to fire, if there's one defining moment other than incorporation it was the revisioning and redevelopment of Santa Monica Blvd for those old enough to remember what that boulevard used to look like. It was one pothole after another like you were in a third world country. The State of California didn't want to take care of it so we went through a lengthy process to take over the Boulevard and the state gave us 9 million dollars to fund the improvements but we spent 30 million, that's what West Hollywood does and it became this nationally recognized award-winning pedestrian project but it wasn't easy.
One thing I talk about to folks who are upcoming city managers are never miss an opportunity to put a volunteer between you and a difficult situation. And for me that was Russ Wilson. From that Russ became a business friend and a best friend for life.
After the first decade I started to feel comfortable as who I am as a city manager. But I ended up after a few years realizing that I kind of got this thing.
Now it is time to build the next generation of leaders in the City of West Hollywood . During the past 10 years I really had some fantastic times working with staff to build capacity. Working with an amazing team, working with an amazing Council. I also had some difficult times too.. I am the only city manager I know that had to testify in front of a very unfriendly grand jury. That was one of my worst days being city manager. I can laugh at it now but it wasn't funny then. It was quite an experience.
The good always outweighed the bad or awkward things. In life and in this organization sometimes the days are really really long but the years go by super fast and the decades go by faster. Being here in this organization it's just been amazing to watch the transformation of a city and I've been fortunate with that. In the last ten years we have seen some major development in the city and I applaud the development community for that.
We had the Millennium Project finally being completed, the additional transformation of the East Side with new beautifully designed residential projects, the Library project got built and hopefully sooner not later we will have the ribbon cutting of new West Hollywood Park and Aquatics center. We had new hotels, The Edition, The Kimpton on La Peer, The Pendry, even some of our historic sites like the Lot, now the home of OWN, the Oprah Winfrey Network. There are just amazing things that have occurred and it all started slowly.
When I got here West Hollywood was West Holly wierd, we were the experiment that was suppose to fail miserably. Everything you heard from the County and all of the critics is that we didn't have the resources or wherewithal to run the city. Yet, if you look at how we thrived over the years we failed spectacularly. It's just amazing.
The past 14-16 months has been a challenge for all of us. And I thank the business community for allowing me to lean heavily into you. Your advice, wisdom and support to help guide policies to create a system that allows you to be successful. Shout out to Gen -you have been amazing and Nick and all the board has been great, and shout out to staff, thank all of you. On the staff and ground level, I really thank all of you. It's really important that we continue to push the envelope. There is a whole lot of great talent and great ideas and we just need to be willing to take risks to get things done.
As much as possible I also think its time to look at how we are thinking and reprogramming some of the large-scale events. And I really encourage the community and council to look at how we spend those millions to promote those events and while some have high return some of them are high risk with low return. It's a chance to rethink those before we go back to the old way. It's time to embrace technology and that it's ok for people to work remotely.
It is so much easier and cheaper to build technology links that it is to build lanes on the freeway and I hope that one of the silver lining to this pandemic is that we welcome a hybrid system for West Hollywood City Hall and for all our businesses that can accommodate that.
Lastly we are having conversations about reinventing police work and reinventing public safety and community safety. I think its a great idea, a novel idea, and West Hollywood can and should be a leader in that conversation.
As I leave I recognize that there are certain tensions in the community. It's really important that dialog remains. One of the things that was the most important safety net to me when I became city manager was having a group of leaders in the community with strong objective voices to help guide and mentor me. But also to help advocate good policy with the city leaders. As we struggle with particular issues the relationships have to be resilient enough to survive those issues. As we debate things it has to be about facts and issues and not about people. It's really critical that we are all in this together.
I'm leaving the City Manager position but my friends and my heart remains in the city and I'm going to be active and I'm going to be polite and whispering in people's ear but its really critical that especially those of you on this call today work together. The city is more important than any one issue. I implore all of you to remember that and put the city first.
I want thank everybody who has supported me over the years and there are too many of them to list or I would have taken this whole presentation, so I want to say thank you thank you thank you , its been an amazing ride. I love you guys.