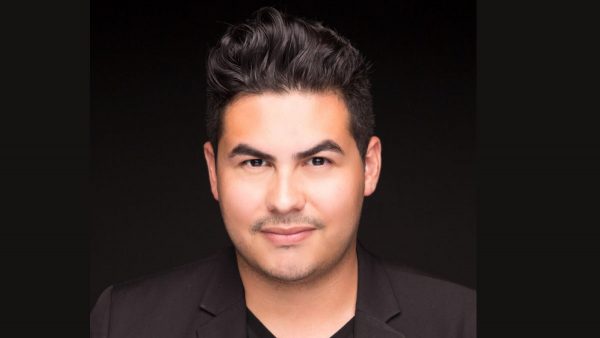 Daniel Zamilpa emerged from the shadows of a homophobic upbringing to shine bright as a leading LGBTQ voice in the L.A. film industry. The 29-year-old is one of the nine members of the brand new Social Justice Task Force, tasked with identifying social and racial inequities/issues and making policy recommendations to City Council. Zamilpa spoke to WEHOville about growing up in Los Angeles, inclusivity in West Hollywood and working with a new group to blaze trails for the underserved.
Tell us about your background. Where did you grow up? What drives you?
I grew up in a suburb of Orange County. I'm a Los Angeles native through and through. I started working in the (film) industry right out of college, working for Disney, then I worked in fashion marketing for a bit. I then came back to work at Warner Bros., HBO Max and Adult Swim. I am queer, Latinx and indigineous. You know, social activism has always been a huge flash point of mine, not just because it is my experience, but because I recognize my privilege and the injustices that many of us have gone through, and I never want anyone to feel like that.
How did you find yourself on the Social Justice Task Force?
I found out about the openings on the Social Justice Task Force from Councilmembers John Erickson and Sepi Shyne. I submitted my application, and waited to hear back for a few weeks. During the interview process, I spoke to Councilmember Shyne, and we talked about my experience as a resident, as a queer, indigenous, person of color and then also my role as an activist. I told her about what my goals are in terms of experience but also what I'm hoping to accomplish by being a part of this. I was accepted as a member-at-large.
What are your goals for West Hollywood as a member of the task force?
West Hollywood is truly a special and amazing city, but we can always do better. I think the reality of the situation is that as West Hollywood has become more trendy, more affluent — you know, the original purpose of the city was to create a safe haven and community for the LGBT community, for older, low-income residents of Los Angeles. And looking at it as a whole, I remember being 14, 15 years old, and I see how different the world is only 10 or so years later. So really my list of goals is pretty broad. I want to address affordable housing, I want to continue to make sure that we're providing services. There's also a social element that I would love to take a look at and see, 'How do we make sure that our community here in West Hollywood is as inclusive and open as possible?' Because we have to be advocates for every single member of our community and not just those who have more money. As a community we can continue to make sure that everyone has the same if not a better fighting chance to succeed here in West Hollywood.
Last week during the meeting, city staff gave the task force a primer on the city and how the boards and commissions work in general. What sort of limitations do you think you'll face in enacting change? What are the limits of your ability as a task force member?
I feel like that's what we're trying to navigate right now. I think for those who were able to tune in to the meeting last week, I think several of the same questions came up for all of us on the task force in terms of completely understanding the information that staff has given us thus far. Things like RFPs, what specific areas of West Hollywood's budgets goes where. Because we are such a special community, looking into things like social setting and nightlife — things like that are maybe not necessarily the specific responsibilities of a city government. However, to me, it's all interconnected. Whatever we can do to continue to support and continue to send a message that says that West Hollywood is a city for everyone especially BIPOC patrons and business owners. It's not a limitation, it's an opportunity.
How have you seen West Hollywood change since your childhood?
West Hollywood was always kind of a no-go area for me growing up. One of my parents is homophobic, and we don't speak anymore. So West Hollywood for me was being able to go to my first gay bar, to volunteer at the LGBTQ Center. It was always a goal of mine to be here. As funny as that may sound, I had an idea that it was going to be amazing, it was going to be everything that I ever dreamed of. And you know, as a larger person of color, at times I have not felt welcome. I never really took that as a fact; I saw it as an opportunity to make West Hollywood more inclusive. I think that representation is always super important. In my work, I have seen that the place where BIPOC people come into play mostly is within the multicultural team, within the diversity inclusion team. We need to make sure they are represented across every level and every department. I've requested from the city that we take a look at it, to make sure that diversity isn't just a box we're checking off. Diversity should be organic, in the sense that it's the right person for the job, not just because of their skills and abilities, but because of the point of view that they bring.
How do you feel like the task force members will work together? Do you feel like individuals are pulling the team in different directions, or is the group already building cohesion?
I'm already so inspired by every single member of the team. Everyone is bringing such experience in terms of diversity and inclusion. Everyone is coming to the table with their best intentions and they're ready to work. We're very eager and I think even with different levels of volunteerism or activism or whatever it may be that we each bring, I think we all bring the same amount of dedication. As I've continued within my personal and professional growth, for me the term "getting along" has changed. It's more about being respectful and how we challenge each other and how we push each other to grow.
Any final thoughts or comments?
I definitely feel like it's my responsibility to be a part of this, and not just through my own personal network but through the larger West Hollywood network as well. If anybody ever wants to talk about anything my virtual door is always open.