The goal was to kick off a renaissance of West Hollywood's many aging billboards by loosening regulations, but WeHo's Planning Commission wanted to see a more airtight plan.
Though most billboards in WeHo are concentrated on Sunset Blvd. (and are regulated by the the Sunset Specific Plan), 76 so-called "non-conforming signs" are spread throughout the city, down Santa Monica Blvd., La Cienega, Fairfax and La Brea. These billboards were approved before the city was incorporated in 1984; now, they're non-conforming — grandfathered out of having to abide by today's zoning regulations.That legal status makes it difficult for property owners to attempt alterations, improvements or even repairs to the boards.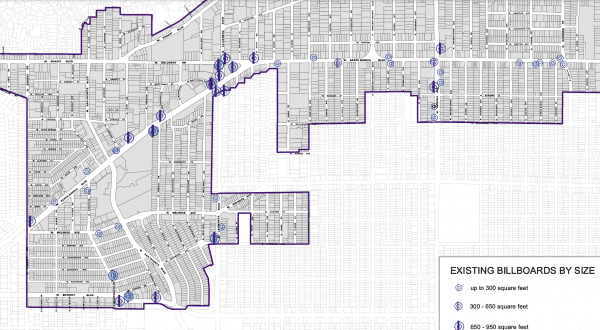 The zoning amendment offered a sweeping revamp of the rules, allowing for relocation and replacement of existing billboards in certain types of development projects along the city's commercial arterials. The intent of the proposal was to "create aesthetic improvements, reduce visual blight, generate public benefits, and reduce the negative land use consequences related to the city's non-conforming billboard signs." The amendment also includes a revenue sharing agreement with profits from the boards.
Commissioners pointed out that aspects of the plan, such as linking profit sharing to affordable housing, were overly vague and detached from the overall goals of the city.
"The public development agreement shouldn't always be about cash which goes into a kitty at City Hall," said Chairperson Lynn Hoopingarner, "it should be a true benefit to the public. And that benefit should accrue to the whole public, and in the form of things that they can see, and touch and feel. And so to me there should be a larger thought about that. I just I think, again, this is not fully baked in."
Commissioner Michael Lombardi noted that language allowing owners to increase the height of their boards could open a can of regulatory worms, while Vice Chairperson Stacey Jones asked city staff to prepare a comprehensive list of the owners, and how they were actually making off the signs. 
Whether or not the amendment allowed digital billboards on Santa Monica Blvd. also became a point of discussion.
"The minute we start having flashing lights and digital media on Santa Monica Boulevard, La Cienega, et cetera," Hoopingarner said, "we've substantially changed (the character of the neighborhood)."
"If there's no intent for digital on these other Billboards off Sunset then I think we need to be explicit about that."
The Planning Commission passed a motion to continue the item to a date uncertain, sending it back to city staff for, in Hoopingarner's words, "more bells and whistles and frosting."