By: Housekeeping Manager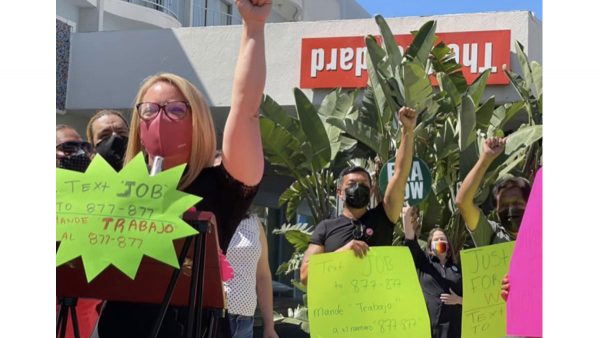 Publisher's note: The Hotel Worker Ordinance introduced by Mayor Horvath and Council member Shyne is set to come before the City Council on July 19th. The hotly contested issue would exempt the hotel if they joined the Union and could have devastating effects on the hotel operations in West Hollywood. WEHOville is glad to present various vantage points of view to the public concerning this ordinance. We respect this worker's right to privacy and provide this op-ed for educational purposes only.
I am a housekeeping manager at a hotel in West Hollywood.
I have worked in housekeeping my entire career, starting as a room attendant and working my way up to a manager. My team, made up of fantastic ladies and gentlemen, who like me, are mostly minorities, are truly like family. I know their children, their birthdays, and am so grateful that they welcome me into their lives. Please know that I write this article anonymously because I am fearful of the retaliation that I have seen at other hotels whenever anyone speaks up about Unite Here, the hotel union. They harass people who disagree with them through phone calls and text messages, and then organize gatherings at hotels to intimidate us. I don't want that for myself or my team, so I asked to keep my name off of this article for protection.
You should know that my hotel is working so hard to hire staff so I can have more people to clean rooms as we have thankfully seen our business come back strong. In my twenty years, I have never seen it so bad to find people to work. We post the jobs, but no one applies. So, I don't understand why the West Hollywood city council is thinking it is a good thing to pass this hotel ordinance which would make me need to find twice as many of people to clean when I already can't find people. Their proposal would put very strict rules on the hotels where I could only schedule the team to clean half the number of rooms that they normally clean. If we cannot clean rooms, we cannot sell rooms- it is that simple. I know the city makes money on the hotel taxes- why would they want us to sell less rooms?
Another reason why this new law would be bad is because it harms the workers pay. How? Because we could no longer afford to offer overtime and they would lose tips. You should know that the overtime is an extra hour or two a day that we offer the team if they want to make extra money- we don't make anyone work more than their scheduled times. They like the extra hours because they are paid time and half, and I know the extra money is important to their families. One of my ladies said that she was able to afford new shoes for her child to play soccer just through the overtime that she made in the last month. One other thing that will hurt us is that by cutting down the number of rooms, my team will not be able to make the same amount of tips that people leave in the rooms. I don't think this council knows any of these things so why don't they ask us?
When I read more information about the ordinance, it said also said that it was supposed to protect us. But, we already do all of the trainings that they list as new things. We have the panic buttons, we do sexual harassment training every year, and I do training for the proper use of chemicals and even show the right way to clean so injuries can be avoided. We also learn about human trafficking every year, and how to report anything that looks suspicious. I am proud that we have the training, and I can tell you that we make sure our team is healthy and strong. In fact, I even do stretches and other exercises with the team every morning! So, I am confused why the council says these are new protections when we already do all of the protections and more. Plus, you should know that state laws and Cal OSHA already require many of the things in the ordinance- so why do we need a city law to repeat this?
If the council really wants to help us, then they should figure out how to support us with things we need like more workers, better transportation, and finding more people to visit and spend money with us. All of my team commutes from as far as an hour away, so transportation help would be really appreciated- maybe they could pay for our bus fares? And we are concerned about the homeless issue too- we do not always feel safe walking on the streets here. I know the homeless people need more help- why isn't the city doing more for them? One other thing I was thinking about is that by creating twice as many people to clean the same number of rooms will double the number of people driving and parking. Parking is already hard, and traffic now feels the same as before the pandemic- why does the council want to make it worse?
Please know that I do not mean to complain. I am happy to be here and work here. But, I wish that this council would stop and think about what they are doing. I know our hotels are safe and good places to work- it is my job as a manager to make sure that this is true, and I am proud that I can say my team is happy. It is not always perfect, but we always try our best. If this was not true, wouldn't we hear more about this in the news or from the police? Wouldn't there be more injuries and people trying to sue the hotels? I think that if this was a real problem, then you would already know about it. I hear the union talk mostly about the Standard Hotel as the reason for this, but that hotel closed- like so many businesses did in the last year. Is the council going to make laws for every business that closed like the Standard? I feel bad for all of the workers who lost their jobs, but I know every hotel is hiring, so why don't they apply and go back to work? This really doesn't make any sense to me- does it make sense to you?