The reintroduction of dockless mobility onto city streets (and sidewalks) this month was a stark reminder that integrating this mode of transportation into West Hollywood won't be easy.
Many residents fear that between dockless mobility and the Outzone program, which cedes sidewalk and curb space to stores and restaurants, the WeHo pedestrian now faces a number of greater dangers.
While neighboring Los Angeles permits e-scooters, West Hollywood forbade them until just this month. In 2018, the push to bring dockless mobility into the city hit a brick wall when a rogue marketing stunt by Lime, in which 50 scooters were dropped unauthorized and unannounced throughout WeHo, drew the ire of City Council, which quickly had them banned.
Last summer, city staff were working to save the city's faltering bike program when they floated the idea of lifting the e-scooter ban to City Council. Several of the scooter companies also offered e-bikes. City Council approved an ordinance allowing scooters back in January, and the pilot program began its 90-day test run on July 1.
While e-scooters and e-bikes might be popular with tourists, teens and the business community, many WeHo residents want to pull the plug on the program.
At issue are the sidewalks. Scooter and bike riders aren't allowed to use them there, nor are they allowed to leave them in the way of people or cars.
But they do.
And while they're ticketable offenses, the L.A. County Sheriff's Department hasn't been handing out citations.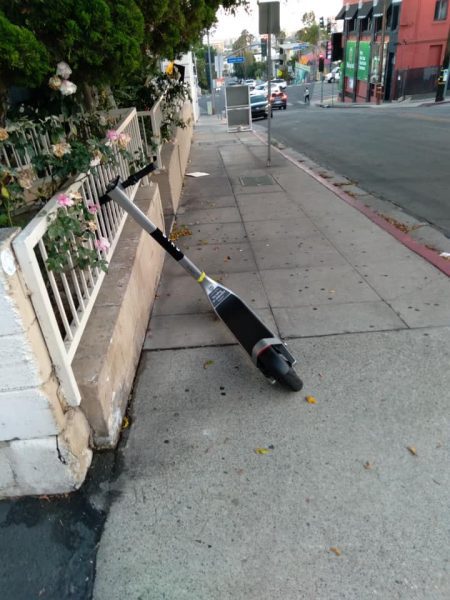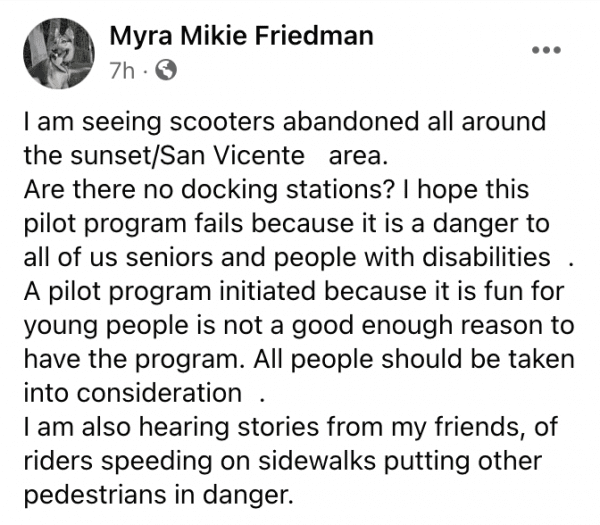 Myra Mikie Freedmn is 77 years old and disabled. She has only one arm and her balance is very poor, which makes it tough to walk her big German shepherd named Stormy. She's already having to navigate around scooters that riders have discarded on her sidewalk. And Stormy gets spooked when rowdy kids whiz by.
Freedman and many others have taken to Facebook to voice their frustrations. Freedman says she e-mailed her concerns to Councilmember John Erickson, who directed her to the parking enforcement department.
"I've been called a Karen on social media," she says. "It's not true. You have people with strollers, people with pets. I have two artificial knees that aren't made to withstand a fall. I hate living in fear of this."
Erickson was one of the most vocal backers of the e-scooter initiative, saying he kept hearing the same request from constituents over and over again on the campaign trail last year: "We want scooters." He glossed over any downsides in an interview with the Beverly Press.
"We can't let the actions of a few bad actors scare us off from making better transit opportunities for our residents," Erickson said. He told the news outlet he hadn't heard of any injuries related to the recent launch.
On social media, WeHo residents brainstormed ways that City Hall could tackle the problem.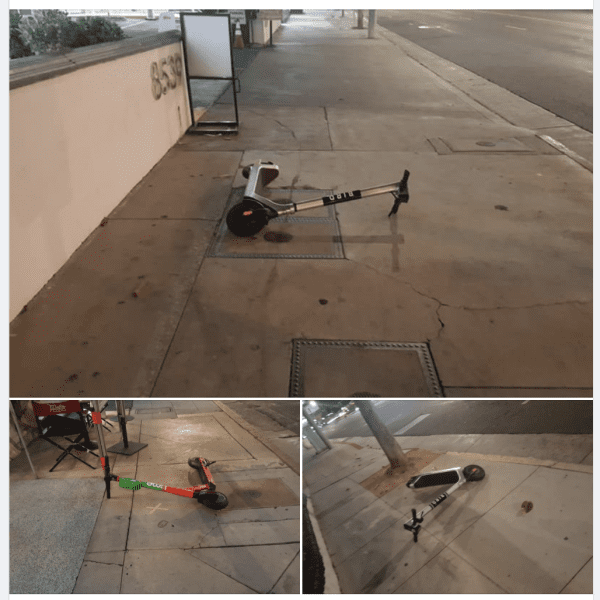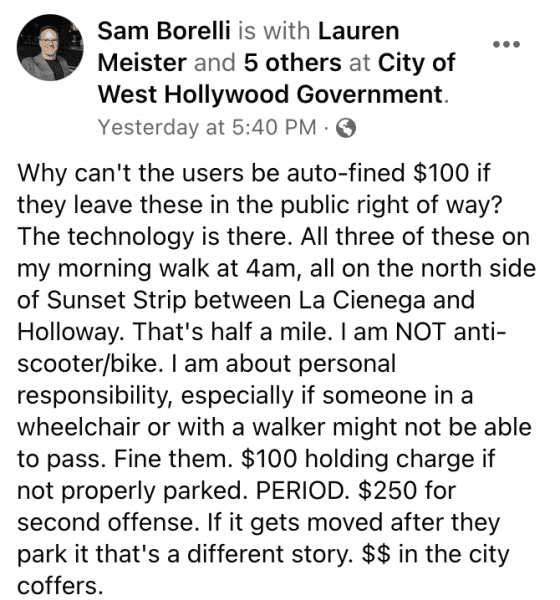 "Why can't the users be auto-fined $100 if they leave these in the public right of way?" wondered Sam Borelli on Facebook. "The technology is there. All three of these on my morning walk at 4am, all on the north side of Sunset Strip between La Cienega and Holloway. That's half a mile. I am NOT anti- scooter/bike. I am about personal responsibility, especially if someone in a wheelchair or with a walker might not be able to pass. Fine them."
Manny Rodriguez despises the attitude the scooters engender in riders.
"The on-demand business model is about unaccountability and non compliance," Manny Rodriguez wrote on Facebook. "It is about impulse and anti-social disposability. All unenforceable behavior."
"So much for a 'Walkable City!'" quipped Jeffery Ward.
In 2013, West Hollywood was named one of "America's Most Walkable Cities" on Walk Score's annual list.