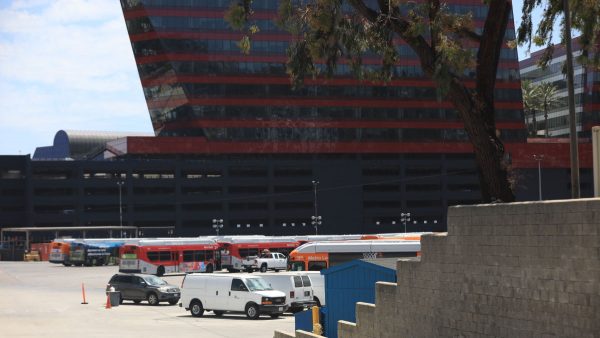 Publishers Note and Disclosure. WEHOville's home base is located in the Tri-West Neighborhood.
Residents in the Tri-West, Norma Triangle, and West Hollywood West band together to oppose using the MTA bus terminal located at 8800 Santa Monica Blvd. as a homeless outreach center.
Item 5C was brought forward by Mayor Pro Tem Lauren Meister and Councilmember Sepi Shyne. The item as presented was a request to County Supervisor Sheila Kuehl to utilize a portion of the MTA Bus Terminal on Santa Monica Blvd. for homeless services. The item was tabled but will come back to council for approval after city staff develops a framework for input.
Below is a letter presented by Alex Gerstenzang, a Tri-West resident who, along with Bobbi Edrick of the Norma Triangle Resident Association and other residents of West Hollywood West, who banded together to oppose moving forward and ask city staff to abandon the idea of using the MTA for a homeless shelter and outreach.
---
Dear Councilmembers of the West Hollywood City Council,
The Citizens of Tri-West, WeHo North and WeHo West want the proposal to use the MTA Parking Lot 7 to be stopped and find other alternatives.
Citizens and businesses are ready to sign a petition to bring before the City Council – no one wants to create an epicenter for the Homeless at this LA MTA "7" location. In addition, at this moment we have yet to find any business on Santa Monica Blvd or on Melrose Avenue that supports the MTA Parking Lot 7 Initiative for homeless. Yesterday, I spoke to the Director of Operations at LA MTA "7" Facility … he made it clear he was not contacted and disagrees with the utilization claims by WeHo … he said "the Parking Lot is not underutilized".
Numerous WeHo Citizens and Families are moving out due to safety concerns i.e. crime, vacant property breaking & entering, serious car vandalism, mailbox theft, malicious fires, etc. We know that property purchasers are making decisions not to buy based upon the proposed Homeless Initiative by Lauren Meister, Mayor Pro Tempore and Sepi Shyne, Councilmember. We have actual evidence of home sales not going through just because this proposal is still being considered.
Here is what Lauren Meister proposed: "I have asked staff to study the feasibility of partnering with LA County to create a temporary "drop-in" or service center at the Metro Division 7 site, and to vet the idea among residents and businesses as part of the Metro Division 7 property Visioning process. A drop-in facility could provide non-shelter services such as a restroom, shower, laundry and, importantly, access to medical and psychiatric services, legal services and case management. Right now, the West Hollywood Library is essentially acting as a drop-in center, and that's not the best use for the only County library located in our city."
Please Note: "temporary" means minimum of 2 years
Vet The Idea: No one from WeHo has vetted residents or businesses. Even the Chamber of Commerce is not in favor.
WeHo Library / New Park was about $150 million and the park will have three security guards who really cannot do anything to prevent homelessness.
Proposed facility showers & bathrooms would be open 24/7
Point of Information by Jo Ann Yanagimoto-Pinedo, Deputy Director of Strategic Initiatives with LA County's Department of Mental Health said, "The concept for a "village inside a hospital facility" emerged after unsuccessful attempts by the county to build "enhanced neighborhood model treatment centers" in residential neighborhoods.
It was repeatedly mentioned by Lauren Meister and the WeHo Sub Committee for Homelessness that this MTA Parking Lot 7 is "not" near any businesses or residential areas.
MTA Lot 7 walking steps to these destinations: (my stride is 2,293 steps per mile)
To Sochi Sushi 100 steps
To Planet Nails 164 steps
To Tender Greens 179 steps
To AAA 200 steps
To Santa Palm Car Wash 235 steps
To LA Buns & Co 268 steps
To Yogurt Stop 322 steps
To Trunks 354 steps
To Flaming Saddles 364 steps
To LA Fitness 375 steps
To Huntley Drive 350 steps Residential street – WeHo Tri-West
To Block Party 414 steps
To ChicChi LaRue's 434 steps
To Sprouts 450 steps
To Starbucks & Trader Joes 460 steps
To Bottega Louie 470 steps you also pass Rocco's WeHo & Koontz Hardware
To Z Pizza 474 steps
To Pump 500 steps
To Salt & Straw 548 steps
To Starbucks 580 steps
To Pavilions front door 650 steps
As the above process took place, I experienced the following:
Homeless persons sleeping in the bus shelters on San Vicente and Santa Monica
Trash littered & trash cans dumped on Santa Monica Blvd South Side from MTA to San Vicente
Homeless person was yelling & threatening MTA armed security guard – he planned to murder him … the guard followed him past the Sushi restaurant
Pavilions: Homeless persons camping by Pavilions facing Santa Monica Blvd.
Starbucks: homeless persons occupying tables outside
Salt & Straw: Homeless person was trying to break the glass windows and screaming at people
Bank of America: Homeless persons annoying ATM users
Urth Café: Homeless person yelling obscenities to citizens & Sheriff's as they stop for coffee at Urth
Wednesday & Thursday: Tri West & WeHo West 8 people going through trash … from 7 AM to 10 AM
Westbourne & Melrose: continuous issues with homeless camping out at Le Pain Quotidien property overnight and during the day
Overall: We ask the City Council to officially abandon this MTA Parking Lot 7 Initiative. We also would like the WeHo citizens & Business representatives to meet with or Zoom Call with the MTA leadership.
Many of the businesses on Santa Monica Blvd are dealing with homelessness "Every Day". They were appalled that this proposal was even being considered. They have increased security and are on constant minute by minute management of theft, attempts to break windows, camping out, shoplifting, crime in parking lots, etc..
Other city and county leaders are not waiting … citizens are impatient:
Echo Park homeless people were forced to leave
City Councilman Mike Bonin recently announced an initiative—currently underway—to eradicate encampments in Venice by transitioning people into housing and services.
City Councilman Joe Busciano also has made clearing the streets of homeless encampments a hallmark of his mayoral campaign.
L.A. City Council voted to draft new rules regarding camping near "sensitive facilities," like schools, parks, and libraries. The initiative would also prevent tent encampments from blocking sidewalks.
Palm Springs: closed a homeless organization similar to what was proposed for MTA parking lot, because citizens reported a migration to their neighborhood and increased crime.
Other WeHo Citizens will be adding their comments … and we would hope other alternatives are found like Crescent Heights Blvd, etc.
Thanks for Your Support The West Hollywood Community of Businesses & Citizens
Alex Gerstenzang
---
But that was not the last of it. In back and forth email's between over 40 residents and City Council members including Mayor Pro-Tem Meister, a former President of the West Hollywood West Residents Association (WHWRA) , and Manny Rodriguez, a 17-year West Hollywood West Resident.
Meister's response to Rodriguez was "the item was to see if Metro and the County would be willing to partner with us. It was on the agenda as new business and the public had the ability to weigh in and voice their opinions. And they obviously did and the item got tabled."
But Rodriguez was not going to have it: Lauren, you support my point.
Just like someone can't get approval to design a big gaudy house next door before first getting lawfully required input from the neighbors, you shouldn't be trying to make deals with the county or Metro before vetting the idea with the residents. After all, you're having a big Town Hall meeting all of a sudden. That must mean the topic is important enough to reach out. The Town Hall meeting will tell you whether or not making deals with Metro and the County is supported and what should be your next step. Resident input is just good information to have at a council meeting that contributes to an enlightened deliberation. If no-one had seen this item on the agenda, and you didn't get any letters, you'd once again have had an unenlightened and uninformed vote.
The People Are The City.
Manny
But, the truth of the matter lies in the City Staff intent, without public discussion or input. Denials by Meister and Shyne that the MTA would be only used to provide services contradict the enclosed letter from Corri Plank representing the City of West Hollywood. Below as stated " The lot at Division 7 appears to be underutilized and large enough to accommodate trailers for shelter. " This policy initiative was not directed by the city council or included on any recent public agenda for discussion.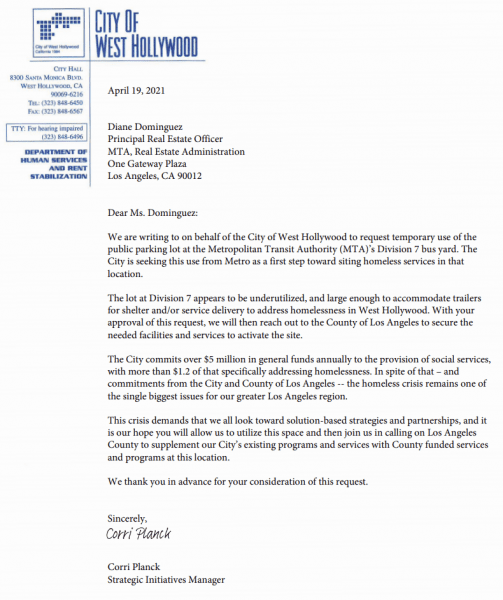 The point is the process and who is driving the decisions with or without public input. It's been over a year since the City Council members have had a chance to have face to face meetings at the Council Chambers with Residents. Two new City Council members have joined the dais. These two new council members are elected to serve all the people.
City Staff is not supposed to drive the agenda. The City Council is supposed to drive the agenda with public input. And it appears the City Staff directly contradict what Meister is saying. 'It is a 'bait and switch' again.' responded one resident. Other examples of 'let's do it and study the effects after' are "Out on Robertson," which had no budget or public input. Scooters hit out streets without public input or 'corrals'. The current proposal for a hotel ordinance is being pushed without a study session as requested by two council members and City Manager David Wilson, who happens to also have served as the City's Risk Officer.
The People are the City. It would be nice if the city council heard our voices. In fact, it is imperative that a city council that has not faced the public in over a year and is insulated by Zoom and just 2 meetings a month hears your voice. Tell then what you think at council@weho.org