May 18, 2021
Mayor Lindsey P. Horvath
Mayor Pro Tempore Lauren Meister
Councilmember John D'Amico
Councilmember John M. Erickson
Councilmember Sepi Shyne

CITY OF WEST HOLLYWOOD
8300 Santa Monica Boulevard
West Hollywood, CA 90069

Dear Mayor Horvath, Mayor Pro Tempore Meister & Councilmembers D'Amico, Erickson & Shyne,
During the past week, each of you spoke (or will soon speak) with a united front of managers and owners from your West Hollywood Hotel Council. You heard our dismay, upset and passion over the way the pending hotel ordinance was initiated. We hope you also heard our absolute commitment to our employees, many of whom have been with our respective hotels for decades.
From a broader historical perspective, many of our city's hotels pre-date the formation of the city and played a key role in its birth. Managers and owners of hotels have been active participants in nurturing the growth of this city throughout its existence. Throughout these decades, all of us in the industry enjoyed a productive partnership with the leaders in this community. This partnership allowed the creation of a vibrant and cutting-edge hospitality business which has generated budget surpluses for the city to support its progressive programs. Finally, our investments in this community have created thousands of well-paying jobs and careers for our staff, both jobs and revenues in businesses and stores across the city because of our guests and the development of these properties even has created work for thousands of people in the construction industry.
In light of these contributions to the city, in consideration of all we have been through over the course of the past 15 months and the challenges that still lie ahead, the city's hotel community was shocked to learn the City Attorney was directed to draft this proposed ordinance without any prior dialogue with us. The fact that, collectively, i) we were excluded from any conversation about any legitimate (or illegitimate) concerns or claims that motivated the measure, and ii) we may be limited in our involvement to a one or two-week comment window AFTER the ordinance is drafted by the City Attorney before it goes up for its first vote feels disrespectful to our relationship, particularly given the economic import of the industry your actions propose to affect.
In order to promote a productive dialogue, however, I will move beyond our collective upset with the process and adopt the perspective that all of you are inspired to do "what is right" in a complex and difficult world and that your lack of detailed familiarity about operations our industry is fueling the disconnect between us. Therefore, my duty is not to remonstrate, but to educate about hotel investing and operations (and more generally, the challenges of running and owning a business), so that you all may gain a better understanding as to what we do and how the city and its broader community benefit from our actions.
The data I will present will relate to our hotel operations. As this is a public document, I will be circumspect, but I would be happy to meet with any of you in person to go through a more specific analysis. I have no doubt, however, the perspective I share will be true of every hotel in your community. Let's examine at some actual data points, both for "normal" years and the extraordinary case of 2020. At our hotel, the single biggest beneficiary of our operations BY FAR, is our staff. In the two-year period of 2018 and 2019, 44% of ALL revenues we collected were paid out in wages and benefits to our staff.
After our staff, the second largest beneficiaries of our hotel business are the people of West Hollywood. For 2018 and 2019, our property tax, sales tax, and TOT payments (which represent 73% of the total taxes paid), were 288% of the hotel's operating cash flow and 230% of its debt service. But wait, there's more, if you deduct the capital expenditures we incurred at hotel during those two years to keep it well-maintained and competitive (also creating jobs), we actually paid MORE THAN ELEVEN TIMES (11x) the free cash flow generated by our operations in taxes to the city and county. If we wish to make one more comparison, the math reveals we paid just shy of thirty-three times (33x) our free cash flow in wages, salaries and benefits during those two "normal years."
During the catastrophic year of 2020, the numbers become even more skewed. I cannot give you relative multiples, post COVID, as we experienced massive operating losses at the hotel. In fact, our other businesses, each of which was also under considerable economic stress, funded a very significant hotel shortfall simply to keep our doors open during the pandemic and to maintain as many jobs as we could. From 2019 to 2020, the total revenues at the hotel fell by almost sixty-three percent (63%). Even with our dramatically curtailed operations, we paid out nearly seventy-seven percent (77%) of every dollar in revenue as wages and benefits to our staff and managers during 2020. The millions in losses we incurred during that year were markedly contrasted against the results for our government partners. While our total tax payments to the city & county fell by just over fifty percent (50%) from the prior year, because the government participates in revenue BEFORE operational expenses, our government partners still received nearly $2 million from us in 2020, despite the significant losses we incurred.
While I cannot speak with authority as to the results and actions taken at the other hotels in West Hollywood, I do know, as a fact, that they suffered similar crushing reductions in revenues and were challenged in figuring out simply how to survive the past year so that they might be around to re-open when conditions improved.
For 2021, we hope that revenues at our hotel will creep back to something close to two-thirds of normal and, if we are exceptionally lucky, we will just about breakeven on cash flow before capex. We expect 2022 will be better, but, as a significant portion of our travel is international or dependent upon a return of musical tours and concerts, actual improving results will depend upon resolution of the ongoing global pandemic. Our future performance will also be influenced by earlier decisions made by WeHo, and its surrounding communities, in allowing significant increases in hotel room counts over recent years.
At the beginning of 2017, the City of West Hollywood had an inventory of roughly 2,047 available hotel rooms. It is expected to end 2021 with an inventory of 2,811 rooms (depending on what ultimately happens at the Standard). That is room count growth of 764 rooms or 37%. This has increased competition significantly among the hotels, both to secure guests and staff. More broadly in the Los Angeles MSA, during this same period the count of hotel rooms has increased by roughly 10,000 rooms, a growth in supply of nearly eleven percent (11%).
If the city's 2019 lodging forecasts had held true (see below), the occupancy challenges from this expansion of capacity may have been manageable (the staffing challenges are another story), but instead, all WeHo hotels must face this increased competition for travelers to this market DURING the greatest contraction of travel demand we have experienced for at least a century (or perhaps, ever). While the supply growth is here to stay, the demand growth (if any) will fall far short of this projection.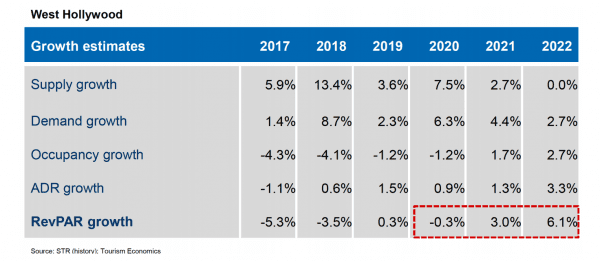 While I do not have current projections specifically for the WeHo submarket, this graph from CBRE's Q4 2020 projection is remarkable. What it tells us is the RevPAR (a figure that combines room rates (ADR) with Occupancy) in the "Upper-Priced Hotels (most of the hotels in West Hollywood fall into this bracket) is not expected to recover to 2019 levels until 2025. Bottom line, we are in for a challenging period for the next four years.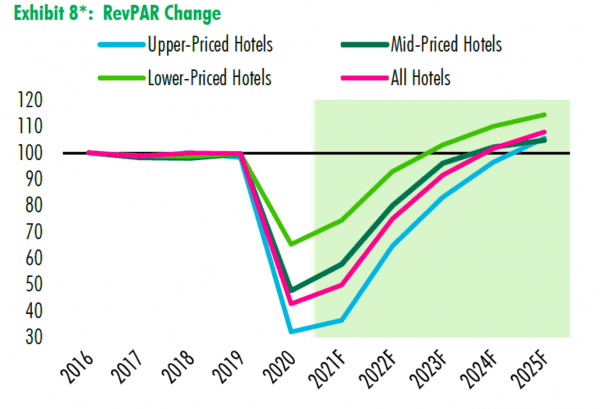 Competitive forces and declining demand for rooms are not the only challenges the city's hotel community faces in the coming years. A myriad of factors, including staffing shortages, rising prices in materials and goods, and continued disruption of travel because of the pandemic, will conspire to further squeeze hotel operating margins at a time when we have insufficient demand to adjust our prices upward. I hope I successfully provided a sense of the relative benefits of and challenges to the hotel operations in your city. Next, I would like to share our understanding the proposed law (recognizing there is yet no draft, just an instruction to using an ordinance from another city as a template) and explore some of the unintended consequences we may all face if you get this wrong.
I presume, even if the aims of this ordinance †are just, that you all believe an in-depth conversation and analysis is vital to ensure that the proposed law achieves its intended goals without crippling our industry's ability to operate, compete and reinvest in this city.
What Does the City Propose?
We understand that the council proposes to create an ordinance like one passed in Santa Monica. It would require non-union hotels to:
1. Provide hotel housekeepers mandatory personal security devices "Panic Buttons" and ensuring hotel workers' ability to report criminal and threatening behavior without fear of retaliation.
2. Establish daily workload maximums of 4,000 square feet for hotels with less than 40 guest rooms and 3,500 square feet for hotels with greater than 40 guest rooms and require a double overtime compensation rate for all hours worked in a workday when a housekeeper's workload exceeds these maximums.
3. Require training on personal rights and safety, and education to protect public health and prevent instances of human trafficking, domestic violence, and sexual violence. The city will select and certify a Public Housekeeping Training Organization, which hotels will be required to use to provide regular trainings for their workers.
4. Call for hotel worker retention for a 90-day transition period in instances of a change in hotel ownership.
What Are the Purposes of this Ordinance?
According to recent news reports, this proposed ordinance is framed as a safety measure to "protect" hotel workers. What we're trying to do is establish standards for safety and protection of the workers and make sure that policies are put in place to provide for them returning to work and that the jobs they return to are safe," said Mayor Lindsey Horvath, who co-initiated the proposed ordinance.
In addition, comments by the measure's sponsors also make it clear "the ordinance would ensure that hotel workers, many of whom were laid off during the pandemic, and many of whom are immigrants and members of the LGBTQ community, have jobs to return to once as the economy reopens." We do not know exactly how broad this part of the proposal might be or how it is to be implemented since there was no comparable provision in the pre-COVID Santa Monica ordinance.
While those reasons sound rational, the facts and surrounding commentary are at odds with the justifications. Union hotels are specifically exempted from the ambit of the proposed measure and all of them permit much heavier workloads based upon existing and well-understood productivity metrics. Furthermore, there has been no discussion of "protecting" housekeeping or janitorial staff working in offices, hospitals, or even within private homes, through similar footage-based productivity limitations. Finally, editorial comments from members of your council elevate our concerns about the underlying rationale. Regarding the fact that, by employee choice, only 2 of 22 hotels in West Hollywood have union contracts to collectively bargain, one councilmember observed, "The hotels that don't have unions, the workers don't have that opportunity. If the hotels will feel they're going to be able to bargain by unionizing, I encourage them to look into that path."
If the underlying motivation for this measure is actually political, it explains some of the inconsistencies above, as well as relative incoherence of the proposed standards, as the goal would be promoting union affiliation, rather than worker protections. Either way, the most important question is what are the potential consequences of this action if it is ill-considered or poorly executed?
So, what real concerns of the owners and managers of the hotels in West Hollywood about your proposal?
• Regarding a Panic Button mandate – NONE. All your hotels have already installed them or are in the process of doing so. This is true even though we are not aware of any assaults on housekeeping staff in the city.
• Regarding training, also NONE. All your hotels, indeed all California business owners, are already obligated to provide training regarding personal rights and safety, protection of public health, prevention of human trafficking, domestic violence, sexual violence, sexual harassment and discrimination. We would not object if your training proposal were simply intended to augment our existing obligations under California law. Our concern, however, is that, as in the City of Santa Monica, the "Public Housekeeping Training Organization" providing training and certification will be a union-backed entity, and thus further granting them unfettered access to our properties (they already have rights to organize under the NLRA).
• There is a right of retention and rehire following COVID, including in the case of a change of ownership, under state law. SB-93, which the Governor signed into law on April 16, 2021, covers this precise issue. The idea of broadening this right to apply beyond COVID as a "permanent right," concerns us as it may well create a new opportunity for frivolous litigation and additionally challenges to our already difficult hiring processes. If, as the Mayor stated to us, part of this proposed law is intended to provide redress for employees being terminated in favor of those with less tenure and lower salaries, we would suggest that such employees have ample recourse under Federal law, by virtue of the ADEA and equivalent FEHA mandates under California law.
• The elephant in the room, however, is the proposed "square footage" productivity standards for housekeeping. As noted above, this "metric" has no rational relationship to actual workload in the housekeeping department, nor can one create a cognizable productivity standard that relates to it. For example, how is one to address the very real workload differences among a towel refresh, turn-down service or the work required for an occupied refresh against a vacancy deep clean? The answer is, you cannot. It is akin to using pounds to measure distance. Furthermore, it creates a burden unique to many of the all-suite hotels in your city from what, to now, has been a competitive advantage – room size. Many of properties in West Hollywood, particularly the older properties, have suites which are nearly twice as large as a more modern hotel rooms across the Los Angeles MSA (500+ square feet as compared with approximately 300 square feet). These larger accommodations still feature the same number of beds, bathroom fixtures (or fewer, as newer hotels usually have four fixtures as opposed to the three often found in older properties). A footage-based productivity standard would put all these hotels at a significant competitive cost disadvantage. In fact, other than in the few other ill-conceived ordinances enacted in other cities, a productivity standard based on square footage is unheard of in our industry and cannot reasonably or fairly be applied across all hotel types. Illustrating this point, our group, which collectively represents centuries of experience in this industry, is aware of NO Hotel Union contract in the country that uses the entirely irrelevant measure of "square footage cleaned" as the basis for any kind of productivity standard.
It may help to illustrate the poor fit of the proposed "footage" metric to learn that the measure for housekeeper productivity, industry-wide, is a credit system that analyzes, through time and motion studies, the actual work required depending upon the configuration, amenities, room status (i.e. occupied refresh vs. vacant room turnover vs. turndown service vs. towel swap, etc.), number of bathroom fixtures, standard of operation (i.e. 1-star to 5-star), horizontal surfaces, room finishes AND room size.
If the goal is to promote housekeeper well-being in the hospitality industry (apparently without regard to the welfare of workers in similar jobs in other industries), then the city's Hotel Council is well equipped to provide feedback to meet this objective. If the goal is simply to promote union-affiliation, then whatever we might say will have little relevance to the city's assessment; then simply copy the ordinance from the City of Santa Monica and undertake NO real study or analysis as to the possible consequences it may create to THIS community.
So, what are the possible consequences to West Hollywood of this Proposed Ordinance?
I am confident that the hotel operators in this city will not passively acquiesce to a regulation that we believe will make it impossible to competitively operate our businesses and litigation will ensue. While the governmental power to regulate businesses is broad, it is not unlimited. Given the relative recency of equivalent measures elsewhere, I do not know that there is any final authority on the matter and, as of late, I note that the Supreme Court has tilted towards higher protections for individual rights. This avenue, however, would be a terrible waste of both city and hotel resources, particularly during an extended period of reduced revenues. For all of us, this is a path of last resort.
Bearing in mind that labor is one of our few variable costs (our loan and property tax costs continue unabated whether we are empty or full), if the ordinance creates unsustainable costs to clean our rooms or, even if the costs are manageable, we cannot find sufficient staff, our range of possible consequences includes:
• Reduce the frequency of cleaning services and compensate our guest for the inconvenience by reducing rates, diminishing hotel revenues, TOT tax receipts and housekeeping job opportunities. Despite the rate offset, the reduced services may make us less competitive with hotels in surrounding cities, further reducing tax receipts and job opportunities in West Hollywood.
• Artificially limit occupancy during peak period, again adversely affecting hotel revenues, TOT receipts and jobs.
• While the hotels in your city might try to raise rates or add fees to offset these costs, it is my opinion that, given the expected soft travel market for the next several years and the increased competition in the region, we will not be able to pass on cost increases to our guests without decimating our occupancy.
• To offset the added operational risks, the premise upon which hotels are developed and maintained is upon the expectation of superior economic returns to other kinds of uses. If they cannot be maintained profitably, however, it will both reduce the pipeline for new hotel development and potentially promote a conversion of existing hotels (particularly older ones) to alternative residential uses. Both changes could significantly impact city revenues.
• In the worst case, our hotel properties in West Hollywood will fail and be taken over by our lenders and resold at a discount to the development costs. Under this scenario, not only are the City's TOTs at risk, but so is the assessed values for property taxes. If this proposed measure is truly about "worker protection" and there are real concerns being expressed by any appreciable percentage of the thousands of individuals we collectively employ in this city, then let us have a responsible conversation, with a sufficient level of detail, so we can become better stewards in our roles as employers before the city imposes potentially harmful regulations on an industry that is so vital to the welfare of this community. I assure you, if the safety and well-being of our employees is really what is at issue underlying this effort, we will all be on board with finding a responsible solution. That objective, however, requires us to analyze and understand whatever risks, exposures or weaknesses exist in our operations and to carefully craft a response that will be designed to resolve the problem. Thank you for your time and consideration.
Sincerely yours,
Alta Loma, LLC
dba The Sunset Marquis Hotel & Villas
Mark A. Rosenthal
President