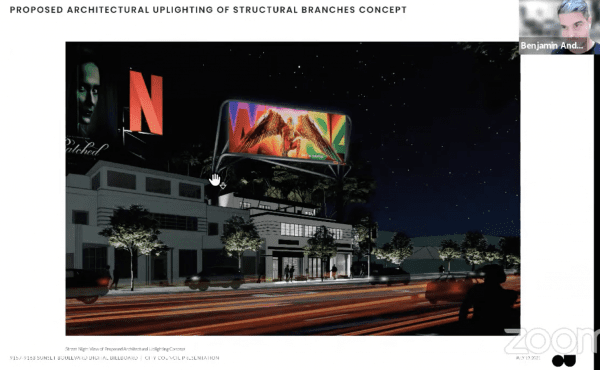 The integration of digital billboards into the West Hollywood cityscape arose again as a topic of discussion during City Council's meeting Monday night. 
Councilmembers reviewed an application to convert an existing, one-sided static billboard located at 9157 Sunset Boulevard to a new, one-sided digital billboard for offsite advertising.
The developers presented changes they made to the height of the billboard as requested by the Planning Commission which increased it by 14 feet and provided a buffer above the historic building. Bryan Eck with Planning and Development Services detailed the board's abilities available to adjust and dim its lighting, including automatic functions responsive to daylight. Public commenter Lynn Russell called in to request changes to the armature, which she felt resembled the Art Nouveau style rather than the Streamline Moderne style of the building.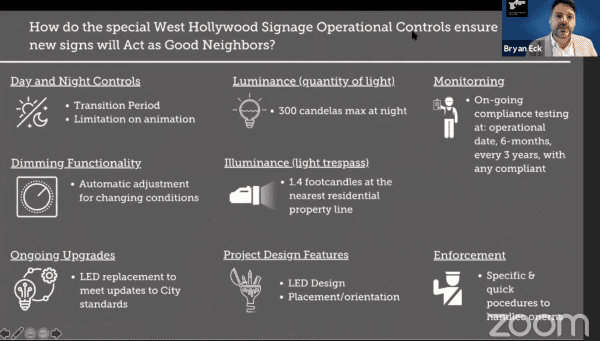 But for Councilmember John D'Amico, the big potential threat was vacancy.
"The last thing we want to do is create businesses that can live off the billboard alone," he said.
He pointed to the billboard-crowned building at Doheny and Santa Monica Blvd. which has sat vacant for 35 years as an example of this.
"We need spaces on the ground level that are active," he said.
The proposal included language that would "quickly escalate" the amount of public benefit paid by the owners to the city should the building remain vacant after a set stretch of time, but D'Amico suggested shutting the billboard off altogether after six months would be a more effective deterrent.
Speaking on behalf of the developers, Jeff Seymour worried that the unclear economic outlook in the wake of the COVID pandemic and potential resurgences added much greater risks to accepting that caveat.
Councilmember John Erickson also felt that the provision was "overly burdensome" on the applicant.
D'Amico and the council then revised the time length of the proposed change from six months to a year, and specified that vacancy only applied to "front-facing, ground-level" space. The motion was passed unanimously.