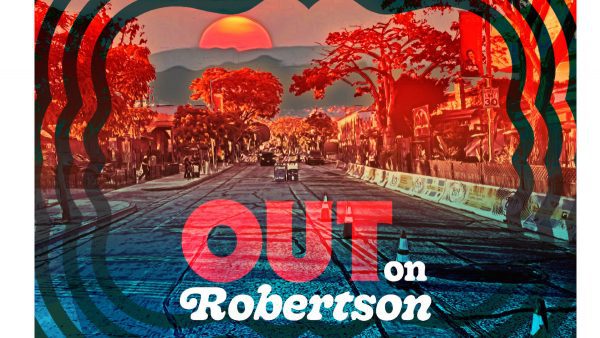 The word is in: "Out on Robertson" is out.
West Hollywood City Council voted unanimously to discontinue the pilot program that closed Robertson Blvd. to vehicular traffic on weekends in an effort to stimulate businesses affected by the COVID pandemic.
"This was a great example of trying something new, seeing if it worked," said Mayor Lindsey Horvath. "When it was first proposed, there was a lot of fear around traffic and all kinds of issues that never really manifested. It's also fair to say it didn't manifest the activity we had hoped for either."
"What we thought it was going to be — farmers' markets, different types of classes — it didn't end up being that," said Councilmember Sepi Shyne.
The council originally envisioned a bustling mix of bars, restaurants, small vendors, artisans and performance artists bringing life to the street. 
City staff pointed to a number of reasons that vision never materialized: COVID-related restrictions, operational costs, limited alcohol sales and fear of crowds.
But to many watching over the past several months, the program appeared to stimulate only one establishment in particular: The Abbey.
"This was supposed to be a quiet way to add low-key entertainment; instead it became a taxpayer expense benefitting one business," said Charlie Jasper.
"I beg you, Councilmember Meister," said Mel Greentwalt. "Shoot this down. People in West Hollywood West Association don't want this."
Councilmembers all acknowledged the program's shortcomings, but not all were ready to blame The Abbey. D'Amico reminded the council that the activity generated there was substantial and benefitted city coffers.
"It's not empty tables and chairs. It's tables and chairs with hundreds and hundreds of people weekend after weekend," he said.
"It was never meant for just The Abbey," said Shyne. "It was just that The Abbey stepped up to participate."
Councilmembers passed a motion to end the "Out on Robertson" program after the next two weekends, on Aug. 2, in order to give The Abbey time to reconfigure their outdoor setup. The establishment still has the option of using the adjacent alley for outdoor seating as part of the separate OutZone program.
Meister noted that perhaps in the future, when forthcoming developments on Robertson Blvd. like the hotel and the park are in place, the program might be revived and succeed.
"Robertson isn't alive with a plethora of quaint stores, ice cream parlors, and a variety of bars and restaurants," said public commenter Manny Rodriguez. "This may have been a sweet idea, but at the wrong location at the wrong time."