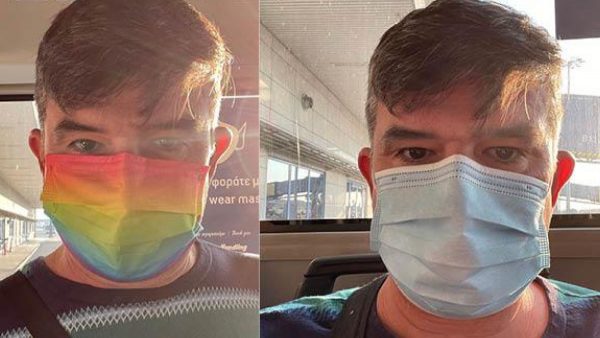 Scott Schmidt was wrapping up a long-overdue European vacation with his fiance earlier this month when a Lufthansa gate agent at the Athens International Airport stopped him from boarding a shuttle and insisted he take off his Pride-themed rainbow face mask.
"Put on a normal mask," she said.
Schmidt was shocked. He had researched Luftansa's COVID policies before ordering the masks. And he'd already worn a rainbow mask on the outbound flight from LAX without incident. 
He considered whether to complain while listening to the public announcements warning travelers: Anyone who fails to comply will be reported to the relevant authorities.
"'Relevant authorities' in Germany scare me," he said. "So I figured it was just easier to get home."
Schmidt donned an ordinary blue surgical mask and continued on his way.
"I took a couple of photos in the bus and I put them on my Instagram and my Twitter and then on Monday I reached out to Lufthansa through their website just to say, 'Hey this happened, I wanted to make you aware of it.'"
The Bay Area Reporter saw his post and broke the story.
Schmidt has received only a standard response letter from Lufthansa, but he's hoping the company will take the opportunity to show greater support for the LGBTQ community.
He doesn't necessarily believe the agent had ill intentions.
"I don't want to say that it was anti-LGBT, because it may not have been," he said. "It may have been that because it was rainbow-colored she thought it was a cloth mask rather than a surgical mask."
Schmidt says the incident shows why the LGBTQ community must continue to celebrate Pride in a public fashion.
"We've made a lot of progress, and a lot of the reason why we made that progress is because of visibility — people showing that they are out and proud and are members of society. It is an important thing to overcome a lot of the stigmas that our community had in the '80s and '90s and even up until Proposition 8. And so for me when I had to buy those surgical masks I decided I wanted to get the rainbow one just to fly the flag and be proud."
As far as COVID mask regulations, Schmidt thinks it's important to follow the rules, even if he doesn't have full confidence in the rule makers.
"I wear them in businesses and I wear them when asked to, but when I'm outside I'm like, 'What's the point?' I don't know that people making policy really know what the science is, but especially when you're traveling abroad, you need to respect the local rules and customs."
He believes in following the science, but questions the U.S. government's fluctuating stances on what is and isn't helpful in staving off COVID infections.
"If you look at the CDC and Fauci, they keep going back and forth and contradicting themselves, and if their directives were based on science — like, real science has been double-blind tested and all of those things — we wouldn't see this back and forth. And it's really confusing and frustrating for people. I think we're having a real crisis of confidence right now."