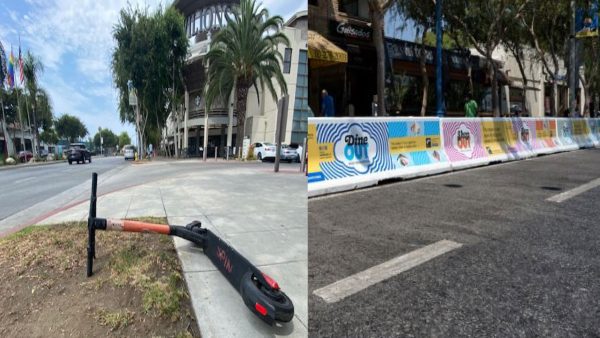 With a Walk Score of 91 and a size of 1.9 square miles, the City of West Hollywood is ranked as one of the most walkable cities in the State of California. Its extensive sidewalks attracted many people with disabilities to make their homes here. But today, they must compete for limited sidewalk space with strollers, bikes, dogs on leashes, plus the scooters, and outzones.
The Outzones which allowed most businesses to expand their outdoor footprint have helped many businesses recover lost capacity. Clearly there is a post-pandemic bounce that has brought crowds to the streets and limited access to crowded sidewalks during peak periods. But the addition of scooters this past July to the streets and sidewalks has created hardship for many disabled residents.
One resident, Myra Friedman, who serves on the Disability Advisory Board, has requested a discussion of scooters to be placed on the Disability Board Agenda. It is her hope that the DAB can gather public input on the new 'scooter policy' that was implemented without recognizing the problem of enforcement or potential hazards for persons with disabilities.
In a letter to the City Council, Friedman wrote, "I am a disabled senior citizen with balance problems. The scooters are a huge hazard to me and many other seniors and persons with disabilities. Either dump these things or enforce the laws that you have initiated to go along with them."
Ms. Friedman, a direct appointee to the Disability Advisory Board by Mayor Lindsey Horvath, went on to explain, "Do you really care about seniors and persons with disabilities, or are you just giving us lip service?"
The City Council re-initiated the scooter program in July 2021. Scooters are supposed to travel in bike lines and are not allowed on public sidewalks. Outzones for many businesses include the servers and busboys crossing the sidewalk to service the customers.
The Disability Advisory Board's main job is ensure access for persons with Disabilities at all public facilities and city events. The Americans with Disabilities Act (ADA) prohibits discrimination against people with disabilities in several areas, including employment, transportation, public accommodations, communications and access to state and local government' programs and services.
Friedman concluded her letter to the City Council: "Do you just consider us (persons with disabilities) a pain in the neck that you have to deal with? We like to think that we are your friends, and we are voters! How you handle this miserable problem for us will tell us the answer!"