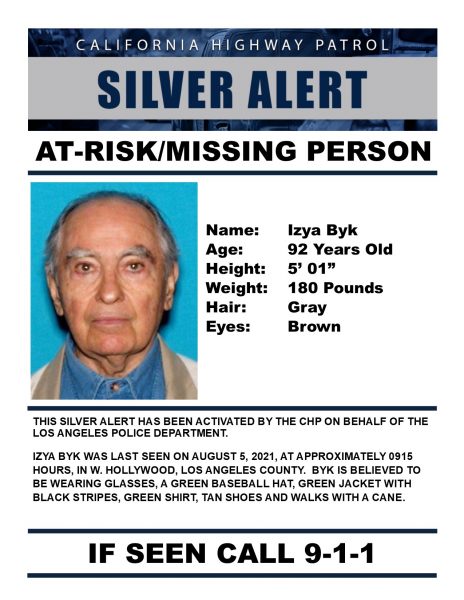 A 92-year-old man was reported missing Thursday in West Hollywood, and authorities circulated his photo in hopes that someone will spot him.
Izya Byk was last seen at about 9:15 a.m. in the area of Fountain Avenue and North Poinsettia Place, according to a Silver Alert issued by the California Highway Patrol on behalf of the Los Angeles Police Department.
Byk is white, 5-foot-1 and weighs 180 pounds, with gray hair and brown eyes. He was last seen wearing a green baseball cap, a green jacket with black stripes, a green shirt and tan pants.
Byk may also be wearing glasses and walks with a cane.
Anyone with information on his whereabouts was asked to call 911.
The Silver Alert program was established by the CHP to issue and coordinate alerts involving the unexplained or suspicious disappearance of elderly, developmentally disabled or cognitively impaired individuals.
Copyright 2021, City News Service, Inc.