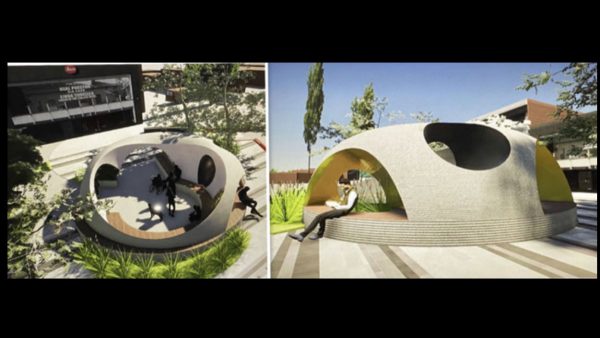 The proposed project, abutting the former Coffee Bean and the Leica store on the NE corner of Robertson and Beverly, would redesign roughly 5,000 square feet of public space with new landscaping, shade, seating, and public art. It will also retain nearly all the existing parking spaces.
At a recent West Hollywood Arts and Cultural Affairs Commission, the proposed "seating sculpture" and art installation for this project was not received well by attending residents and businesses.
At today's community meeting, residents and businesses will be able to speak directly to city staff and offer their opinions and suggestions.
This project will also be reviewed by the Public Facilities Commission this Wednesday, August 11 at 6:30pm.For information on how to make comments and/or attend that meeting, click on the Weho City link below:http://cms6ftp.visioninternet.com/weho/packets/pfc/pfc.htm
For more  information on the Beverly Triangle Plaza project visit weho.org/beverlytriangle or sign up for Weho City email updates here. 
For any questions, or to submit any general comments about the project, please contact David Fenn, Associate Planner, at dfenn@weho.org or (323) 848-6336.
Beverly Triangle Plaza
Community Meeting
Monday, August 9 2021
5pm
Via Zoom:https://us06web.zoom.us/j/89610557317