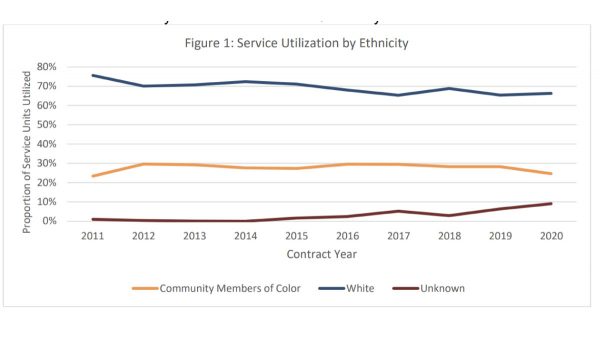 City Council will review an expansive analysis of demographic data exploring how community members of color have utilized the city's social services over the past decade.
Between 2011 and 2020, the city's agency partners provided services to 92,446 West Hollywood community members.Community members of color accounted for 28% (25,682) of those served. Of the 28%, 3% identified as Asian/Pacific Islander, 8% Black, 12% Hispanic, 4% identified as "Other," and fewer than 1% identified as Native American. 
According to the Community Study, the percent of housed residents in West Hollywood who identified as non-Hispanic white was 74%, relative to individuals who identified as Hispanic or Latinx (12%), Black (4%), Asian or Pacific Islander (5%), and "Other" (4%).
Modest gains were made in services such as Employment, Financial Assistance and Mental Health Services. Staff members have recommended to council that the city hire a consultant to pore over the data and "clearly identify unmet needs within the West Hollywood community."
West Hollywood Community Housing Corporation update
City Council will receive a report of initiatives undertaken and ongoing activities of the West Hollywood Community Housing Corporation during the second half of the fiscal year, including:
WHCHC acquired ownership of the 12 affordable inclusionary units at 702 N. Doheny Drive (Harland Boxwood). The property is 100% occupied. All new residents were selected from the City's inclusionary housing program list.  
WHCHC's occupancy rate remained at 98% on June 30, 2021.  
In March, WHCHC's Resident Services team arranged for mobile vaccination clinics to administer vaccines to WHCHC residents, on‐site, at their homes.  
WHCHC staff maintained regular wellness checks through a variety of platforms, both virtual and in‐person.  
In April, WHCHC launched an all new and much more user‐friendly website, www.whchc.org.
Pet Week
Mayor Pro Tem Lauren Meister and Councilmember Sepi Shyne want the city to consider working with community partners to develop a webpage with information on pet-friendly West Hollywood businesses, such as restaurants that provide special animal treats or have dog-friendly patios, and developing a "Pet Week" with programming and an event focused on companion animals. The plan includes a Pet of the Year contest in the categories of Canines, Felines, and others, in which residents can submit photos of their pets and include why their pet deserves to be recognized. The agenda item budgets $5,000 toward the cost of the event.
Opposing the recall election
Mayor Lindsey Horvath wants the city to adopt a resolution in opposition to the recall of California Gov. Gavin Newsom. The city passed a similar resolution in 2003, when Gov. Gray Davis was recalled. The rationale for pursuing a resolution again is because "this process undermines our democracy and perpetuates a dangerous precedent of electing a governor with potentially a small percentage of the vote."