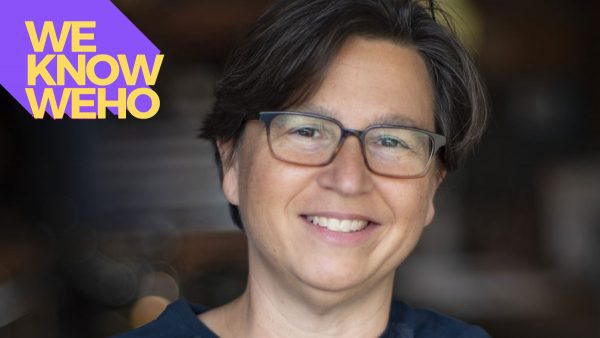 This week's episode features long-time West Hollywood resident, CJ Russo, who is a director, producer and writer of documentary films.
She is no stranger to the film festival arena, with six short films playing at Outfest over the years, and winning an award for the Best Documentary Short with her film "Straight Down the Aisle" – confessions of lesbian bridesmaids.
CJ's most recent project, Lady Buds, is her first feature documentary film that is making an appearance at Outfest 2021 (Los Angeles' LGBTQ Film Festival) before it lights the worldwide film festival circuit on fire.
"Lady Buds is a feature documentary that tells the story of six courageous women who come out of the shadows of the cannabis underground to enter the newly legal market. With deep-pocketed corporations taking over the industry, these trailblazers risk everything to make their American Dream come true in the very market they helped create."
Lady Buds kicked off its film festival screening schedule with a world premiere at the Canadian Hot Docs Film Festival earlier this year and Angelinos have the opportunity to catch a viewing at a very special sneak peek showing at Outfest on Friday, August 20th.
Felicia Carbajal, one of the women featured in Lady Buds, also joins the We Know WeHo interview and brings her perspective as an activist in the LatinX, LGBTQ+ and cannabis communities to the conversation.
Felicia provides insight about the gay history of cannabis and how queer activists were a big reason for the legalization of this industry and her personal involvement in providing cannabis to Bay Area AIDS patients in the 1990's.
Felicia is the Executive Director of the Social Impact Center that will be facilitating a week of action and awareness with their partners at Expungement Works and other local partners like LA County's Public Defender's Office and LA District Attorney's Office.
This national week of action and awareness will be September 26th – October 3rd. If you would like to volunteer to help the underserved community that is impacted by the carceral system, you can sign up to volunteer on their website.
Tracy and Maxine popped into Pinkdot to pick up lunch and a variety of poolside beverages and just missed running into Adam Levine checking in on his new Calirosa tequila line.
Plant-based ice cream is also a hot topic this week with several local options available in "the village" from the Sunset Strip to the West Hollywood Design District. And for you loyal listeners, our two hosts finally made it to HiTops for the much discussed porkchop on a stick!
EAT & DRINK
PinkDot
Wellingtons LA
Calirosa Tequila
Mel's Drive In
Craig's Vegan Ice Cream
Gelato Festival
Otus Thai
HiTops
Ruam Mitr Thai
Sunset Marquis
Soulmate West Hollywood
Bacari on 3rd
Fresh Corn Grill
Tender Greens
ENTERTAINMENT
GET INVOLVED
U.S. Pain Foundation
Food Forward
Somos Familia Valle
National Expungement Works
Translatin @ Coalition
Project Rebound
Time Done
Root and Rebound
Re-Imagine LA