The Arts & Cultural Affairs Commission will consider recommendations on whom they should award city art grants next year at their meeting tonight.
The Performing Arts and Cultural Affairs Subcommittee has picked 15 applicants to be presented to the commission. A total of $103,000 was allocated to for the three grant categories: Arts Project, Organizational
Development, and Transgender Arts Initiative Grants.
ARTS PROJECTS
Arts Project Grants award up to $10,000 per year for two years for eligible, nonprofit arts
organizations (organizations apply with a single grant application and are approved for
two years of funding, pending successful completion of each annual project). Grants
awarded are for the production, performance or presentation of art projects that take place
in the City of West Hollywood and serve the West Hollywood Community.
Below are the subcommittee's recommended recipients: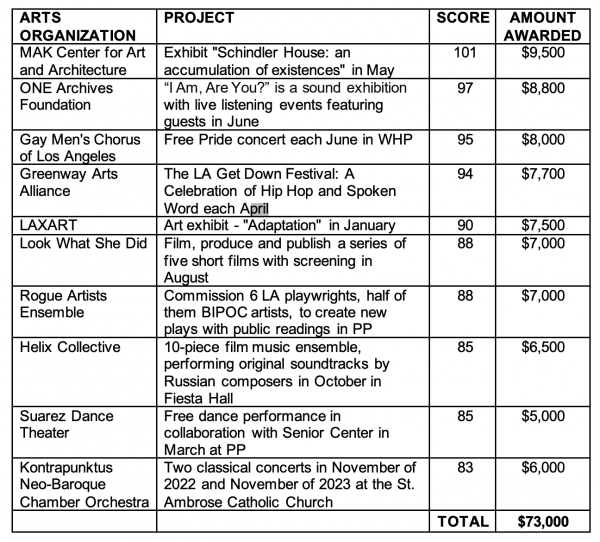 ORGANIZATIONAL GRANTS
The Organizational Development Grant provides two benefits for nonprofit arts organizations by supporting both the organization's mission to provide arts programming, and to support the sustainability of the organization itself with technical assistance. The chart below lists the arts organizations that are recommended for funding in the Organizational Development Grant category.

TRANSGENDER ARTS INITIATIVE
The Transgender Arts Initiative Grant category supports and enhances the presentation of artworks in West Hollywood by transgender artists, artist collectives or groups, and non-profit organizations with a history of supporting transgender artists. The maximum grant award is $6,500 for both artists and artist collectives. The grant award includes registration into the West Hollywood Artist Bootcamp, a professional development program about the business of art. The chart below lists the artists that are recommended for funding in this category.