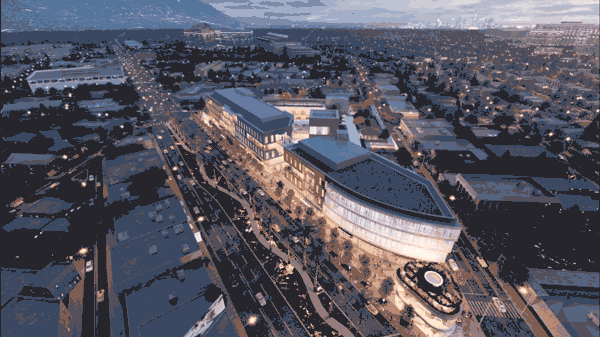 The Planning Commission's Design Review Subcommittee got an in-depth look Thursday evening at the latest incarnation of the Melrose Triangle mixed-use project proposed for 9040 Santa Monica Blvd.
The sprawling development will encompass the entire triangular lot between Santa Monica Blvd., North Almont Drive. and Melrose Ave., and will be comprised of three separate buildings — the Boulevard Building, the Gateway Building and the Avenue Building.
The project was first approved by the city in 2014. The new changes to the project came at the behest of the developers themselves.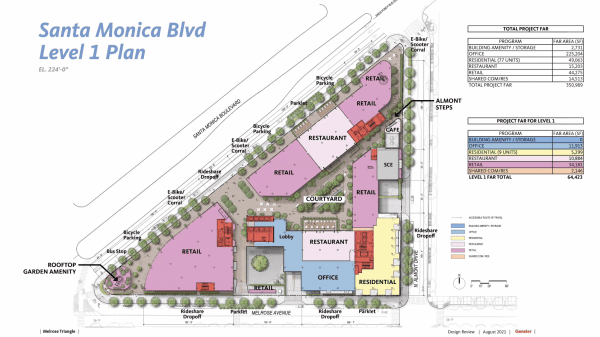 "This has not been delayed by the city," Chairperson Lynn Hoopingarner noted. "This is been an election by the developer to modify the project that was entitled back in 2014."
The amended design proposes increases the gross floor area by approximately 48,000 square feet, for a total of 350,954 square feet. Also among the changes are an increase in the number of dwelling units from 76 to 77, 24 of which will be set aside for low-income households. The plans also increase square footage for office and restaurant areas, while removing space allocated for art galleries and design show rooms, as well as reducing parking down by 360 spaces.
Other major changes include:
Removal of a driveway access from Santa Monica Boulevard and relocation of all commercial access to Melrose Avenue. A second driveway is provided on Almont Drive for residential access only.
Enlargement of the central court space as an active and vibrant setting for retail and dining, and heightening of the paseo connection linking Santa Monica Boulevard and Melrose.
Strong pedestrian-oriented treatment of the three corners of the Triangle area
Elevated building performance based on greater attention to individual building orientation and exterior material systems
Positioning a housing component as an active presence along Almont Drive
Activated site perimeter with addition restaurant space and liner retail along the sidewalk
Public way enhancements that integrate designated ride share and passenger loading areas and coordination with bike lanes.
New design configuration for the Melrose/SMB corner tip turning lane with pedestrian crossings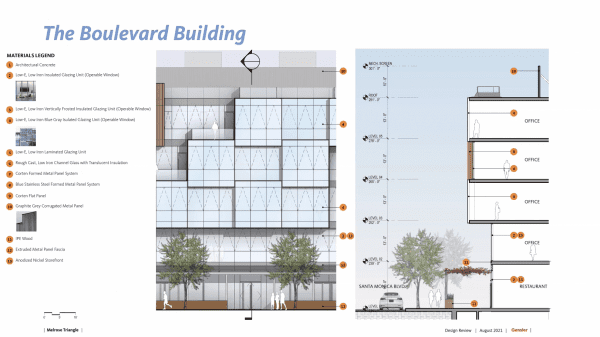 City staff praised the new designs in their report. "A particular success of the project is in the street front activation using a combination of green walls, shallow depth liner retail, grand circulation features, material changes, and a two-level café on Almont to enliven the pedestrian experience. The Almont stair entry is a significant improvement that greatly enhances access and potential future linkages to create a true walking district in the entire Triangle area," the report reads.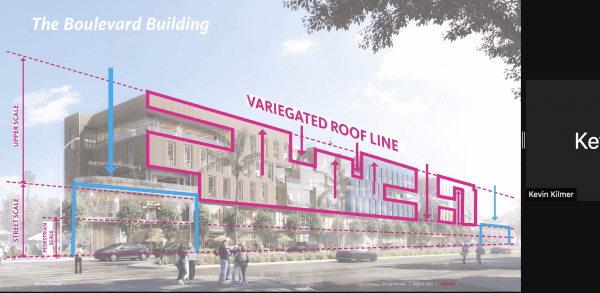 The Subcommittee members were thorough and incisive in their critiques, addressing the flow of pedestrians and the ground-level impression.
"I spend a lot of time in this area," said Commissioner Rogerio Carvalheiro. "This package seems to be void of is the sort of understanding of how people circulate around the site. Santa Monica Boulevard, and that quarter is so brutally hot at Melrose, Santa Monica and Doheny, and putting the glass box there like that without any shade devices or any trees, it will be a complete failure."
"Where's the real traffic going to be?" asked Hoopingarner. "Everybody lives to the east and south, and they're not going to come up through Petco to get to that corner; it's just not going to happen."
"I understand that all projects need to be revenue generating, they need to be financially successful, but is there something in between?" Carvalheiro asked. "I hate using the term generic … but there's a generic quality still to the project that I want to see go away."
"While this is a destination city we want to invite people in there," said Hoopingarner. "We have many long lived destination restaurants. We also have a lot of very short lived. And we have a real neighborhood need for neighborhood serving businesses, especially in that area. And I think that the opportunity exists to do something really exciting and vibrant around a food court concept around some micro retail."