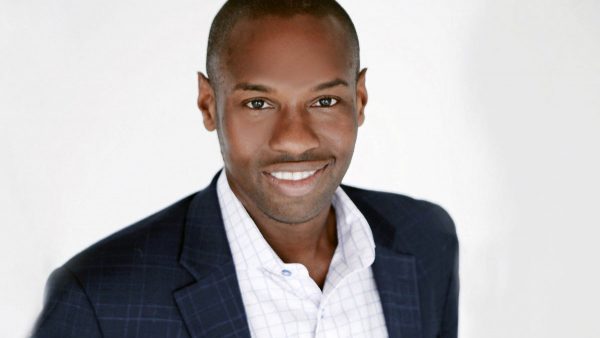 Jonathan Wilson, 44, became the first chairperson of West Hollywood's new Social Justice Task Force this week. The native Angelino spoke to WEHOville about growing up Black in predominately white neighborhoods, witnessing the LA riots and what his goals are as leader of West Hollywood's social justice initiative. 
How does it feel to be chosen as chairperson of this brand new task force?
I'm so excited. I actually feel pretty grateful I didn't expect to be nominated. I was wondering, how is this going to happen? How's it going to go down? there was definitely some confidence I think when they voted and I appreciated that. I think a lot of it is because in our meetings previously I've been bringing a lot of my business knowledge and I think there's some element of that that I think translated well for this particular committee. At the same time I think there's areas where the rest of the team probably might be stronger. and you definitely have to leverage the strength of the team. I love it and actually do this stuff for a living.
Tell us about you background.
I am a native Los Angelino and I grew up in LA all the way through high school. I graduated from Palisades High School. I went to UC San Diego for undergrad and then eventually moved back. I worked for Accenture premier primarily in financial services then went over to become the VP of strategic planning and intelligence at Countrywide Financial. I ended up then moving into Bank of America. I found my way throughout the company working on various initiatives and then ended up going to work for Deloitte. While I was working at Deloitte I ended up focusing on marketing and strategy for three and a half years. I eventually ended up working for Grant Thornton doing much of the same, strategy performance improvement. Then I started my own company about four years ago and after a year of starting it in New York I decided to move back to LA to address some kind of personal stuff and in the process I fell back in love with LA.
What do you love about LA?
I think West Hollywood is actually the best city in LA right now. I love the fact that I can do the beaches. I love the fact that I have friends here that I've known for a very long time. I love the fact that I can choose my own adventure.  I've actually made West Hollywood kind of a mini Manhattan for me. So all the things I liked about Manhattan I actually brought with me here. I don't have a car. I actually live only a few blocks from where I work. I feel like I've made LA what I wanted it to be.
Some say LA is still a very segregated area. Do you believe that?
I think it's much better than when I grew up. I grew up in the Palisades and in Beverly Hills and I was one of three black families in the Palisades when I was growing up. Then when I was in Beverly Hills I was one of three black kids in my grade in elementary school, so diversity isn't something that I've always seen. But I've always recognized that I was Black. I was called the N word when I was in second grade and I was called the N word again when I went to Beverly Vista in Beverly Hills. And those are shocking moments, right?  So you're reminded that you're Black. And once I got to junior high and high school, when I moved back to the Palisades with my dad, I used to get followed by the security that used to drive around the Palisades. There were magazine drives. I remember as a kid I would go door to door and knock on my neighbor's doors and ask about magazines. And I was told by a security guard that was driving around, 'oh there's no soliciting in this neighborhood' and I'm like 'but I live here.'  Then he just followed me all the way back to my dad's house. I've constantly dealt with race relations of my own right. Whether you live in the Palisades or whether you live in South Central you're still dealing with a lot of biases that you have to work through.
What impression did the LA riots in 1992 leave on you?
One of the big things that I remember is the walkouts that we did to protest. I remember going home and my dad actually at the time had a commercial building that was in South Central and we were just watching the news to see if it was going to go up in flames.  It was just a really disturbing scene just across la and I think even though, again even in the Palisades we were seeing smoke right and it was just a very interesting time to be in Los Angeles. You could not not be disturbed.
What's your take on the lasting effects of last year's Black Lives Matter protests.
It's so interesting because between the riots and Black Lives Matter there've been so many moments where you were just hoping for change. I would protest, I would be angry, I would want change and nothing would happen, or there would be a small bill passed. But I think because everybody was home and they were not able to deny what they visually saw, they had to acknowledge that there is a discrepancy between how black people are treated and that's the case all throughout the country. And I think people are trying to dive into the why a little bit. But I have to say when the process happened I was so tired of all the different protests I have done. I was like, 'I'm going to leave it to my non-black people to march for me.' So I went and I watched some of the marches and I took pictures, I cheered, but I was like, 'It's time for someone else to take the wheel.'
What is the state of social justice in West Hollywood right now?
There's a lot to do. there's just a lot to do. There's a different set of priorities for BIPOC people for the city of West Hollywood than there are for the non-BIPOC people, which may and may not be reflected in a lot of the ways that we're operating as a city. so there comes a time when you just really need to lean and say, 'what are those differences?' I mean I'm looking at the past 10 years' worth of data around what BIPOC services are being used by BIPOC people versus what's being used by non-BIPOC people and they're just a different priority. Homelessness doesn't even make the top five for non-BIPOC people. If you look at demand for services based on the studies, for BIPOC people it's number two. it doesn't make the top five for the overarching group but it's top two for BIPOC people. It's crazy. That's an example of one thing that needs to change. I think the other piece too is we need more BIPOC businesses in the area.  I happen to be a business owner and I want more of me to be in the area. I also think we need to have more BIPOC people in managerial positions.  As an LGBTQ person I will sometimes go to a bar like the Abbey or other bars and I notice there's not Black bartenders but there are Black people who are security guards or there are BIPOC people who are bussing the tables and that's something we gotta address. Because that is ultimately where the disparity of wealth lies. If you aren't getting people in positions where they're able to earn a decent income, they're gonna keep relying on others. And we need to enable a flourishing BIPOC community in West Hollywood.
How do you think the task force can help the city get there?
I think we need to have more incubators within West Hollywood. So I think BIPOC incubators could be a really good thing to help start the idea of having BIPOC businesses here. I think we definitely want to have more BIPOC managerial positions by maybe incentivizing some of the businesses that are around here to have BIPOC managers of their restaurants, of their stores. Visibility makes a difference. I think there's a lot of room for that. I think we need to find out some of the barriers to entry for rent from a residential standpoint. I'd love to explore that a little bit more.  How do we address that? And then I think the other way too is we need to make sure that we are putting more capital towards the services that are most in demand for those that are BIPOC. 
What's something you've learned that has surprised you since you became a part of the task force?
The rigor in which our city operates. I think we have a lot of really well-meaning people and I honestly haven't always recognized that. So that was something that really humbled me. So it's just a matter of making sure that the private sector is partnering effectively with the city of west hollywood because I think there's a lot of things that the private sector can do to better enable a flourishing BIPOC community. For example I think the West Hollywood Chamber of Commerce could do a survey of businesses in West Hollywood and get a breakdown of BIPOC versus non-BIPOC people that exist in those businesses. That could be the data that we need to help us move the needle not only from a private sector standpoint but for the city of west hollywood. That survey can be used for the Chamber of Commerce to realize, 'oh what are we doing to really better enable the city or better enable these businesses that are part of our organization?' At the same time the city can say, 'how do we bring in more businesses?' I haven't seen significant data around the business breakdown in the city of west hollywood. we're trying to find out if it exists or not. 
What are your overall goals or aspirations as leader of the taks force?
We have a lot of great passionate people and our mission is really focused on enabling — making sure that we're addressing some of the biggest BIPOC issues. I want to make sure that I leverage everybody's skill set. I have to make sure that I'm listening to everybody and I want to make sure that it's truly a partnership — that they don't see me as just a chair, but they see me as a partner within the overarching team. My aspirations hopefully are the same aspirations as those of the full team. If you were to ask each one of them what their aspirations are, those are my aspirations too.
Wilson is the host of the Redefining Family podcast, which spotlights stories of resilience as his guests share how they have redefined their definition of who they consider to be their real family. Listen to the first episode in the links below.
AUDIBLE
SPOTIFY
APPLE PODCASTS
FACEBOOK