West Hollywood city staff members held a virtual community meeting for residents to give their two cents on the divisive OutZone program which was created last year as the COVID pandemic was in its first summer surge. 
"We are wanting to start putting our thinking caps on about how we want to transition the city from our pandemic sidewalk activities into some future scenario, after the pandemic is over," said John Keho.
The pilot program allows local businesses to make use of the public right of way. Restaurants in particular have benefitted from the OutZone, which let them use sidewalk areas and parking spaces to seat diners when indoor dining was still forbidden.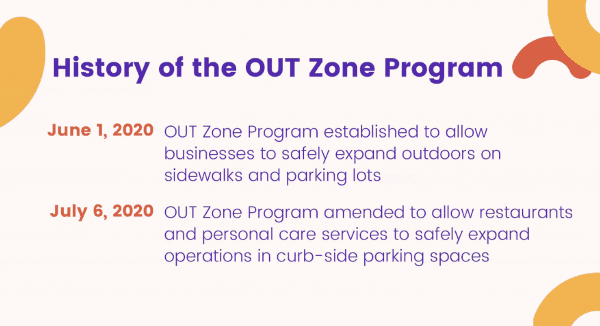 "As we began the process last year, we really rushed out, we were very flexible, we really worked with the businesses to try to get these up and operational as quickly as possible," said Jackie Rocco. "We wanted to make sure that our businesses could remain open and make it through this pandemic."
The map above shows the locations of 70 OutZones throughout the city, and no two are exactly alike. Each was designed to capitalize on available space while allowing for access to pedestrians — some more successfully than others. Complaints about OutZones impeding foot traffic and producing excess noise have plagued the program since the beginning
Staff members surveyed the 29 attendees of the meeting to help gauge the public's sentiment on the program.
54 percent said their experience walking in OutZone areas was uncomfortable or congested, while 50 percent said they'd experienced noise-related issues.
"I find that the OutZones that are out there now are really an abuse of that privilege that was given to businesses and us as customers when we couldn't go inside," said Manny Rodriguez.  Well now we can go inside and they're taking up 80 percent of a 16-foot sidewalk."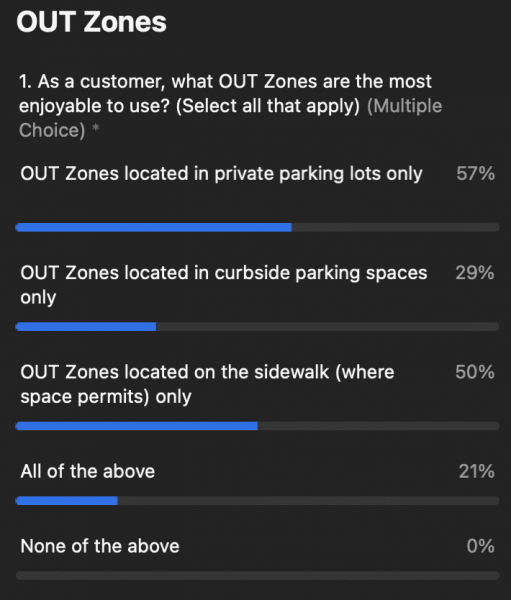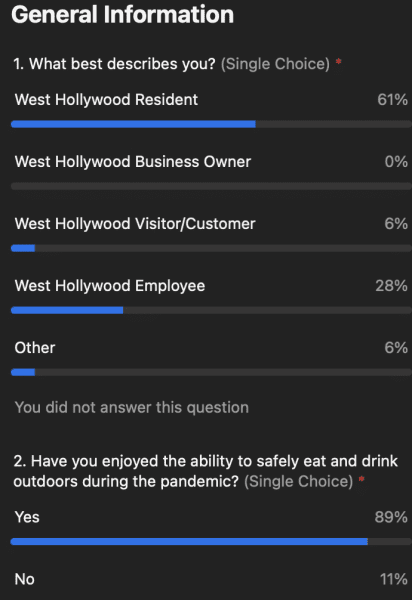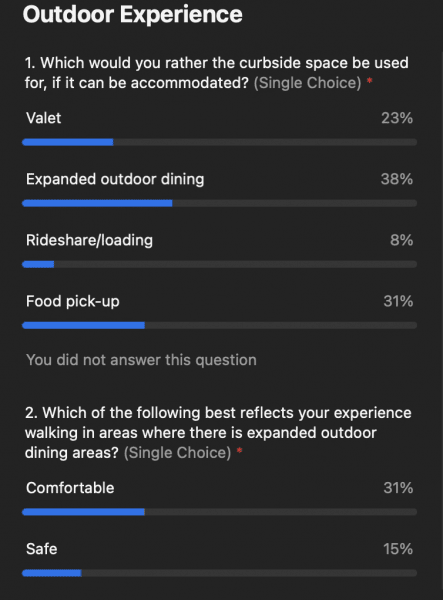 Attendees like Dan Morin offered other reasons they were opposed to the program. 
Morin feels that the OutZones encourage the public to slack off on COVID precautions like social distancing and wearing masks. 
"I know that a lot of us don't want to deal with it, especially the younger generation — they just want it to go away," he said. "And I understand that I was in my 20s at one time too. But I'm not anymore. And maybe that's why I'm overly cautious. I'm concerned about the health of everybody in this country, especially in the place I've lived almost 43 years."
"My concern is not so much the outdoor dining as our situation with traffic and parking," said Alex Kurtzman. "And in some situations where the valet parking has to be pushed out into the middle of the street and there's only one lane. You just run into these dangerous situations, especially at night. People are stopping their cars and getting out in the middle of the street."
Staff members said they are gathering input from the Los Angeles Fire Department to determine whether the OutZones are hampering emergency responses.
The city will hold another virtual meeting covering the same topics at noon on Wednesday, Sept. 1. Residents who are interested in attending must register here.