In a sprawling four-hour study session Tuesday night, City Council started to tackle one of the most daunting issues they face: whether to increase the living and minimum wages in West Hollywood despite an economy that is driven by the service sector which includes "tipped" employees.
With the dust yet to settle from a contentious hotel ordinance that pitted business and labor interests against one another, the debate over wages is further deepening the divide between the two factions.
Earlier this year, City Council directed staff to evaluate an increase in the living wage requirement, and whether to impose the requirement on the city's development agreements, as well as whether to institute a municipal minimum wage requirement.
Living wage is defined as the minimum income necessary for a worker to be able to meet basic needs for an extended period of time; minimum wage is the lowest hourly wage an employer can pay an employee working for employers with 25 or fewer employees and $14 per hour for those working for employers with 26 or more employees.
West Hollywood does not currently have a municipal minimum wage rate of its own. The federal minimum wage is $7.25 per hour; Los Angeles has set a rate of $15 per hour.
In 2016, WeHo's city council had begun pursuing a minimum wage rate when the state of California instituted a rate of its own which was higher than what they were aiming for. Now, WeHo follows the state's rule of $13 per hour for employers with 25 or fewer employees and $14 per hour for employers with 26 or more employees.
The city first adopted a living wage rate in 1997, which applied to workers hired by city contractors. There is no "official" living wage rate — cities determine it individually based on a wide variety of data and sources. MIT's Living Wage Calculator, for example, sets the living wage rate in L.A. County at $19.35 per hour for a single adult with no children.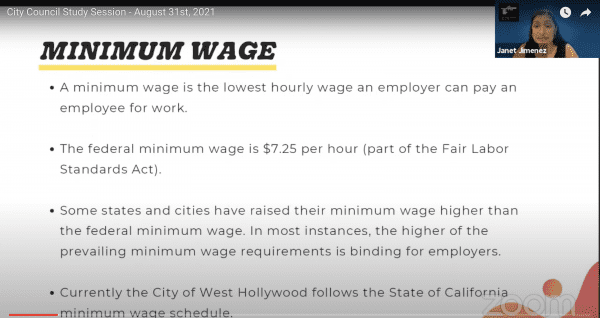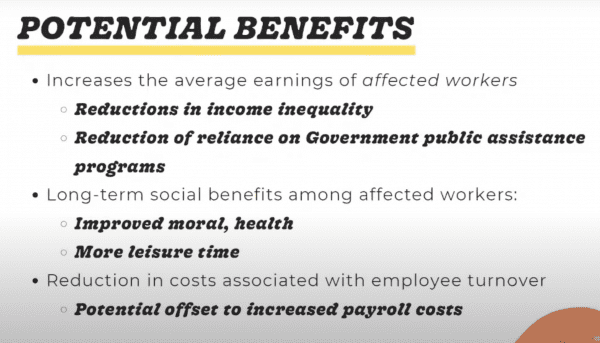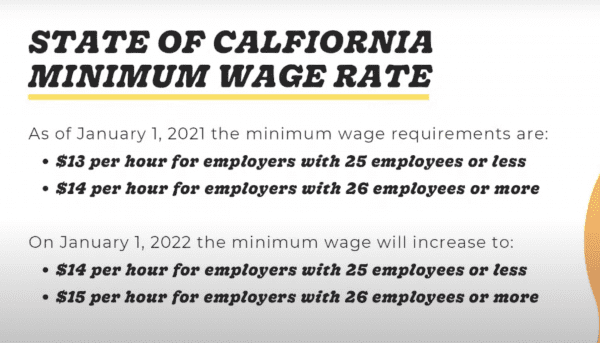 West Hollywood's current living wage rate is $13.91 for employees whose employers provide health benefits and $15.16 for those whose employers don't. The rate increases annually based on the consumer price index.
The two opposing sides of the debate made themselves heard during public comment at the meeting.
Councilmember John Erickson, a staunch supporter of higher wage for the hotel workers and within the development agreements seemed to lose sight of the effects on our local social services. If the ordinance is implemented city contractors and service providers would be forced to increase the pay within the current fiscal year. Mayor Lindsey Horvath pointed out that those increases may affect the amount of services these organizations are able to provide due to limited budget constraints and the pressures of the Covid pandemic on these social service organizations. City Manager David Wilson noted that the fiscal year begins in July for most social services contracts and asked staff to come back with a report at the 2nd reading of the ordinance.
"The goal is to make the living wage at least $19.35″ by Jan. 1, Erickson said in his directive to staff members, along with embarking on a fiscal impact study and a timeline. The split in wages between employees offered health benefits and those who are not would also be removed after Councilmember John D'Amico carefully pointed out the differences in how large businesses often deduct the cost of health care from the employees paycheck.
The motion directs staff to have an ordinance in place by Jan. 1, 2022 leaving local businesses little time to plan staffing and other needs. The Chamber of Commerce had asked for an economic study to weigh impacts on our local restaurants and service economy but the council decided to move forward with staff outreach to local businesses but without a survey that includes local restaurants.
The minimum wage for all hotels workers will be $17.63 per hour — a rate which D'Amico questioned.
"I think we should think bigger and think wiser than maybe even some of our staunchest advocates because they have their own concerns and they are about a micro micro moment in the city's history and our longevity and long history of meeting on this is I think bigger than $17.63," he said.
During deliberations D'Amico addressed Erickson and Danielle Wilson directly, questioning why Santa Monica's ordinance was being looked at as a standard.
"I'm not really sure what this fanaticism about Santa Monica is," he said. "I mean I don't know what $17.63 means. It sounds to me like you should have a $20 minimum wage but if $17.63 is the one that UNITE HERE is pushing — and they're the experts clearly — but it just seems to me like for some reason this fetishization of what they do in Santa Monica … that is a city that has almost nothing to do with us."
"I'm willing to do what you want, John," D'Amico told Erickson. "I mean you have a much clearer line of communication with Danielle at UNITE HERE than I than I do. But in my mind we have actual questions about what it means to pay people who work in our city. Yes, we have a big surplus. I am interested in how we roll this out. I think it's fair to our businesses to give them the kind of warning the state discussed when it made these decisions. I think there are good reasons to think carefully about how quickly we move. It's likely that it won't be fast enough for some, and it's likely that it will be too fast for others, which means it's probably going to be the right speed."
Speakers during the study session included representatives from the AFL-CIO, Stonewall Democratic Club, Equality Californai and many UNITE HERE! union workers who talked about the Santa Monica ordinance.
Staff members will return with council's requested revised reports in October.
The motion's directions to staff included provisions on these topics:
Living Wage: Consider increasing to at least $19.35 per hour with no distinction between whether insurance is offered or not with staff to come back with fiscal impacts and a timeline for phasing with an analysis to understand impact to city budget and social service agencies.
Minimum Wage: Apply the CPI above the state minimum wage on January 1, 2022, and with the same CPI increase every year moving forward for employers with 26 employees or more, with employers who have fewer than 26 employees would remain at state minimum wage for 2022 until 2023 when CPI would be applied.
Conduct a study in months ahead to understand impacts of a potential "bolder" new citywide minimum wage that may be significantly higher than state minimum with CPI increase. The study would include community outreach and analysis by city staff of financial impacts including related potential increases to minimum salaries.
Hotel Minimum Wage: create a new hotel minimum wage that would begin at $17.64 per hour (that would align with Los Angeles and Santa Monica) which would go into effect on January 1, 2022; would increase by CPI each year subsequent.
The council will study moving the hotel minimum wage even higher ($20 an hour was used as an example) upon more study which would occur in the future.
Sick Time: for Hotel Workers, the minimum would move to LA standard of 96 hours paid sick time with an additional 80 hours of unpaid sick time available. For all other businesses with 26 employees or more, it would move to 72 hours of paid sick time with 40 hours of paid sick time for businesses with fewer than 26 employees.
Other Santa Monica provisions to be included: learners' provisions, nonprofit provisions, definition of employee, limited provisions for transitional job programs, service charges being classified as belonging 100% to employees, collective bargaining agreement exemption, a regulation governing the number of employees that should be used based on 2019-2024, and then using prior year post 2024.
Outreach & study for further wage increases: conduct an economic study, utilizing Berkeley or UCLA labor study, and establish a working group consisting of employers and labor/advocacy groups to study potential increases
Development Agreement wages and provisions: to be considered by council on case by case basis