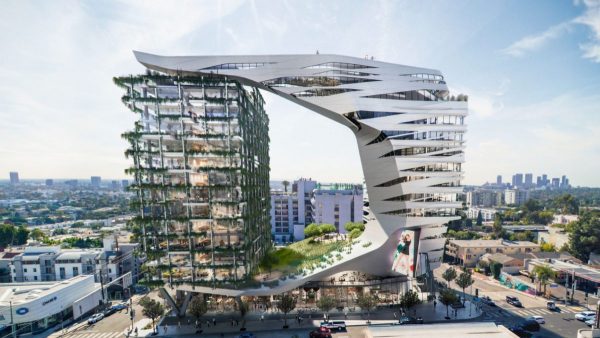 The Draft EIR for 8850 Sunset includes a 'community outreach team'
8850 Sunset Blvd., home of the Viper Room and years of rock n' roll history, is about to get demolished. The new development includes 115 room 5-star hotel, 31 residences, 10 affordable housing units and a large ballroom that can host up to 350 guests.
The project will span the entire block of Sunset Blvd. from Larrabee to San Vicente. The draft EIR expects the item to come before the Planning Commission in October 2021 and anticipated construction to begin in the fall of 2022. The developer is Silvercreek Partners, owned by the Essig family.
The "Monster," as some have called it, towers 15 stories above Sunset Blvd. and is expected to meet stiff opposition from residents. The total project is forecast to cost just shy of $500 million. To push the project through completion, the developer has contracted with three former West Hollywood City Council campaign managers.
The community outreach team includes:
Estevan Montemayor, Councilmember Horvath's former campaign manager and current direct appointee to the Rent Stabilization Commission.
Barbera Grover, who previously ran the John Heilman, Abbe Land and Lindsey Horvath campaigns; and
Scott Schmidt, Lauren Meister's campaign associate in her first race in 2015.
The 8850 Sunset Development is owned by the Essig family who have contributed to both Horvath's and Erickson's campaigns.
Jeff Seymour, a local lobbyist, represents Essig. Montemayor was the past president of CSW who made the decision to remove the gay pride parade and festival out of West Hollywood. Montemayor was also the Communications Director for Representative David Ryu who was defeated in the November 2020 election. Unemployed due to the election defeat, Montemayor is now a registered lobbyist with the City of West Hollywood while he is also serving as Horvath's Rent Stabilization commissioner.
Barbara Grover is a past consultant for Lindsey Horvath, John Heilman and Abbe Land. She was a former partner with Parke Skeleton in Santa Monica, California. Skeleton and Grover ran the campaigns of Abbe Land and John Heilman for years. In 2019, Lindsey Horvath requested $15,000 from philanthropist Margot Siegel for a donation to SEE (Social and Environmental Entrepreneurs) to pay Barbara Grover to record West Hollywood's history stories. In 2019, Barbara Grover also received $27,000 from a political action committee called West Hollywood United to Support Lindsey Horvath and John D'Amico.
In addition the developer hired Scott Schmidt, who served as Mayor Pro-Tem Meister's campaign consultant in 2015. Schmidt was also part of the term-limits Measure C Outreach and has worked as a consultant on many issues in West Hollywood since 2015. Schmidt is not a registered lobbyist and has not worked on any political campaigns since the 2015 election.
The Ethics Reform Task Force met over a four year period from 2015-2019 and discussed limiting pay-for-play politics by restricting lobbying activities of former City Council members and their campaign managers. The proposals were eventually rejected.
The item is expected to come before the City Council in October. Upon approval construction is set to begin in late 2022 with a 2026 open date.