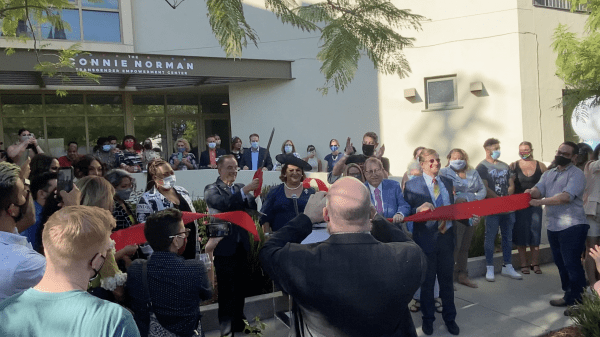 The Connie Norman Trans Empowerment Center opened its doors Friday with traffic-stopping crowds and an emotional tribute to its namesake.
Built and originally operated by AHF in the 1990s as Linn House, a hospice for people dying from AIDS, the 20,000 square-foot building will function as a sort of WeWork space for Trans-led organizations, including FLUX and the Unique Woman's Coalition.
The facility is named and being dedicated in honor of Connie Norman, known as the "AIDS Diva." Norman was a fearless "transsexual" AIDS activist so far ahead of her time that her lifetime experience and tireless activism preceded widespread use of the term "Transgender." She was a member of Act Up Los Angeles and passionate advocate for the creation of AHF's first AIDS care facility, the Chris Brownlie Hospice, where she herself passed away from AIDS.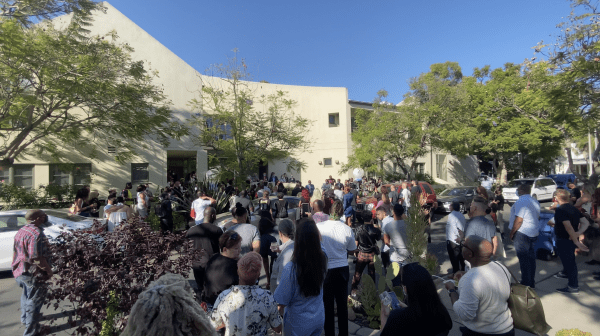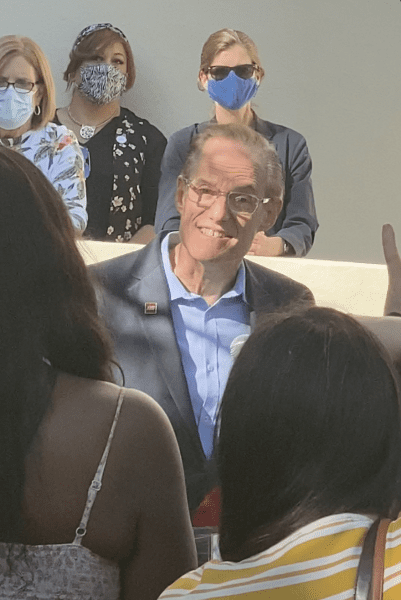 "Connie, I made promise to you before you died," said Michael Weinstein, president of AHF and a good friend of Norman. "That I would — and these are her words, not mine — take care of her 'trannies,' and this is the fulfillment of that promise today.  I also want to say that when we talk about what it means to be an ally, it's not speaking for people, it's just being there to support. Among the many things AHF is, it's a field of dreams. As this space becomes occupied, as more organizations take advantage of it, as the activities grow, it will flower into something that will inspire across the globe."
A slew of local elected officials participated in Friday's ribbon-cutting ceremony, including West Hollywood's mayor and city councilmembers, Los Angeles City Controller Ron Galperin and Los Angeles City Councilmember Paul Koretz.
"What we really need is a world that is transformed, that is trans-cultural, that is trans-lingual, that is trans-fluent, that trans-generational, that is trans-cultural, thats is transcendent," said Galperin.   "And that is exactly what our trans and non binary communities and individual represent and are championing."
Koretz recalled Norman and Weinstein as being the most vocal protesters of government inaction during the early AIDS crisis.
WeHo Mayor Lindsey Horvath referred to her T-shirt in her address.
"Today this shirt says 'sisterhood' because we have two trans-fem of color power-houses leading this empowerment center for all the community and I am your sister, I am part of your family," she said. "Please call on me, call on us, we want to be here in service to you in the mission and the work of this space.  We know that so many people will come here to transform their lives.   I believe this space is going to be a transformative space for all our community."  
"My work has always been about community," said Chela Demuir, founder and executive director of Unique Woman's Coalition and international vice president of FLUX.  "I always say that you can't do community work without community.  To see all of you here just warms my heart.  I have dedicated my career to is creating a unified action, a unified movement, and today we take that movement another step.   I want to make sure as Trans and Non-Binary people that we work in harmony, that we work together.   We work stronger when we are together.  There are no need for us to work in silos.  Let's stop being the little liquor stores on every corner and let's create the major shop.  And let's make it right here at the Connie Norman Transgender Empowerment Center."