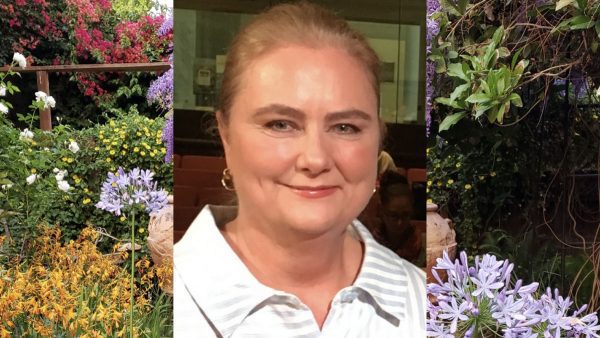 Howdy, Lynn. Thank you. Congratulations on being elected Chair of West Hollywood's most important commission guiding West Hollywood's development policy. 'Tell us where you grew up and how you found your way to West Hollywood?
I grew up near Michigan State University where my father was a Professor of Entomology (now Professor Emeritus) specializing in Apiculture (Honeybees).  My mother, had a degree in clothing & textiles was a Master Gardener, artist and designer.  We grew, canned and froze most of our own fruits and vegetables.   The vacant lot on the corner was our neighborhood summer softball diamond, flag football field all fall, and the winter kickoff point for cross-country skiing.  Our family loved to learn and explore.  By the time I graduated high school we had tent camped in 30 states and 18 countries—which led to my interest in all things international.
My Masters in International Business, with a minor in Spanish, first took me to Stanley Hardware in Cali, Colombia.  From there I was hired as a corporate banker at Chase Manhattan Bank on Wall St.  As a result of a big promotion, I got to pick where I wanted to work and I picked LA and working to start up the new corporate office. The rest is history.  It took me about two minutes to figure out that WeHo was the closest I could get to the vibe of Columbus & 69th which led to my first apartment on Palm Ave. 
So, let's talk about you. What do you do for a living?
I am a Certified Management Consultant® and have owned my own consulting firm since 1992.  We consult in many areas, primarily around operational processes, contracting, and finance.  We have developed an award-winning software for owners of large construction projects to manage all of the financial operations from budgets to contracts to change orders and cash flow.  My staff works both on-site and remotely on dozens of projects for clients from hospitals to data centers in multiple states and in 20 countries on three continents.  To date we have managed over $10B in construction projects.
And when you are not working or studying for the next planning commission meeting, what are some of your personal interests?
Well, in the remaining 20 minutes of the day I love to design—furniture, new gardens, sweaters, etc.  I also like to try new plants in my garden, test new recipes on my unsuspecting friends and neighbors, dive into a great mystery—you might note a problem-solving trend here.  With more time, and a safe travel environment, I will be back to visiting friends and family near and far, and my personal bucket list of World Heritage Sites.  
Do you have any fur babies?
Artu is the current assistant office manager here.  He is an almost 2-year-old Ragdoll that loves to play fetch with my hair scrunchies and go for walks—especially if I am carrying him.  His favorite pastime is watching KittyTV from all the windows where the squirrels, birds and butterflies are constant entertainment.  And no, he is not allowed outside without a leash.  It is not safe for the environment, the birds—or him.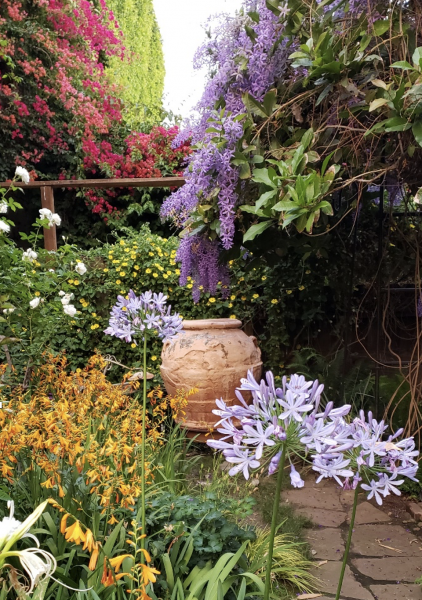 I've had the pleasure of being at your home in your magnificent garden. Can you share some highlights or photos?
What a lovely compliment Larry.  When I bought my house 20 years ago the garden was a very Italianate, formal space with the traditional rock-hard LA clay—and not a thing in bloom in the month of June!  Over the years I have slowly transformed it with massive redesign and years of composting to be what I call a California Potager, or kitchen garden, that is a very casual mix of ornamentals, Mediterranean bulbs, herb, fruits and veggies.  There are now over 400 species and cultivars tucked into this little space designed to be food for me, and all the birds and butterflies.  I tuck chives under my lime trees, train tomatoes to grow up through the roses, and Clematis wind up through the natural trellis formed by the Dragon Fruit.  California native Milkweed gives food for Monarch larvae and dozens of nectar plants feed both hummers and butterflies. 
Every spring there is at least one hummingbird nest, and a few other species too.  All summer we have dragonflies and lots of butterflies—Monarchs, Western & Giant Swallowtails, Mourning Cloaks, Fritillaries, etc.  It was designated a National Wildlife Federation Backyard Wildlife Refuge in 2003—which has always tickled me since I live barely a block from Sunset Blvd. I look forward to the day when everyone can safely come back to enjoy the "Ahhhhh" of the space.
When were you appointed to the Planning Commission?
May 2017
Did you have a background in land-use?  Had you applied to be on the Planning Commission prior to being appointed by Mayor-Elect Meister?
I have been an active advocate for the environment since my teen years.  This summer has shown us how important the climate and greening is to all of us.  My background in city land-use came through community activism here in WeHo—concerned about development in my neighborhood.  In fact, that is how I met Mayor-Elect Meister, standing in the back of the (then) Auditorium waiting to speak to Planning Commission.  I believe it is our years of experience in community activism that led her to ask me to serve on Planning (no, had not previously applied).
You are presiding over the first female majority Planning Commission since West Hollywood was founded. Has anything changed? Does gender make a difference in planning decisions?
To paraphrase that Schopenhauer guy: "Change is perpetual…"  By definition the change in commissioners changes the commission.  We each bring a different life experience and expertise to the decision-making process, which is why it is so important to have seven unique voices.  One of my favorite parts of the public hearing process is the robust and public discussion of ideas and working together to find a best outcome possible.   That said, it is pretty fantastic for our city to have both a female majority on Council and on Planning Commission for the first time in history!  How many cities can say that?!
How has state law, namely Senate Bill 330, the Housing Crisis Act of 2019 signed into law by Governor Newsom intended to speed up but building process, affected West Hollywood?
My personal opinion is that this law is a classic example of "One Size Fits All" public policy having a love-fest with the "Law of Unintended Consequences."  While I applaud the goal of the law to increase more and more affordable housing, the law was designed to "goose" a number of jurisdictions that have been dragging their feet on housing and WeHo got caught in the proverbial cross-hairs.  Now, as Planning Commissioners, we have very little ability to enforce our city's carefully crafted code to achieve the urban planning goals we as citizens designed.  
Do you think planning commissioners who run for City Council should be able to take donations from local developers?
The state has pretty strict ethics rules but this might be one of those gaps.  While developer donations to Planning Commissioners may not violate any laws, it certainly creates the perception of "pay for play" and a lack of transparency which is one of the key underpinnings of the Brown Act, amongst other things.
Do you have an idea when the Planning Commission will get back to in-person meetings?
Wouldn't that be lovely?  In person meetings would certainly be my preference.  More importantly it would mean we finally had "herd immunity" with a fully and safely vaccinated public.  That said, this is entirely up to city staff, county health officials, etc.  I personally doubt it will happen much before next year at the current rate.
And what about you, would you ever consider running for City Council?
I am not a political person.  I am by nature a problem-solver. It is why I am a management consultant.  I was raised in a university community that where the focus was on research, science, public policy and civic engagement.  My B.A. is in International Relations from James Madison College at MSU where the focus is on public policy—in urban planning, law, international relations etc.  Those are the underpinnings of my civic engagement to this day.  
Short answer.  Nope.
What's your favorite dining place in West Hollywood?
Oh, so many choices!  One of the things I love about WeHo is that we can be completely spontaneous and choose from a vast array of wonderful culinary choices – all within walking distance.  Whatever the mood, the flavors we want, we have world class choices just moments away.  I have to do all that "deciding" for Planning Commission, don't ask me to decide this!
Well, thank you for your service. Thank you for sharing your story with the residents of West Hollywood and readers of WEHOville. We are truly lucky to have a dedicated public servant like you. Keep up the great work.
Photo: Blavais