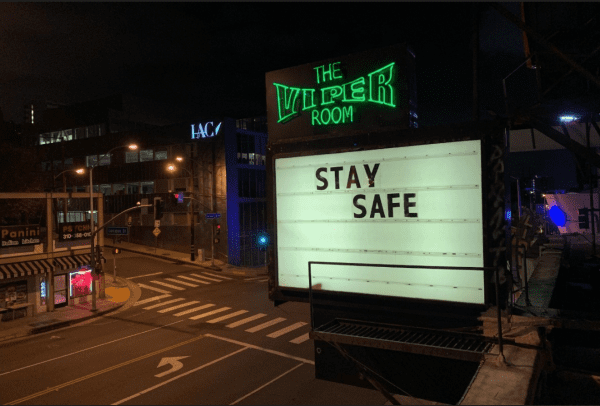 The Viper Room opened in 1993 and was known as "Johnny Depp's joint". The world famous club has hosted Johnny Cash, Tom Petty and the Heartbreakers, Stone Temple Pilots, Bruce Springsteen, Lenny Kravitz, Courtney Love, Elvis Costello, Pearl Jam, Iggy Pop and Sheryl Crow. But the history of the site goes back 100 years to 1921 when it was a small neighborhood grocery story. In the 1940's, it became "The Cotton Club" on the Sunset Strip advertising itself as "Harlem In Hollywood".
It was a strip club called "Last Call" in the 1950's. And then it became the "Melody Room" in the 1960's with performers and gangsters hanging out there. In the 1970's, it became Filty McNasty's and then "Central" where you could bump into Ricki Lee Jones or John Belushi. And of course it was the site for the death of movie star River Phoenix after leaving the Halloween party at former Councilman John Duran's apartment on Larrabee. Phoenix was hanging out at the Mediterranean Village with Kathy Najimy and Jason Gould at Duran's Weho apartment before he died on the sidewalk outside of the Viper Room.
All of this incredible West Hollywood history is about to be lost if the developers get their way to build a 15 story building on the block in the historic rock and roll district where San Vicente Boulevard meets Sunset Boulevard. The 8850 Sunset Development is owned by Silver Creek Development Group and Charles Essig – who are major contributors to the campaigns of councilmembers Lindsey Horvath and John Erickson.
Neighborhood opposition is expected to be fierce by those who live nearby on San Vicente, Clark, Larrabee, Palm streets and the Norma Triangle. Building a new hotel or office complex is tough anywhere.
But trying to cram it all into one block in the neighborhood which is part of the history of numerous rock and roll generations – is highly problematic.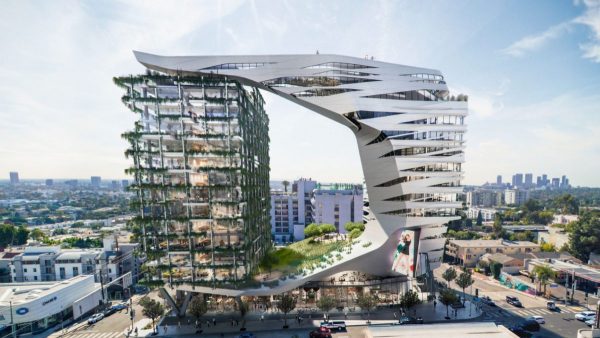 And in this pandemic era where half of the office space on the Sunset Strip has emptied due to COVID – building an office tower and tearing down the incredible history of the Strip – is very short sighted. So what did the developer do? 8850 Sunset Development has hired a new "project team" which demonstrates the continuing nepotism and corruption in the City of West Hollywood. The team sent out a "dear neighbor" letter signed by Republican consultant Scott Schmidt, Democratic strategist Barbara Grover and former CSW President Estevan Montemayor.
If you don't follow the local politics of West Hollywood, you may not realize why these characters were cast in the role of "project team". Barbara Grover is the past consultant for Lindsey Horvath, John Heilman and Abbe Land. She was a former partner with Parke Skeleton in Santa Monica, California. Skeleton and Grover ran the campaigns of Abbe Land and John Heilman for years.
In 2019, Lindsey Horvath requested $15,000 from philanthropist Margot Siegel for a donation to SEE (Social and Environmental Entrepreneurs) to pay Barbara Grover to record West Hollywood's history stories. In 2019, Barbara Grover also received $27,000 from a political action committee called West Hollywood United to Support Lindsey Horvath and John D'Amico.
Estevan Montemayor is the current Rent Stabilization Commissioner appointed by Lindsey Horvath. He was the past President of CSW who made the decision to remove the gay pride parade and festival out of West Hollywood.
Since the removal from West Hollywood (and due to COVID), CSW has yet to produce any meaningful pride festival or parade ending 50 years of LGBT history on Santa Monica Blvd in West Hollywood. Montemayor was the Communications Director for defeated Los Angeles City Councilman David Ryu. Unemployed due to the election defeat, Montemayor turned to his friend Lindsey Horvath for help. Now, Montemayor is a paid consultant to get this development approved – while he is still serving as an appointed commissioner of Lindsey Horvath.
Nepotism is defined as patronage bestowed or favoritism shown on the basis of family relationship – usually in business and politics. It may not be illegal – but it is considered highly unethical.
This difficult development project has hired consultant Grover closely tied to the campaigns to re elect Lindsey Horvath and hired one of her appointed commissioners Montemayor. The optics are horrible for West Hollywood. If you have a difficult project, give money to the consultant who helped elect Horvath and one of her sitting appointed officials Montemayor – and then watch the project sail through with the support of Horvath and her protégé John Erickson.
It is unclear whether the project will get the support of Mayor Lauren Meister or councilmembers John D'Amico or Sepi Shyne.
It is hard to stomach and watch this level of corruption as Horvath and Erickson and their consultants and appointees scoop up developer money to fund their campaigns and in the case of Grover and Montemayor – their pockets – while the incredible history of West Hollywood gets destroyed. Horvath, Erickson and Montemayor – all part of the same team destroying West Hollywood heritage and history – while doing the bidding of UNITE HERE in ordinance after ordinance harming our hotels and small businesses with minimum wage increases.
Follow the money. It all flows to benefit Horvath, Erickson, Montemayor, Grover, UNITE HERE and their maids who do not live in West Hollywood.
And who pays the bill? The residents of West Hollywood in increased costs of goods and services to cover minimum wage increases – and a loss of rock and roll history. Members of the public should voice their opinions on this project as it moves through the planning process.