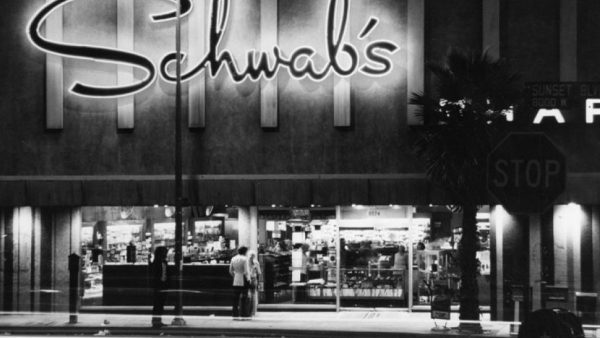 The recent closing of Greenblatt's was especially sad since the deli was almost the last vestige of this area's Golden Age. The Chateau Marmont still stands a couple of blocks away, but in past decades there were several pieces of old Hollywood history standing within a walking distance of Sunset and Crescent Heights. Probably the most storied of these buildings was Schwab's Pharmacy, the drugstore where movie stars shopped, underemployed actors hung out and Lana Turner was allegedly discovered. The Chateau and the nearby Garden of Allah provided the store with an ever-revolving cast of famous customers.
The original Schwab's at 8024 Sunset opened in 1932, when the area was still "out in the country." Eventually, there were four stores located at opposite ends of the Sunset Strip, in Beverly Hills, and in Brentwood, each managed by one of the four Schwab brothers. In the 30s, Sidney Skolsky, who had his office above the pharmacy of the flagship store on Sunset, called his Photoplay magazine column "From a Stool at Schwab's." This, along with a memorable cameo in the film "Sunset Boulevard" made the drugstore famous worldwide. When "I Love Lucy" came to Hollywood, Lucy Ricardo spent an afternoon at Schwab's lunch counter, trying in vain to get "discovered."
My personal history with Schwab's began in 1971, just a few days after I moved to West Hollywood from Montgomery, Alabama, and into the Park Sunset Hotel on the Sunset Strip. I answered an ad in the L.A. Times and got hired as a clerk at the original Schwab's, which was within walking distance. 
While this job didn't do much to launch my later career in journalism, it did pay my bills and was more fun than flipping burgers. Every day I was reminded that I wasn't in Alabama anymore, like when I waited on an attractive middle-aged matron who gave me a check signed "Christine Jorgenson." The pioneering transgender icon lived nearby, as did a regular rogue's gallery of has-beens and never-weres. 
Working in a pharmacy where the rich and famous got their meds made it pretty obvious what various celebs were suffering from. Like when that hit-making rock group came home from a long tour and the wife of the lead singer called in with a prescription for the remedy for an STD. Or a notorious Dr. Feelgood came in with a bag full of scripts for strong opiates bearing the name of a legendary rock star – who made a big show of being anti-drug.
Making deliveries to the mansions of the stars meant that we found out who was living with whom even before Rona Barrett did. Like when rising actor Burt Reynolds started calling late at night for deliveries to Dinah Shore's house. Back then, a hot young hunk having a relationship with an older, more famous lady was much more scandalous than it is today.
You also found out which couples weren't coupled anymore, like when Priscilla Presley started calling for deliveries from one address while the guys in Elvis's Memphis Mafia called from another. Once I was waiting on the husband of a female pop star when a co-worker whispered to me that his wife had just canceled her account. That meant I had to deliver the bad news that he wouldn't be charging this order. I wondered if he went home to find the locks changed, since she quickly filed for divorce.
Schwab's had a very popular lunch counter which featured the best matzo ball soup I ever had. Sometimes I would come into work and see celebs chowing down at the counter, like Rick Nelson having ice cream with his too-cute blond twin boys who were about five at the time.
Alas, as the Schwab brothers grew older, the stores became less profitable and began closing. The flagship store at 8024 Sunset was the first to open and the last to close, finally shutting its doors in 1983. Five years later, the entire block was demolished to build a shopping center.
Was Lana actually discovered sitting on a stool at Schwab's? Nope. The buxom teenager actually caught the eye of Hollywood Reporter publisher Billy Wilkerson at the Top Hat Cafe across the street from Hollywood High, but placing the event at Schwab's made a better story.