After the ugly battle for the Hotel Ordinance which proceeded without a study session, the two newest Council members John Erickson and Sepi Shyne, both having served barely ten months in office, introduce item 5C which will end the core relationship between City Hall and the 100-year-old West Hollywood Chamber of Commerce.
First, my disclaimer: I am a member of the West Hollywood Chamber of Commerce. My view is independent and I've always been on the resident team, not the union or the developer team. I re-joined the Chamber around 2017, when I became a member of the homeless sub-committee. I was endorsed by the Chamber in my 2020 run for city council and received a $500 donation.
When COVID hit West Hollywood everything shut down. Residents were forced inside their homes and businesses were forced to shut down. Local residents depended on local businesses, and local business had only the Chamber to hold us together. In those first days and through this past year I have had a front row seat to the work of the West Hollywood Chamber of Commerce and Genevieve Morrill, the West Hollywood Chamber CEO and President.
Genevieve was the quarterback to recovery, the pilot who steered the West Hollywood business community through the COVID pandemic. When the tidal wave of COVID pummeled our city and its hotels, and every single business in West Hollywood, it was the West Hollywood Chamber of Commerce that led the way with protocols, opening procedures, legislative affairs and outreach. They were our lifeline. City Hall was closed. Every business in town sought refuge and information from the Chamber for updates. It didn't matter if you belonged to the Chamber or not, their services extended to all of West Hollywood, every business, every industry and every resident. I witnessed a woman named Genevieve Morrill rise to the occasion, a strong woman that mastered the currents when we needed her the most. Throughout the year and a half of COVID, I realized the importance of the Chamber, and this city owes Genevieve Morrill and the Chamber team an incredible debt of gratitude. These Chamber employees work for less than any middle manager at City Hall . In fact, every department manager working at City Hall salaries earns $250,000 or more and take home twice the amount of the CEO of the Chamber and quadruple any of the two Chamber employees.
On this Monday's Sept. 20 meeting, Council member John Erickson and Council member Sept Shyne bring forth item 5C to cut West Hollywood Chamber of Commerce funding and cripple the Chamber's resources that would force changes to staffing and send out an RFP to outsource the Chamber work to other organizations.
Revenge politics Donald Trump-style are thriving in West Hollywood.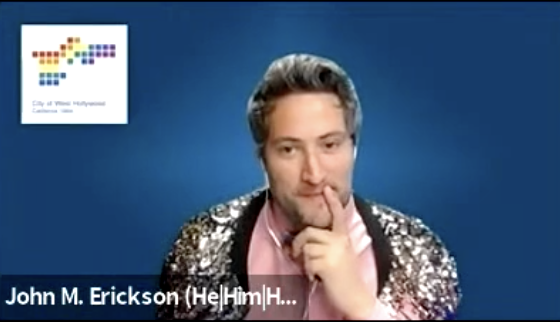 It was the election of 2020. Council member Erickson was on the ballot seeking the endorsement of the West Hollywood Chamber of Commerce. He didn't get the endorsement. Upon finding out he did not get the endorsement he replied to a number of Chamber of Commerce board members and directors "You are going to regret this." And that's just the beginning.
Once the Hotel Ordinance passed Erickson agreed to work closely with the Chamber on the minimum wage. After rumblings of a poll conducted by the Coalition for Pandemic Recovery became known Genevieve Morrill, President and CEO received a call from City Hall letting her know that Council member Erickson was so pissed off he could not work constructively on the minimum wage issue. He then called for Nick Rimedio, Chairman of the West Hollywood Chamber of Commerce to "step down." Erickson's calls were immature and and would hurt the functioning West Hollywood Chamber of Commerce. And Erickson ignored the facts that Chamber is a separate entity from the Coalition for Pandemic Recovery. Erickson's priorities did not include the work we all have to do together to grow out of the Covid pandemic and get back to full throttle. The 10-month part-time councilman showed the same temperament as former President Donald Trump. Revenge politics at its worst. Revenge politics, Donald Trump style right here in West Hollywood. (this paragraph has been updated to clarify the Coalition for Pandemic Recovery is a separate entity from the West Hollywood Chamber of Commerce as well as Erickson's call to Morrill about her role at the Chamber.)
As the Hotel Ordinance began to take root it became clear there would be no outreach or study session with the hotels. The West Hollywood Chamber of Commerce, along with Mayor Meister and City Manager David Wilson, weighed in on a measured approach and the need to be careful playing with the business model of the hotels. Hotels and their Transit Occupancy Tax had been the No. 1 and No. 2 sources of city revenue for many years but has been severely impacted by COVID. Erickson and Shyne and Horvath, in lock step with Unite Here, who funded their campaigns passed the ordinance with no study session. The Hotel Ordinance passed but Erickson remained a sore winner.' The minimum wage increase passed too, but that did not stop Council member Erickson from seeking revenge after the debate. John Erickson and Donald Trump with the same approach. Revenge politics.
The attacks by Erickson have been robust against WEHOville. Erickson refuses simple request for his comment on an issue. He challenged one friend and supporter who had applied for a commission about their WEHOville involvement. Erickson was the only no vote against this Commission member.
The City of West Hollywood has always supported all local media with advertising dollars too. Former City Manager Paul Arevalo explained to me personally in a phone conversation in May that, "the city has tough skin and also has a media equity policy" and that "he and David Wilson, then acting-city manager would look into the matter why advertising had stopped."
Two days after WEHOville busted Horvath, Shyne, and Erickson texting during the City Council meeting, in violation of the Brown Act, we all had a meeting via zoom. Lisa Belsanti, Director of Communications for the City of West Hollywood explained that the City of West Hollywood would no longer be a supporting partner. "The cities equity in media policy leaves much at our discretion and we cannot do business with a person who acts as both the publisher and the journalist, my hands are tied." That excuse only applied to WEHOville at the time and would no longer be applicable today. Revenge Politics for posting the video of them violating the Brown Act- but take note, since that meeting it appears that their cell phones are not center stage. We did our job.
Item 5C as being presented is motivated by revenge. This item has history, too. John Duran was a consultant to the Coalition for Pandemic Recovery, (Update: a previous version said Chamber of Commerce, but the Coalition for Pandemic Recovery is a separate entity from the Chamber of Commerce) during the Hotel Ordinance discussions. Erickson got wind and worked with Shyne to bring an item forward that would ban former City Council members from consulting to the City. The item was scheduled for the August 2nd agenda. Former City Manager Paul Arevalo learned of this item moving forward and made calls to various City officials. If this item had passed as written to hurt Duran, then it would also have affected Arevalo's ability to consult to the City of West Hollywood. Arevalo was in the process of taking a position with Raymond James Financial selling and consulting on the issuance of municipal bonds. This new agenda item would affect his ability to sell bonds to the City of West Hollywood or be a paid consultant. A call was made to Mayor Horvath. She made sure the item was pulled. Item 5C is now back on the agenda and will deal with the issue of former city employees and council members ability to consult with the City. Revenge politics turned into "let's take a second look at that because it might have unintended consequences to other friends of ours".
A Public Records Request made three weeks ago to City Clerk Melissa Crowder was met with the reply that this public records request would not be able to be fulfilled until November 30th, 2021. This was the first time in over a dozen public records request that WEHOville has received a reply of this sort.
In addition the item 5C seeks to strip The West Hollywood Chamber of Commerce of sponsorships. The Chamber has 2 staff members and its director. Any changes in revenue stream force the entire load on only 1 staff member. Here's how this item is written:
Ending City Agreement for Business Outreach Services:
Direct staff to provide thirty days' written notice to the West Hollywood Chamber of Commerce discontinuing City Agreement for Services #010223 (Business Outreach) and #009455 (Commuter Center Service), pursuant to the "termination for convenience" clause in both Agreements.
Ending services and revenue streams to Chamber.
Direct staff to not extend Agreement for Services #009826 (Mediation Services), past the current expiration date of December 31, 2021, and direct staff to evaluate AGENDA ITEM 5 whether the services will be needed past that date, and if so, how administration of the contract can be brought in-house to City Hall. Ending sponsorships of major City Events: The proposal would end City support for Chamber events such as the The City participates in these events via a negotiated sponsorship package for each event.
Creative City Awards (November 2021)
Annual Meeting & Board Installation (February 2022)
State of the City (June 2022)
The staff report continues:
"The City has had a similar annual contract with the Chamber for many years. The direction from this item is to discontinue the Agreement for Services after the required thirty-day notice is provided. Additionally, this item directs staff to research, evaluate, and issue an RFP for other potential business organizations that the City could partner with to provide outreach to the West Hollywood business community, marketing and promotion of the business community, and educational programming. Examples of other potential organizations that may be able to provide these services and may not have conflicts of interest with the City include the LA LGBTQ Chamber of Commerce and the Los Angeles County Business Federation (BizFed). Depending on the proposed scope of services, staff may issue a Request for Proposals (RFP) or Request for Qualifications (RFQ) for a new provider to ensure the provider (or providers) is properly vetted and selected through a transparent process"
The Chamber hosts up to four (4) events per year to support their organization's programming. The City participates in these events via a negotiated sponsorship package for each event. Three of these events include:
Creative City Awards (November 2021)
Annual Meeting & Board Installation (February 2022)
State of the City (June 2022)
The City of West Hollywood would no longer sponsor 'The State of the City" event. How can you have a State of the City event without the City? And would end also removed sponsorship of the Creative City Awards. Instead of celebrating the business community this item seeks to divide the business community.
It's time to call a spade a spade. This Donald Trump, Pee-Wee juvenile style politics is reprehensible. In addition when you recall Council member Erickson's vote against West Hollywood seat SCAG, Southern California Association of Governments, it becomes clear that John Erickson's priority interests are not for what is best for the City of West Hollywood. In fact, one might consider Erickson's actions a violation of his oath of office.
As Erickson and Shyne attempt to dismantle the chamber and distract its ability to protect the businesses who need guidance, as they seek to make policy from their homes on zoom without face to face public input, as they attack the pillars of West Hollywood and sell out West Hollywood interests for their political future it becomes clearer and clearer that John Erickson and Sepi Shyne have little respect for the institutions that have built the great city of West Hollywood.