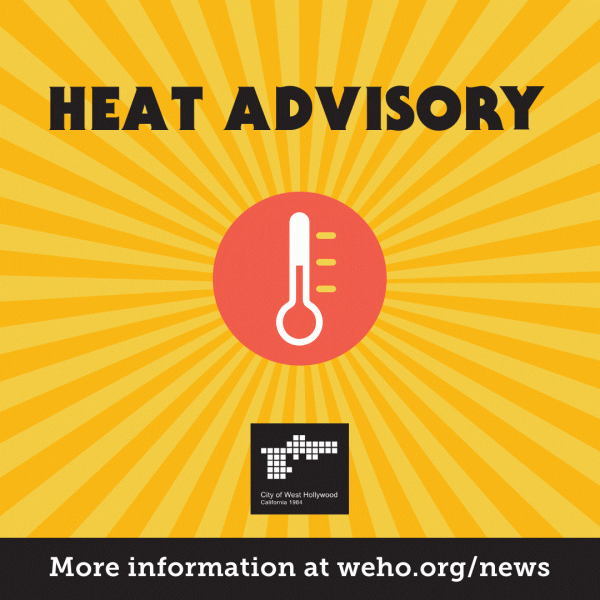 With temperatures rising across Southern California, the City of West Hollywood will open its Cooling Center at Plummer Park.The Cooling Center will be open on Wednesday, September 22, 2021 from 12 p.m. to 6 p.m.
The Cooling Center is located at the Plummer Park Community Center, Rooms 5 and 6, at 7377 Santa Monica Boulevard. The Cooling Center in West Hollywood is activated when temperatures rise to 90 degrees or above.
The Cooling Center has implemented a series of COVID-19health and safety measures in compliance with regularly updated Health Officer Orders and Protocols established by the Los Angeles County Department of Public Health. This includes hand sanitizing upon entry and frequent wipe-downs of high-touch surfaces and face coverings are required. Staff members at Plummer Park are available to direct people to the Cooling Center.
The City of West Hollywood provides free transportation to Plummer Park through its Cityline service. Cityline is a friendly and accessible alternative to the larger bus system and all shuttles are ADA-accessible. Cityline operates Monday through Saturday from 9 a.m. to 6 p.m. and shuttles arrive approximately every 30 minutes. Face coverings are required on Cityline vehicles. For additional information and a detailed route map, visitwww.weho.org/cityline— route maps are also available on Cityline shuttles.
Additionally, the City of West Hollywood is coordinating with its transit providers to deliver boxed fans and cases of water to homebound residents who are unable to get to a cooling center on high heat days. Fans are limited to residents who do not have access to air conditioning in their place of residence, who are unable to utilize local Cooling Centers, and who were not previous recipients of this service. For more eligibility information and how to participate in this program, please call the City's Social Services Division at (323) 848-6510 or visitwww.weho.org/socialservices.
High heat can make the weather dangerous as well as uncomfortable. The City reminds residents and community members to take precautions to keep as cool as possible during hot days. If possible, stay out of the sun; avoid strenuous activity; drink plenty of water; and wear lightweight clothing.
The City reminds community members that pets and children are particularly vulnerable to high-heat conditions. Every year, children and pets suffer and die when left unattended in parked vehicles. On a 78-degree day, the temperature inside a parked vehicle can soar to 120 degrees in just minutes, and on a 90-degree day, the interior temperature can reach as high as 160 degrees in less than 10 minutes — even with windows cracked open. Think twice before ever leaving a child or a pet in a parked vehicle, even for just a moment.
High heat is also extremely hazardous for pet paws. Ground temperatures can be much hotter than the surrounding air and pavement and sidewalks absorb heat quickly. A simple seven-second test to check whether pavement is too hot can help assess if conditions are too hot to take a furry friend out for a walk. Touch the pavement with the back of your hand for seven seconds. If the surface is too hot to hold for the full seven seconds, then it is also too hot for paws. Avoid concrete, brick, and asphalt during the heat of the day and, instead, walk when the ground is cooler, early in the morning or late in the evening.