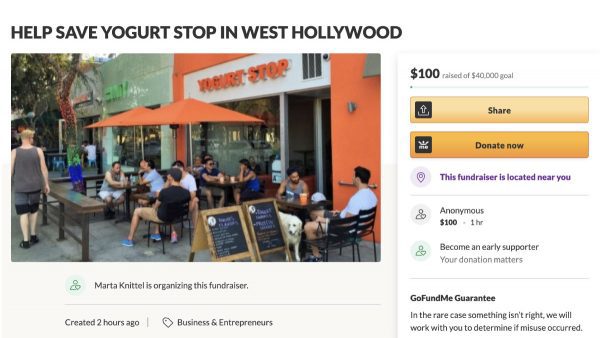 The owners of Yogurt Stop on Santa Monica Blvd. have set up a GoFundMe page seeking donations for legal expenses related to a battle with their landlords.
Marta Knittel and Shoshana Joseph are claiming that the owners of 8803 Santa Monica Blvd. — Joanne Nathan, Robin Iiotta, Patt Sefton-Hoffen, Yank Sefton and Warren Sefton — are unfairly pushing them out of the shop they've run for 13 years and interfering with attempts to sell the business.
As written on the GoFundMe page:
They have told us that when our lease expires in 2023 they will not let us exercise our 3-year option nor let us have a new lease. We are dumbfounded as we are excellent tenants and have always paid our rent on time. During Covid, we even used a portion of our PPP to pay some advance rent which they returned saying they don't accept advance rent. 

Through their attorneys, Luisa and Saul Jaffe, we strongly believe they have asserted various misleading claims stating we are in default for selling potatoes chips, cookies, candy and more. 

As being in default prevents us from exercising our option or selling our business, we will need to go the legal route, which is costly, to prove we are not in default. Our landlords have also accused us of stopping tenants from coming into this building and have attempted to extort over $25,000 by sending us their legal bills. Mentally and physically exhausted, we felt our only path to resolution was putting our business up for sale. 

We secured a viable buyer (in our opinion) with financial strength and strong experience. The landlords almost immediately declined him giving numerous reasons why they would not accept him, one being "…nor has he identified any experience in, or connection to, the West Hollywood market…"
The GoFundMe campaign's goal is to raise $40,000. Yogurt Stop is offering a free yogurt for those who donate $50 or more.